A big thanks to Morgan Peretti, a former Whole Planet Foundation Team Member, and Whole Foods Market Team Member volunteer alumni for contributing this blog post about her experience volunteering in Ghana.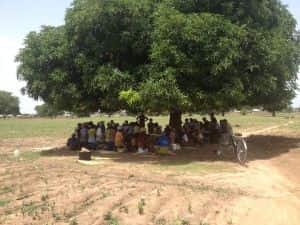 Earlier this summer I had the amazing opportunity to go on the Whole Foods Market Team Member Volunteer Program to Ghana.
I had yet to meet microcredit clients abroad. It was something that I had wanted to since I started working for Whole Foods Market five years ago and, needless to say, I was so excited!
Each day of those two weeks in Ghana was packed to the brim with different activities whether it be sharing stories under the dawadawa tree with the vibrant girls of the Nyariga Doone Girls School, meeting determined entrepreneurial microcredit clients and hearing about their businesses, learning to weave with a Blessing Basket weaver and my teacher Rita, and working on our community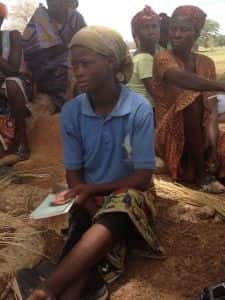 service project, building a protected "bathroom" for the girls at the Girls School – by hand.
Seriously. We literally carried water from the well on our heads and mixed cement with shovels!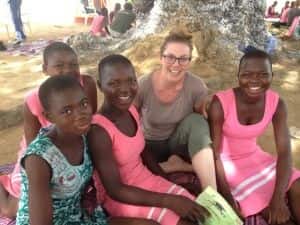 For me, one of the most impactful parts of the trip was the overnight home stay in the village of Nyariga.
For 24 hours, WFM TM Volunteers partnered up and were put in the caring hands of a family in the village to sleep at their houses and experience what "a day in the life" was really like in Nyariga.
The night of our stay, a fellow Team Member Bobby and I packed overnight bags and headed over to Monica's house. She is the female head of this household of eighteen people, living together in one abode. The houses in Nyariga are more like compounds: small adobe rooms for different members and groups of the extended family, all enclosed within an adobe wall with a large courtyard.
Life, for the most part, happens in the courtyard and out in the field. Summer in Ghana is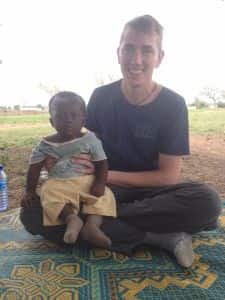 extremely hot and most people spend their time and even sleep outside because the breeze and open air is more comfortable. Bobby and I laid our sleeping pads down in the courtyard as our host family hung our mosquito nets. After spending some time with various family members, we crawled under our mosquito nets and the stars to sleep.
The next day, Saturday, we awoke and ate breakfast and readied for the day's work. We vaccinated cows, hoed and weeded the fields, sowed peanut seeds, carried water on our heads from the well for washing and cooking, ground Guinea corn into flour with a stone, danced with the kids, played soccer and spent the rest of the afternoon weaving baskets under a tree.
At one point, Bobby rode someone's bicycle and all the kids were laughing hysterically because they had never seen a white man, a bruni, on a bicycle before.
The two people with whom we spent the most time were Sensia and Joe, the two English speakers in the household. Their stories are truly amazing – the things that movies are made of – but the time I spent with Sensia is something that I especially cherish. Sensia is in her early 20s and has a sweet baby boy named Jesse. She is married to Joe's uncle and is hoping to go to nursing school in the next year or two. We talked about everything from marriage and dating, to death and family, school, our pasts and what the future holds. We shared ideas of every day life, coming from different cultures and backgrounds.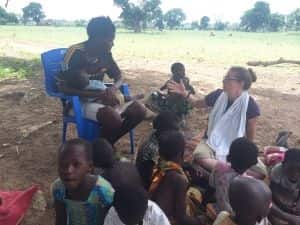 At one point, under the tree where we were weaving, she translated a question from another villager. For some reason, she thought that Americans shave the heads of the dead and then sell the hair for wigs (myth officially debunked, btw)!
We laughed and made jokes and of all the people that I met in Nyariga, she is the one that I miss the most. She also taught me one of my biggest lessons about what it feels like to live in poverty.
Leading up to the overnight, Bobby and I had been wondering why so many families were eager to host the Team Member Volunteers. Out in the field on that first night I asked her why this was and she responded, "Because we wanted you to see how we live."
I thought that was a pretty obvious answer and felt silly for asking. But then Sensia continued, "We wanted you to see how we suffer. We have no running water; we have no bathrooms and no electricity. We suffer. We work hard, but we suffer.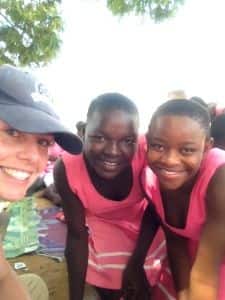 "
Though what she said seems obvious, hearing her say this aloud helped me resolve a lingering sense of apprehension over the representation of what it is like to live in poverty. Over the years, many people I know have gone on service trips like this and when they come back, talk about how everyone was "so happy" in these villages. While I never doubted what they experienced and observed, something never felt quite right about this interpretation of what living in these circumstances is really like. To me, it seemed like they romanticized and oversimplified poverty, like living with very little was a wonderful and overlooked way of life.
What Sensia said to me was the missing piece in the bigger picture. Yes, they are happy because people are resilient and make the best of any situation. But living in these conditions, they still suffer. They work hard, they have hope, they enjoy their families, they are happy, but they still suffer.
And it is this suffering that, through Whole Planet Foundation, we are trying to help them to alleviate.
For five years I have wanted to go on the Whole Foods Market Team Member Volunteer Program and it was worth the wait. I would do it again in a heartbeat and am so grateful to work for Whole Foods Market and Whole Planet Foundation, a company and an organization committed to alleviating poverty so that amazing people around the world can suffer less.