Every year, Whole Planet Foundation honors our partners' front line field staff who are working directly with microentrepreneurs. In 2021, our partners have continued to navigate the challenges and unpredictability of the COVID pandemic. Their field officers offer services which extend far beyond credit and business capital support. These dedicated field officers have embraced empathy, technology, and new skills to better serve their micro-entrepreneurs.
Here are just a few examples our partners shared about their field-based colleagues:
Emile, One Acre Fund Burundi: Emile invested significant effort to train farmers in his community on using mobile money. At first, this often involved teaching farmers basic functions. Most farmers were not familiar with sending SMSes, using text-based services, and storing money in their phones. Emile gradually helped members become comfortable with sending mobile money repayments to OAF. Before, farmers were used to making all transactions in cash and had little trust in an electronic mobile money system. Once farmers became comfortable with the system, they started using it even beyond OAF.
Mary, MicroLoan Foundation Zambia: Mary goes the extra mile in serving her clients. For example, during community sensitization in a village called Mutumbi, she noticed that women who were not financially independent were mostly victims of physical, emotional, economic abuse perpetrated by their spouses. They were afraid to lose their source of livelihood through the spouse. In client trainings Mary showed the women that with microloans they could start small businesses. She engaged traditional leaders who helped raise awareness amongst men. Currently, GBV cases have reduced in Mutumbi while the women's businesses are thriving. Others have diversified into farming.
Ahmad, GGEM Farming, Malawi: When Ahmad first started with GGEM he was here to do any job. Any at all. He was even happy to just sit and listen because he just wanted to also contribute. He's since learnt how to drive a car, he leads farmer recruitment, he's really improved his spoken English (a personal goal) and his typing skills. We see him going really far as he grows within the organization and takes on a more senior role in leading the field team.
Please meet the winners of the 2021 Whole Planet Foundation Field Officer Appreciation Awards in the East and Southern Africa region! All winners received certificates and cash prizes.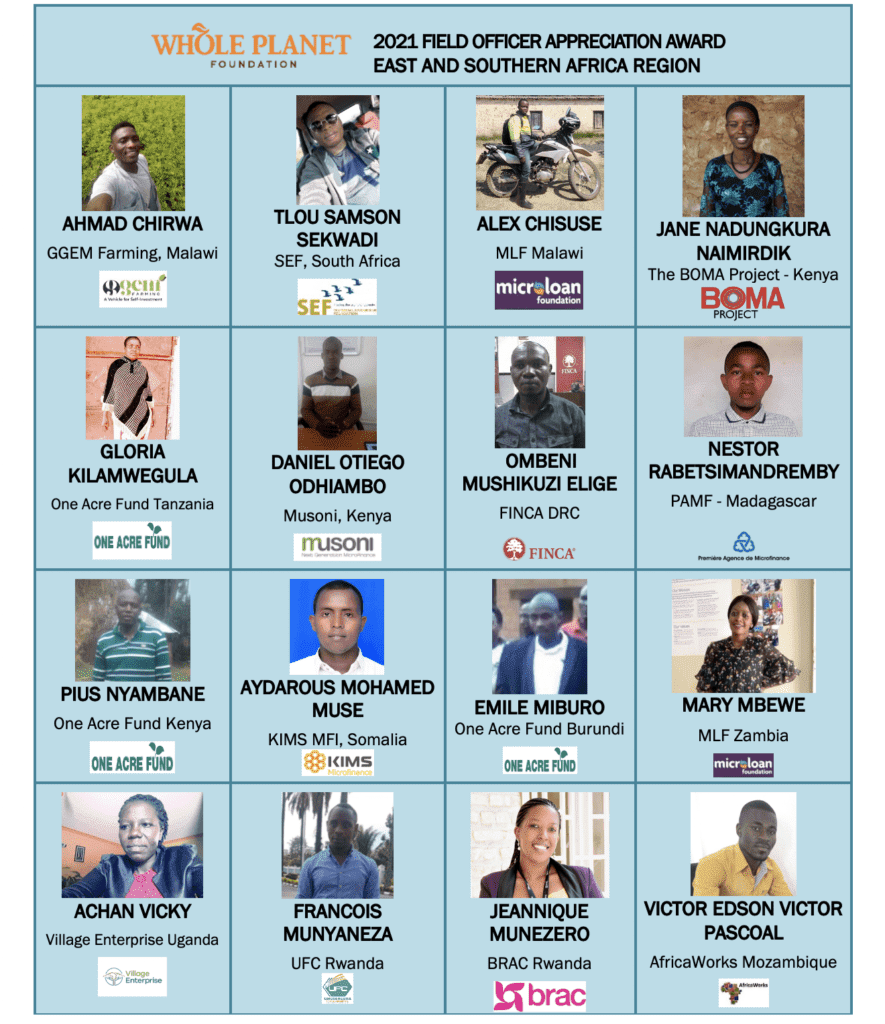 The Whole Planet Foundation team extends appreciation to all our stakeholders, partners, and especially the field officers for supporting entrepreneurs.