Whole Planet Foundation and donors meet in Arizona to witness a holistic approach to microcredit.
With more than 22 million refugees in the world today, Whole Planet Foundation is proud to partner with the International Rescue Committee (IRC) who has been supporting refugees for 40 years. A refugee is defined as someone who must cross an international border, cannot return, is unable to return due to fear of persecution because of race, religion, nationality, membership of a particular social group or political opinion. See a timeline of the IRC's history.
Whole Planet Foundation has contributed $155,000 to the IRC to enable microentrepreneurs in Phoenix, Salt Lake City and San Diego to create or expand their own businesses and generate income for themselves and their families. Last month we visited the IRC in Phoenix to understand the impact of these funds amidst the world's refugee crisis.
IRC Phoenix has recently been supporting refugees originating from Iraq, Syria, Somalia, the Congo, Burma and Cuba.  For these people who have arrived the United States in the last year, the focus is on safety, health, education that includes financial literacy, and power as empowerment. Our visiting team of top supplier donors and local Whole Foods Market team members had the opportunity to assist with an orientation for newly arrived refugees from Afghanistan, Burma and Thailand. Orientation included the following topics and objectives over the course of two days: the role of the resettlement agency, refugee status, learning English, public assistance, U.S. laws, community support, employment, health, budgeting and personal finance, housing, hygiene, safety, cultural adjustment, education, and transportation.
Clients of the IRC in Phoenix
For lunch that first day, we had the pleasure of dining at Sinbad's Restaurant run by Rawaa and her husband, featuring delicious Middle Eastern food.
The Aquaponics Garden Provides Sustenance and Opportunity
Refugees supported by Whole Planet Foundation funding in Phoenix include Hussain and wife Sharreen, who used to farm 75 acres in northern Iraq. Now that they have adjusted to the growing seasons of Arizona and its dry climate that requires irrigation, they are making a living by selling produce at local farmer's markets and focusing on teaching their family of 12 to be entrepreneurs.
The IRC Aquaponic Incubator Program provides land, supportive infrastructure, educational material, and technical support for aquaponic refugee farmers. The goal is to engage the surrounding community and empower IRC refugee clients with additional skills to pursue micro-enterprise business ventures.
Ash (pictured below) is the son of Hussain and Sharreen who runs the family restaurant Queen Greek.   At first there were only 3-4 tables in the restaurant. but Ashti was able to remodel the dining area to include more tables, a counter for the cash register and take-out pick-up as well as some improvements to the kitchen.  His sisters work at the restaurant on the weekends and the whole family helps.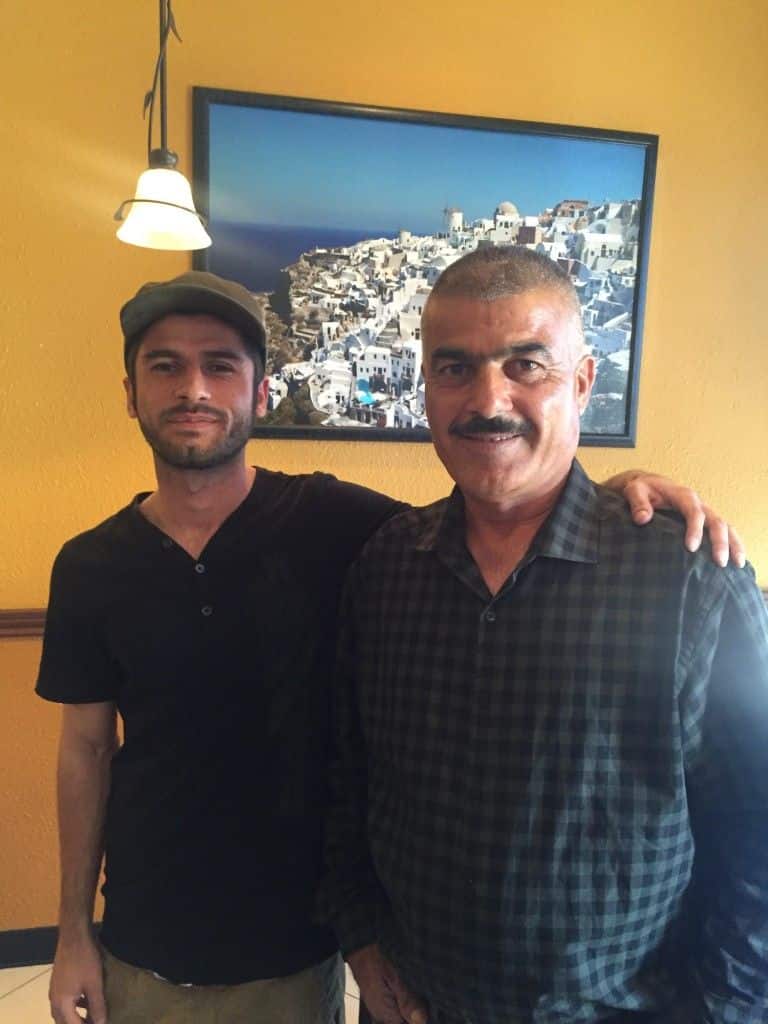 Eyasu and Yasmin
Together Eyasu and Yasmin run their small, traditionally decorated Ethiopian restaurant & café Abyssinia. They met 10 years ago through their mothers.  He offered to help her learn how to drive in the United States – and the rest is history!  The restaurant is Yasmin's vision from the menu to the décor and she makes a potent cup of Ethiopian coffee roasted over a flame!
Eric and May
During the Gulf War, Eric and May were forced to flee their home country of Iraq but were granted asylum and eventually earned their citizenship in the US.  For 17 years, their corner store has been an anchor in a Phoenix urban neighborhood where grocery stores are scarce.  Over the years, the couple has adapted their market from serving the primarily Hispanic population when they first opened to now also filling the needs of a growing refugee and African demographic.
Jillian, the New Roots Local Foods Program Coordinator, helps local outlets sell fresh fruits and vegetables in food deserts (areas where access to fresh produce is scarce).
Eric describing the neighborhood and how he sees his role as a mentor to newly arrived refugees who can get their first job by sweeping the floor in his store even if they don't have English language skills.
Learn More
To see more photos of our impact trip, visit this Facebook album. To learn more, watch this short video that talks about how studies show that refugees are in fact good for economies. Want to learn more about equipping yourself and others with knowledge about refugees? Check out this IRC Champions for Refugees Toolkit.