For the past twelve years, Whole Planet Foundation has received generous support from Whole Foods Market® suppliers who donate funds to help people living in poverty access credit in the form of small loans. Partners who give $25,000 per year are called our "Poverty is Unnecessary Fund" partners, as they are helping us drive closer to the words of Grameen Bank Founder, Muhammad Yunus. 
This year, $25,000 donors include: Cedar's Mediterranean Foods, Greyston Bakery, High Brew Coffee, Natural Vitality, Reserveage Nutrition, Stacy's, Steaz, Surya Brasil, The Republic of Tea, Rishi, VOSS, and WTRMLN WTR.
This guest content comes to us from Rishi Tea, who has pledged $25,000 for poverty alleviation programs this year through our work with microfinance partners.
Passionate Journeys
Rishi was founded out of a passion to discover the world's most delicious, healthful organic teas and botanicals and share them with people around the world. The journey began with a simple proposition: through travel and personal contact with tea and spice growers, we would seek out the most rarefied ingredients, study their traditions, and infuse them with our own culinary inspiration to create signature Rishi tea blends and flavor profiles. Our firsthand experiences along that journey have convinced us that there is so much hope, and reward, for empowering rural farming communities to create their own success via microcredit support. We are proud to be an entrepreneurial company, grown from humble roots to the widely respected position of authority we hold in the global tea market today.
Discovery and Partnerships
The foundation of our strength lies in our partnerships with the best organic tea growers and producers around the world. From the beginning, Rishi founder Joshua Kaiser spent some nine months out of the year traversing the tea mountains and remote, high-elevation growing regions of China, Taiwan, Japan, Korea, Nepal, Sri Lanka, and elsewhere in Southeast Asia. Today, we have a team of tea and herb buyers who work alongside Joshua as we continue to carry out extensive hands-on fieldwork. In each destination, we immerse ourselves in the local culture, forging strong relationships with the people living in our origin communities. We cook and eat meals together, learn their herbal medicinal practices, and even stay with rural farming families. We recently camped with Wa ethnic farmers in Yunnan, met mystic Sadhus in Nepal, and experienced the Day of the Dead celebration with cardamom and turmeric farmers in Guatemala.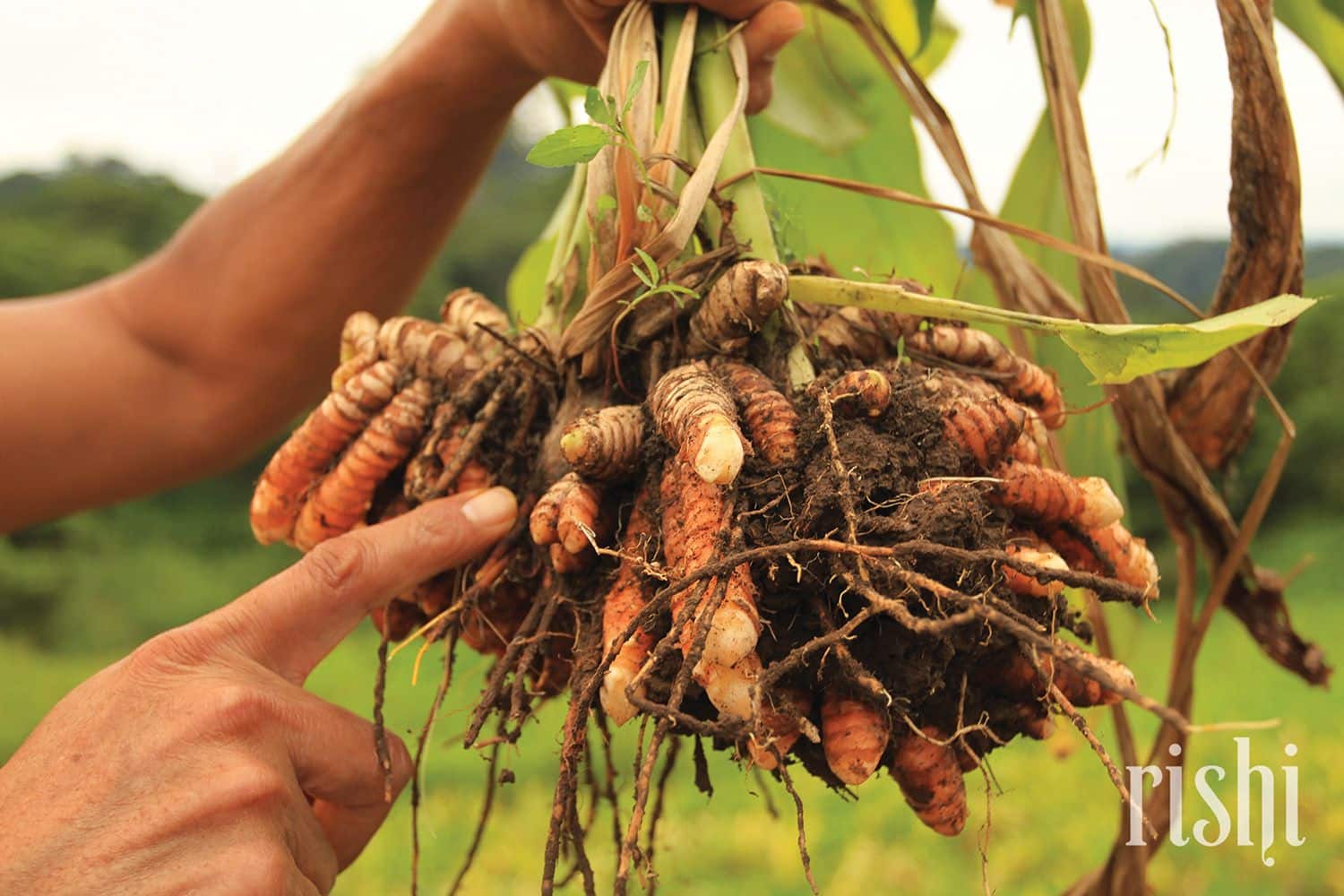 Our ethos is to make authentic local connections and achieve a real understanding the socioeconomic challenges facing our suppliers and their communities. We view our suppliers as long-term partners; their financial livelihood, community development, and environmental preservation are all crucial factors to our mutual success in the tea trade. We share an understanding that doing organic agriculture requires clear communication, planning, and collaboration. The tea industry largely operates on trust, not by contract. By visiting and working together in person year after year, the farmers can rest assured that Rishi will provide a stable export market for their high-value organic tea.
To that end, we have supported and even helped launch Fair Trade projects in numerous origins, including the Xuan'En Co-op in remote Hubei, China. This is one of the most geographically beautiful, but economically poor regions of China. Lush, rolling green mountain landscapes create great distances between the hundreds of tea farming villages that comprise the Xuan'En co-op. Access to childhood education is difficult in such a remote region. Our Fair Trade program there has been active for over a decade to generate social premium funds that have been used to improve infrastructure, expand access to primary education, and even refurbish a local hospital to help improve the livelihoods of the hundreds of Tujia and Miao ethnic tea farming families living throughout Xuan'En.
Supporting Global Entrepreneurs
In addition to our Fair Trade programs, we established a microcredit fund along with our partner Jun Chiyabari Tea Garden in Nepal to support women entrepreneurs through a network called FWEAN. Since 2013, we have contributed $2 per every kilogram of organic Nepali tea we have sold to provide microcredit for a range of women-led businesses, from mushroom farms, to Nepali lokta paper artisan shops, to organic Himalayan spice companies. To date, 100% of the loans have been repaid and used to seed yet further small businesses.
With 20 years of firsthand experience witnessing the positive effects of making real investments in the remote communities who grow some of the best teas in the world, we are convinced by the need to continue planting seeds of prosperity worldwide. We were founded from humble beginnings and have grown our business through hard efforts and passion. The idea of empowering people around the world to create their own success via microcredit resonates strongly with our own entrepreneurial spirit and pride. For these reasons, we are so excited to support Whole Planet Foundation in their mission to alleviate poverty through microcredit.
Look for Poverty is Unnecessary Fund partner products, including Surya Brasil, in Whole Foods Market® stores from October 11-31 and enter to win prizes during our Poverty is Unnecessary Sweepstakes from October 16-31 on Whole Planet Foundation's Facebook page.