Each year, Poverty is Unnecessary Day is an opportunity to mark the anniversary of the 5% Day that raised the seed funds for Whole Planet Foundation. It is also a time to highlight and thank our generous partners who support Whole Planet Foundation with a $25,000 annual commitment. Many of these partners, like Feelgoodz, have very deep connections to our mission.
"Our mission is centered on creating sustainable employment for rubber tappers, fabric weavers, and shoemakers.  This is directly related to poverty alleviation, which is completely value-aligned with Whole Planet Foundation." says Kyle Berner, Founder, Feelgoodz Casual Footwear. Our 2015 Poverty is Unnecessary Fund partners are Café Spice, CLIF Bar, CorePower Yoga, Feelgoodz, Food Should Taste Good, Greyston Bakery, Jarrow Formulas, LÄRABAR, Liberté, Mamma Chia, Mrs. Meyer's Clean Day, Navitas Naturals, Nubian Heritage, ORGANIC INDIA, The Republic of Tea, Stacy's, and Steaz.
This year, we also celebrated Poverty is Unnecessary Day by partnering with Tugg to help Team Members host screenings of Poverty, Inc, which benefitted Whole Planet Foundation through a portion of the proceeds.Some stores participated in screenings that included a discussion with the film's producer, Mark Weber, after the film! We also created the hashtag #PartyforProsperity to encourage partners and Team Members to share all the fun ways they celebrated the occasion. 
Poverty is Unnecessary Day is an exciting opportunity to collaborate with valued partners! Supplier partner Greyston Bakery invited us to share a guest post on their website to help their audience learn more about our shared missions supporting people lifting themselves out of poverty. Grameen America, our largest partner in the United States, joined in on social media as well, creating two videos that highlight how we are alleviating poverty domestically. Whole Foods Market co-CEO Walter Robb also shared a message of appreciation for all who have helped the foundation get to where we are today – alleviating poverty in 69 countries.
Supplier partners participated with product demos, social media engagement, and blogs about our partnership, like Café Spice's #TikkaBiteOutOfPoverty campaign, which contributes 5 cents to Whole Planet Foundation.from every Cafe Spice Indian meal sold.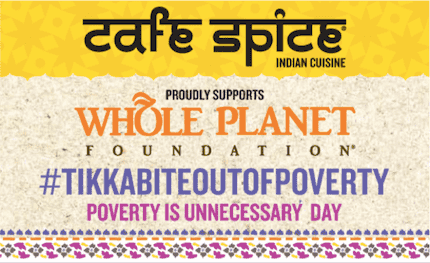 "At The Republic of Tea we embody the ancient Chinese philosophy of Tashun — the Great Harmony — when people naturally care about the world and depend on each other for the well-being of the whole.  This value fits with the Whole Planet Foundation efforts to alleviate poverty, emphasized on Poverty Is Unnecessary Day.  The Republic of Tea donates a portion of sales from its Whole Foods Market exclusive, Elderflower SuperHerb® Tea and the Biodynamic Holiday Chai Tea to Whole Planet Foundation and is proud to be a Poverty Is Unnecessary supplier partner," says Kristina Richens, Minister of Commerce with our partner, The Republic of Tea. 
Whole Foods Market Lincoln used Poverty is Unnecessary Day as a time to give back to the fight poverty in their local community by creating hygiene kits using Poverty is Unnecessary supplier partner product samples. Teaming up with The BAY and Skate for Change, to do some good in their community. They went down to the Haymarket on the afternoon of October 25 to pass out hand warmers, kits and other goods to the homeless. They shared their Poverty is Unnecessary Day message and mission on a morning news segment of The Bay. Thank you to Whole Foods Market Team Member Store Team Leader Renee Deman and the Team Members at Whole Foods Market Lincoln for making Poverty is Unnecessary Day especially meaningful in their community!

Our team loves to see event photos come rolling in. Here are a few of our favorites:
Watch the videos below to learn more about our partnerships in the United States, each featuring a different microcredit client.
Grameen America: Los Angeles
Grameen America: New York City
Thank you to the Poverty is Unnecessary Fund supporters, who have each contributed $25,000 in 2015. Your collective contributions this year have raised $475,000 for microlending projects worldwide, enough to fund more than 2,500 microloans.