Jaimee Rondeau, Associate Marketing Coordinator in the North Atlantic Region and traveled to Guatemala on the Whole Foods Market Team Member Volunteer Program in 2010. Read about her experience below. If you are a Whole Foods Market Team Member, you can apply for this year's trips here as long as you are on the Whole Foods Market network. Applications close on March 31 at midnight PST.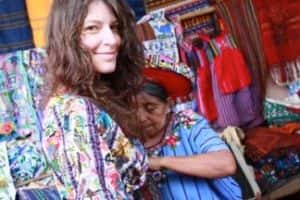 It's been more than five years since my 30 day volunteer trip to Guatemala and not a week goes by without remembering my experience there. While I was packing my backpack for the trip my mother gave me a notebook. A well-seasoned traveler herself, she told me to write about my experience each evening so I could look back and remember. "Dear Jaimee," it read, "Before you get off the plane in Guatemala, pause for a moment and say to yourself… when I get back on the plane to return home, I will be changed; I will be more than I am now for having had this experience. Have a wonderful time and know you will receive more than you give."
The memories are certainly countless but the most impactful, by far, was connecting with the indigenous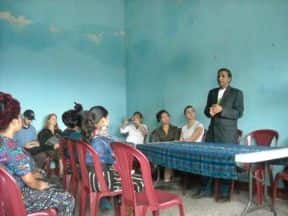 Kaqchikel Maya women at their Grameen Bank meeting in Santa Catarina Palopó, a municipality in the Sololá department of Guatemala. Our Grameen contact talked with us about Muhammad Yunus and the fundamentals of microcredit lending for women, something that resonated with me deeply as a young mother with a toddler waiting for me back at home.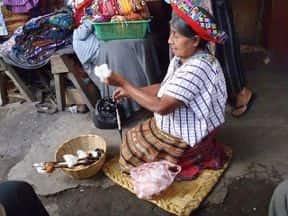 The women, dressed in their handwoven and brightly colored huipils, met every 15 days to discuss their loans, their projects, their triumphs, and their challenges. Smaller groups are formed as a sort of support for each other – if one woman in the group has trouble – if her chicken coop gets destroyed in a mudslide, for instance – the others pitch in to help her get back on her feet. They tell of their children getting their first pair of shoes and going to school as the first in their family. They tell us how their business grew from a basket of crafts on their hip to a full stand in Panajachel, the popular tourist town on the other side of Lake Atitlán. Their lives, and the lives of their children, were literally changing in significant and tangible ways from less than many of us pay for a month of cable TV.
The opportunity given to Whole Foods Market Team Member Volunteers is transformative. It provides a deeper understanding of the work Whole Planet Foundation's partners do around the world in countries where Whole Foods Market sources products, and connects you to the people in these places in a way you wouldn't get by just reading about it or seeing pictures. And yes, it can be hard to justify going. It was certainly hard for me to leave my child for thirty days, to be off from work, to learn a new language. But I came out more than I was for having had the experience and I would do it again and again and again.