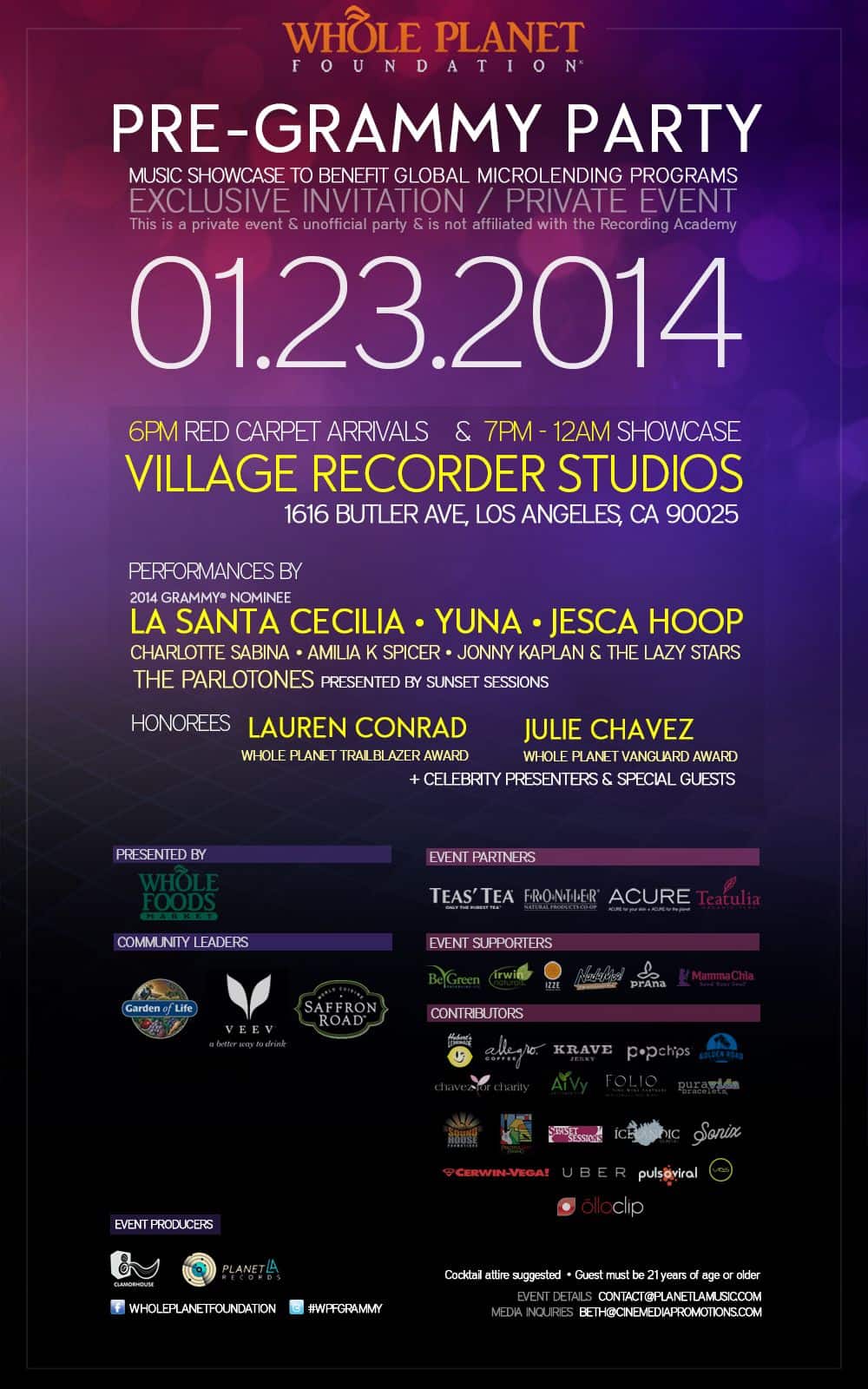 On Thursday, January 23, 2014, Whole Planet Foundation, Whole Foods Market and other valued partners honored Lauren Conrad and Julie Marie Chavez for their commitments to promoting sustainable practices and changing global environments. The celebration took place at our 2nd annual pre-GRAMMY benefit, held at the historic Village Recorder Studios in Los Angeles (this was a private event and an unofficial party not affiliated with the Recording Academy). The venue is where legendary artists including Fleetwood Mac, The Rolling Stones, Bob Dylan, Lady Gaga, Taylor Swift and many others have recorded their iconic hits!
Check out the video to relive the highlights of the evening with us.
Our awesome partners Planet LA Records and Clamor House produced an amazing event with some of the best musical talent around. 2014 GRAMMY winner La Santa Cecilia and leading artists including Yuna, The Parlotones (pictured below), Jesca Hoop, Charlotte Sabina, Amilia K Spicer and Jonny Kaplan & The Lazy Stars performed at the benefit, which also included celebrity presenters. When La Santa Cecilia performed, we didn't even know yet that they were GRAMMY winners!
The nearly $2,000 in proceeds from the evening will fund small loans and entrepreneurship programs for poverty alleviation. 
Thank you to our awesome partners for making the event possible through sponsorship! The event was presented by Whole Foods Market, featuring Community Leaders Garden of Life, Saffron Road Foods and VeeV. Event Partners included TEAS' TEA, Frontier Natural Products Co-op, Acure Organics and Teatulia Organic Teas. Event Supporters included Be Green Packaging, Irwin Naturals, Mamma Chia, IZZE Sparkling Juice, NadaMoo! and prAna.
Event contributors included Allegro Coffee Company; Hubert's Lemonade; popchips; Krave Jerky; Folio Wine; Peaceful, Easy Feeling Cabernet, Golden Road Brewing; Ai Vy Springrolls; Icelandic Glacial Water; Pura Vida Charity Bracelets; Olloclip; Pulso Viral; Sonix; Sunset Sessions; Sound House Promotions; Cerwin Vega; VOS Flips; Soapbox Soaps; Justin's and Chavez for Charity.