MyChelle has contributed this guest post in celebration of their efforts to alleviate poverty by donating 10% of sales from three products from March 20-22. We are thrilled to highlight this exciting partnership!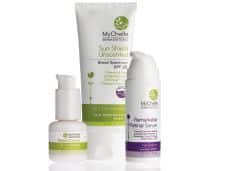 For MyChelle, giving back has always been our nature. Our 'MyGiving' initiative to enhance our community is focused on funding projects to promote women's empowerment. For 15 years, our philosophy has been to support various organizations that inspire girls and women to realize their true potential with access to educational and wellness services. Whole Planet Foundation's mission, therefore, plays close to the heart of MyChelle's own objective of helping individuals to succeed in life by overcoming obstacles and gaining economic freedom.
MyChelle Dermaceuticals is proud to be donating 10% of sales of their three key, top-selling products to Whole Planet Foundation to help alleviate poverty worldwide. From March 20-22, 2015, 10% of all proceeds of the MyChelle Beauty Key 3 Products: Perfect C Serum, Remarkable Retinal Serum and Sun Shield SPF 28 will help fund the Foundation's mission to provide impoverished entrepreneurs in 63 countries with a chance to lift themselves out of poverty through microcredit.
Why the Beauty Key 3? MyChelle's Beauty Key 3 is a dynamic trio of two serums and a sunscreen containing a powerful combination of peptides, plant stem cells, antioxidants and retinoids. When used consistently, the Perfect C Serum, Remarkable Retinal Serum and Sun Shield SPF 28 will perfect, correct and protect every skin type. These 3 products, as with all MyChelle Dermaceutical products are Vegetarian, Cruelty-free, and Free of Phthalates, Parabens, Sulfates, Ureas, Artificial Fragrances and Colors, Petroleum, GMOs, and Gluten.
Inside the Beauty Key 3
Perfect C Serum is our skin brightener. This ultra nourishing serum is formulated with plant stem cells, a powerful antioxidant complex and potent Vitamin C for collagen-rich skin. Contains the highest concentration of pure 17% L-Ascorbic Acid to combat signs of aging by strengthening collagen and improving skin tone.
Remarkable Retinal Serum is the radiance revealer. Packed with proven wrinkle-fighting Retinaldehyde, Ceramide 3 and Plant Stem Cells, this serum offers the strongest cosmeceutical form of Vitamin A available without a prescription. The patented technology allows the Vitamin A to work deep into the skin for optimal results with less irritation than other forms. Use evenings after cleansing.
Sun Shield SPF 28 is the damage defender. Each day, skin is exposed to potentially harmful environmental influences know to cause wrinkles, age spots and even skin cancer. Time to cover up. This full-spectrum, translucent sun defense offers daily UVA/UVB protection and an environmentally safe sun defense for face and body. It also contains soothing Aloe to rehydrate and calm sun-induced irritation.
Your purchase of any of these three products from March2 20-22 will help impoverished entrepreneurs change their own lives.