Taza Cocoa Sourcing Manager Jesse Last shares the story of their newest exclusive chocolate bar and explains how Taza supports farmers in Haiti.
Through September 2016, Taza Chocolate's new 84% Dark Haiti Origin Bar will be available exclusively at Whole Foods Market nationwide. 1% of proceeds from sales will be donated to Whole Planet Foundation, an exciting collaboration based on Taza Chocolate and Whole Planet Foundation's shared commitment to Haitian farmers and entrepreneurs. Hear more about Taza Chocolate's industry-leading Direct Trade program and the story of Haitian cocoa farmers below!
When Pierre speaks, his long fingers dance through the air and his dark eyes sparkle. As a Haitian cocoa farmer, he has seen hard days. "We used to leave the cocoa pods on the trees to rot," he says. "Or, we would cut them down to feed to the farm animals." At the time, it was not worth his effort to dry and transport the cocoa beans. The dominant buyer in the region advertised one price but paid farmers a lesser one, no matter the product's quality.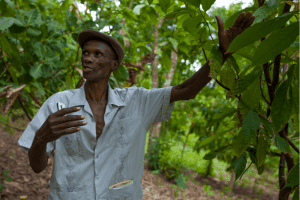 Unfortunately, low prices plague cocoa farmers across the globe. From Guatemala to Ghana, producers lack access to stable markets that pay more for higher quality cocoa. No matter how hard they work, they receive the same low price.
Taza Chocolate's third-party certified Direct Trade program represents a sustainable alternative. We believe that farmers and chocolate makers should share the reward of making a great product. Every year, we visit our producer partners – and sometimes fly them to our factory in Somerville, Massachusetts – and sign a Direct Trade agreement. Our partners commit to delivering high-quality, organic cocoa beans produced with fair labor practices. Taza commits to paying at least $500 per metric ton above the world market price, a 15-20% premium and more than double the amount paid by Fair Trade. And, we publish our industry pioneering Transparency Report so that anyone can learn about our work with farmers and the prices we pay them.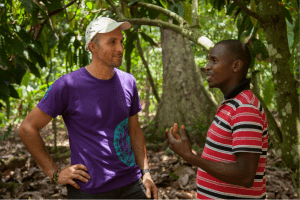 In 2014, Taza Chocolate began looking at Haiti as a new cocoa origin. Sourcing from the country would diversify our sources of cocoa, allow us to develop a delicious Haiti Origin Bar, and support Haitian farmers. Toward the end of the year, we partnered with a new cocoa exporter in the north of the country called Produits des Iles, S.A., or PISA.
PISA works with an association of 1,500 farmers, 410 of whom are women, managing a total of 2,170 acres of organic certified land. The company provides agronomic assistance as well as higher and more stable prices than the existing middlemen, and the team shares our commitment to paying higher prices for higher quality cocoa. In July, 2015, Taza Chocolate became the first US chocolate maker to import specialty grade, organic certified Haitian cocoa beans.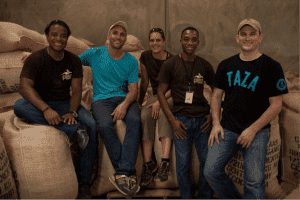 However, before we released our single-origin Haiti Bar, we wanted to find a retail partner that shared our commitment to the country. To date, Whole Planet Foundation and its Haitian microfinance partner Fonkoze have supported 85,016 microentrepreneurs. Given Whole Planet Foundation's support of Haitians lifting themselves and their families out of poverty, we decided that Whole Foods Market would be the perfect partner for our new chocolate bar!
Meanwhile, back in Haiti, Taza Chocolate has already made a difference in Pierre's life. He now harvests all of his cocoa pods rather than leave them on the tree or feed them to the animals. PISA pays him nearly twice what he received in the past, and he is excited to plant more trees. "Cocoa," he explains, "is a crop of the future."
To see Haiti's beautiful cocoa trees and meet its hard-working farmers, check out our video!