Celebrate Poverty is Unnecessary Day October 25
Each year, we celebrate the Whole Foods Market® Global 5% Day that seeded Whole Planet Foundation. On October 25, 2005 these funds helped kickstart the dream of alleviating poverty through microcredit where Whole Foods Market® sources products.
For the past twelve years, Whole Planet Foundation has received generous support from Whole Foods Market® suppliers who donate funds to help people living in poverty access credit in the form of small loans. Partners who give $25,000 per year are called our "Poverty is Unnecessary Fund" partners, as they are helping us move closer to the words of Grameen Bank Founder, Muhammad Yunus.
This year, our $25,000 donors include: Cedar's Mediterranean Foods, Greyston Bakery, High Brew Coffee, Natural Vitality, Reserveage Nutrition, Shoes for Crews, Stacy's, Steaz, Surya Brasil, The Republic of Tea, Rishi, VOSS, and WTRMLN WTR.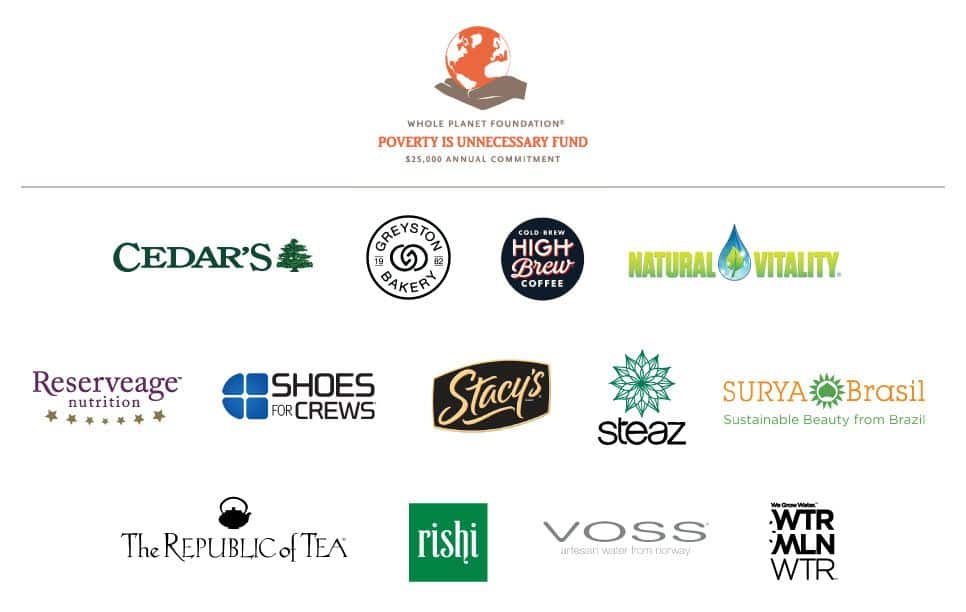 The Republic of Tea
In 1992 The Republic of Tea sparked a Tea Revolution and has since grown to become the leading purveyor of premium teas. With that growth comes the responsibility to contribute positively to society and the environment. The Republic of Tea embodies the ancient Chinese philosophy of Tashun — the Great Harmony — when people naturally care about the world and depend on each other for the well-being of the whole. It is a collective concern for others and aspiration to seek opportunities, initiatives and actions that will better the human condition as well as the planet.
Through years of partnership with Whole Planet Foundation, The Republic of Tea has witnessed first-hand the incredible impact and success that comes from microfinance, empowering and lifting women and families out of poverty around the world where they source fine teas and herbs. Check out The Republic of Tea's impact infographic to see how many loans and opportunities their generosity has provided to microentrepreneurs and their families.
"Poverty IS unnecessary. The Republic of Tea is committed to impacting social and environmental change on a global scale. We are continuously inspired by our partnership with the Whole Planet Foundation. We sincerely thank our loyal Citizens (customers) of The Republic of Tea, who have contributed greatly to our success and who have made it possible for us to continue down this road of further enriching people's lives and bettering the planet," says The Republic of Tea's Minister of Commerce, Kristina Richens.
High Brew Coffee
One of the newest members of our Poverty is Unnecessary Fund, High Brew Coffee is committed to contributing $25,000 this year to Whole Planet Foundation. This gift will fund 135 microloans creating 720 opportunities for microentrepreneurs in around the globe to flourish.
High Brew Coffee is also proud to give a portion of sales from every can sold to support the De Los Andes Cooperative.  This co-op is located in the Antioquia region of Columbia and consists of 3,600 members; one third of which are women. Together they comprise over 86,000 acres of coffee farms. High Brew's contribution supports these farmers through: infrastructure development, environmental sustainability, loan programs, fair and equitable wage practices and education grant programs.
High Brew Coffee is passionate about giving back to the families that make our industry possible. They choose to purchase coffee from the highest quality sources while helping them achieve greater profitability with less environmental impact on our planet.  High Brew is also passionate about empowering microentrepreneurs in Colombia and around the world to start or expand their home-based businesses through the support of Whole Planet Foundation.  Many of High Brew's consumers share this same sentiment, which makes this relationship a "win-win" all around!
Cedar's Foods
The Cedar's story began in the sunlit kitchens of the Mediterranean, where Hommus is spelled with an "O." Cedar's founders Abe & Layla Hanna lovingly perfected the way Hommus is made there – in the old world. They made it the traditional way, with pure ingredients and a simple process. They had a dream to bring this Hommus to the United States and were offered opportunities from their local communities both overseas and in Massachusetts to do so. Giving back to local and global community to provide opportunities for others is something that ignites the Cedar's family soul and they are proud to support Whole Planet Foundation.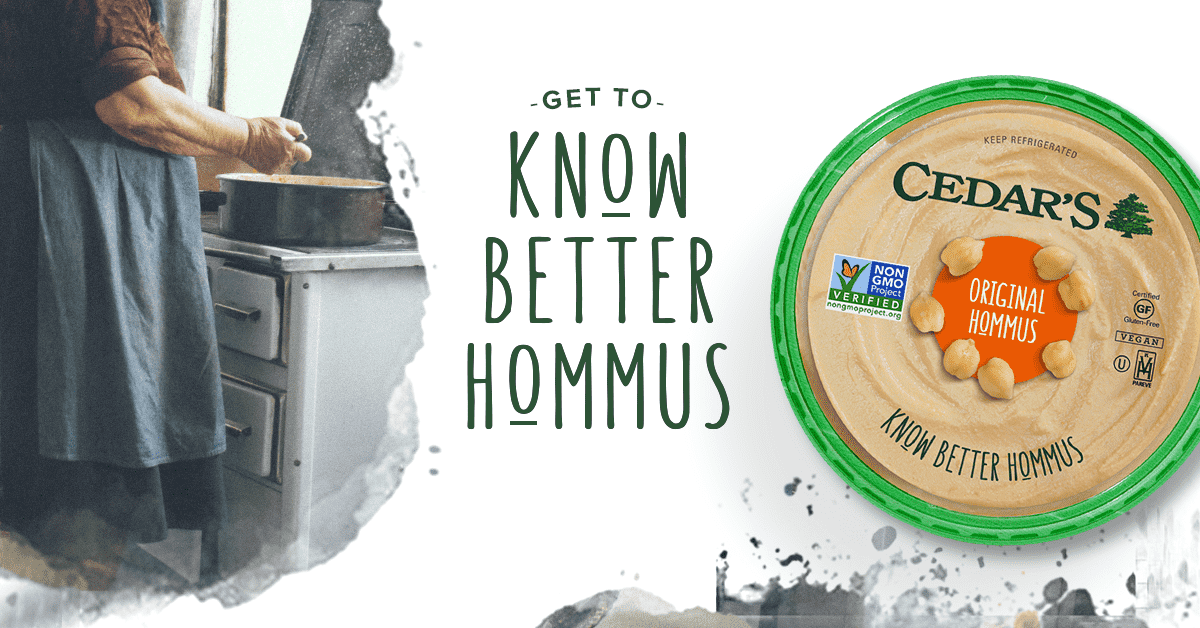 Through the years Cedar's has refined their process, making it possible to serve more and more customers without losing the purity and the flavor that those first small batches contained. And, though they now have dozens of products all over the country, the Cedar's team will always be in those kitchens cooking up their classic family recipe. Simple recipe. Best ingredients. Honest preparation. Know Better Hommus.
Stacy's
In 1996, Stacy Madison started with a sandwich cart in Boston. With a background in social work, Stacy had grown sick of the nine-to-five and decided to follow her passion for food. Soon after, Stacy's Pita Chips were born out of necessity, keeping her hungry customers happy while they waited in line for sandwiches.
As a woman with a dream and the drive to pursue it, Stacy is much like the passionate entrepreneurs who receive microcredit loans from Whole Planet Foundation's microfinance partners around the world. To date, Stacy's Pita Chips has helped fund 450 loans to entrepreneurs due to Whole Planet Foundation support, and has created 2,130 opportunities for these entrepreneurs and their families to lift themselves out of poverty. 
Steaz
Steaz believes in providing people with the best tasting beverages on the planet, made the right way. They support socially and environmentally responsible ingredient partners and buy Fair Trade from their farmers, giving them a fair return on the tea and sugar they purchase. They have also supported poverty alleviation with Whole Planet Foundation since 2012.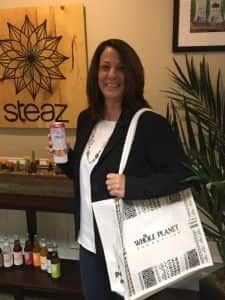 Linda Barron, CEO of Steaz, not only loves her Whole Planet Foundation tote bag, but also had this to say about our work around the word: "Whole Planet Foundation aligns perfectly with Steaz' mission and values, and we are proud to support a like-minded organization that provides opportunities for a better future."
Whole Planet Foundation is thankful to the supporters who enable us to serve the poorest entrepreneurs around the world. You can celebrate our 12th year of poverty alleviation by entering the #povertyisunnecessarysweepstakes, featuring Poverty is Unnecessary Fund brands. Enter starting October 16 through October 31 on the Whole Planet Foundation Facebook page, or make an online donation to help us reach even more of the world's poor with financial services.