Roxana Newton joined the Whole Planet Foundation in February 2016 as Program Manager overseeing the U.S, Latin America and Caribbean portfolio. 
Growing up in San Antonio, Texas, I have been in love with Mexico and its food and culture since I was a kid, so needless to say, I was thrilled to have the opportunity to visit Mexico and our microfinance partner, Pro Mujer in Mexico, in September.
I consider myself a fairly adventurous eater and have a pretty tough stomach, so I don't say no to too much. When visiting with Pro Mujer's management team in the city of Pachuca, we decided to head down the street to a beautiful restaurant, El Parador de San Javier. While I was tempted to order the paella, I followed the team's lead and ordered the traditional (and seasonal) dish chiles en nogada – a sweet and savory dish garnished with pomegranate seeds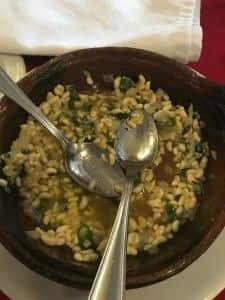 While delicious, what really blew me away was the dish pictured here — escamoles!
…or in English, ant eggs!
The dish was ordered as a surprise appetizer for the rest of the table (the person who ordered it was the only one at the table who had eaten them or even knew what they were). After he told the rest of us that they were in fact ant eggs, I Googled it because quite frankly the eggs appeared bigger than actual ants!
Sure enough, they were actually ant eggs, and they were delicious. I didn't ask for the recipe, but the dish was served cold with serrano peppers, onions and garlic (and the all-important homemade corn tortillas). You can find several different recipes on Google, but I am afraid it will be rather difficult to find the eggs here in the United States. Therefore, I encourage everyone to take a trip to Mexico and try some escamoles!
To keep up with WPF's team in the field, visit the Dispatch From the Field Tumblr.