Thank you for joining our Power Your Purpose Virtual 5K! As part of today's events, we're sharing some of our favorite recipes featuring our Virtual 5K Medal Sponsor and $10,000 Fund member, Truff Hot Sauce. The Whole Planet Foundation team loves to explore new and international flavors, and we've rolled up our sleeves and gotten into our home test kitchens to perfect these recipes for you to try.
Check out our Power Your Purpose 5K Instagram story highlight on the @wholeplanet channel to watch our friend Joaquín of Dos Lunas Cheese show us how to make authentic Venezuelan (and Colombian) arepas on video.
Have you ever tried an arepa? Arepas are a staple food in Venezuela and Colombia. Made of pre-cooked white cornmeal (similar to grits), they can either be stuffed or topped with the flavors you love. We're excited to share our recipes for Arepas, Truff Sauce Marinade, Truffey-Q Sauce, BBQ Pulled Pork, Coleslaw, Truffalo Cauliflower, and Sweet Hot Truffalo sauce.
From our kitchens to yours, ¡Buen provecho!
¡Épale, Arepas!
This recipe yields 6 arepas
Ingredients:
1 cup warm water (for even more depth of flavor, try using ½ cup of milk and ½ cup of water)
1 cup arepa flour (pre-cooked white corn meal, aka areparina or masarepa)
1 cup shredded cheese (Mozzarella, Provolone, Jack, Havarti… these types all work well)
1 tablespoon butter, softened
Salt to taste (as Joaquín says, "Salt with your heart!")
Instructions:
Cooking oil or spray (most any mild vegetable oil will work, e.g. avocado, canola, safflower.  Or go a bolder with coconut or olive oil!)
In a large bowl, combine the water, cheese, butter, and salt.  Then slowly add the arepa flour while stirring (with your clean hands or a wooden spoon, knead until well-mixed, adjusting the consistency as needed by adding more water or flour. You will know the dough is ready when it pulls away from the sides of the bowl and doesn't stick to your fingers.  Hand-form balls with the dough, about baseball- or fist-sized.  You can adjust the size to suit your preference, as you repeat this recipe over time.
One at a time, pass a dough ball from one hand to the other and pat it into a round, flattened cake (approximately ½ inch thick).  Avoid the formation of cracks at the edges of your arepas.  You can also form them by placing them between 2 sheets of plastic food wrap, then flattening with a rolling pin to the desired thickness.  Arepas are often made in fairly precise circles, so if you'd like you can cut the flattened dough pressing a bowl or drinking glass through the plastic wrap.
Lightly coat a pan or griddle with oil and heat to medium-high.  Add the arepas and cook until golden brown, about 5 minutes per side.  Some crusting and blackening is often preferred for texture, flavor, and eye-appeal. Enjoy most any way you fancy, ideally very soon after they've come off the griddle!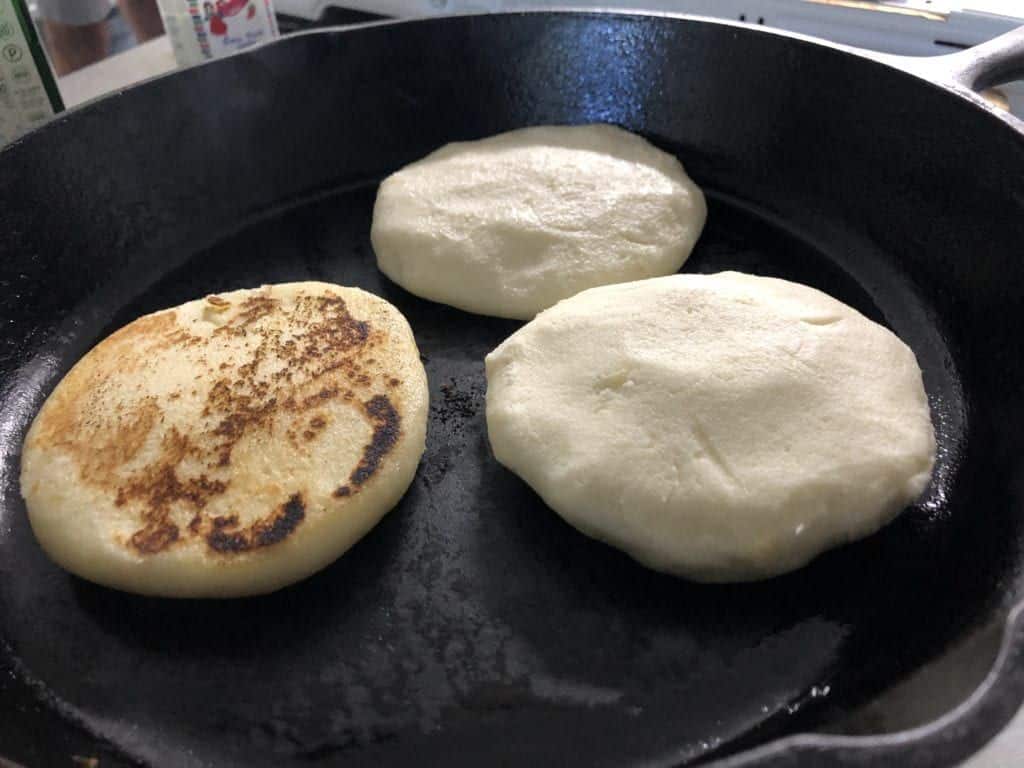 ---
Truff Sauce Marinade
This recipe yields enough marinade for about 1 lb of meat, cauliflower, jackfruit or any other filling of this sort (a rough rule of thumb is about ¼ cup of marinade per pound of meat/filling)
Ingredients:
1/4 cup Truff Hot Sauce (Black Truffle Infused)
1/4 cup red wine vinegar
2 tablespoons reduced-sodium soy sauce
3 tablespoons olive oil
1 ½ tablespoons brown sugar
1 ½ teaspoons dried parsley flakes
1 teaspoon dry mustard
½ teaspoon dried basil
½ teaspoon dried oregano
¼ teaspoon garlic powder
¼ teaspoon ground black pepper
Salt to taste
Instructions:
Combine ingredients. Marinate meat or veggies in a zip-top bag or sealed reusable container (remove as much air as possible), in refrigerator, turning occasionally, ideally for 4 hours and no less than 2, no more than 8.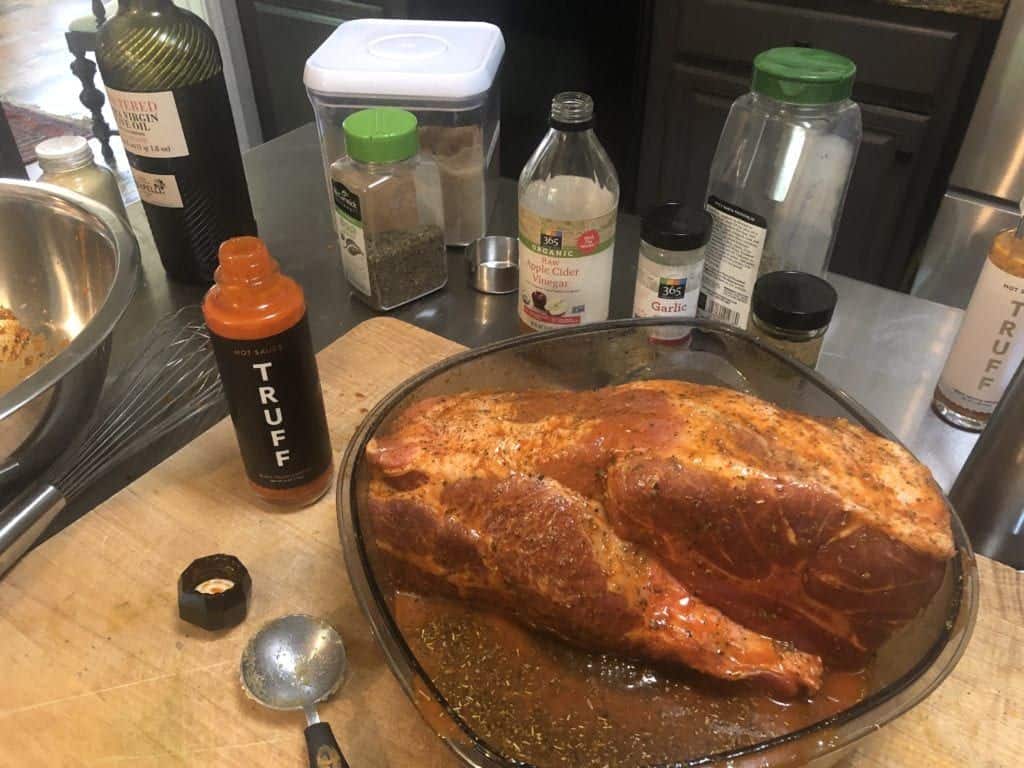 ---
Pulled Pork for Arepa Stuffin' & Truff-in'
This is a simple recipe for pulled pork made in a slow cooker/crockpot, but you can use most any pulled pork recipe using a BBQ smoker, oven, pressure cooker, etc.
Ingredients:
1 pork shoulder or pork butt (6-7 lb with bone, 5-6 lb boneless)
2 tablespoons coarse salt
2 tablespoons brown sugar
2 teaspoons fresh ground black pepper
1 recipe-equivalent of Truff Sauce Marinade, for every pound of pork
½ cup room-temperature water
6 cloves garlic, peeled and crushed
2 medium onions, peeled and coarsely chopped
Instructions:
Trim off excess fat from your cut of pork.  Season evenly and generously with salt, brown sugar, and pepper.  Pour marinade over the meat and ensure it is coated all over.  Cover and refrigerate 4-5 hours, and no more than  overnight.  While to the extent possible, letting the dry rub settle and the marinade do its slow thing with the meat is preferred, in a pinch you can just season/drench and start cooking immediately.  Pour marinade over the pork shoulder, in a bag or watertight container.
Place the pork shoulder, including any juices which may have accumulated during the marinating period, in a slow cooker with capacity of no less than 6 liters (or 6 quarts).  Pour the water, around, but not on top of, the pork, and then scatter the garlic and onion all around the top of what at this point is a decidedly highly seasoned roast.
Cover and cook on LOW until the meat is tender and can easily be shredded – approximately 10-12 hours.  Transfer the pork to a clean cutting/chopping/pulling surface.  Allow the meat to cool down for a few minutes, then use your fingers or a couple of forks to shred the meat into bite-sized pieces.  Cover loosely and set aside.
Pour the cooking liquid from the slow cooker through a strainer and into a bowl.  Skim any significantly remaining fat from the surface of the cooking liquid.  Reserve the cooking liquid as for one, it can be used to keep leftovers moist.
---
Truffey-Q Sauce
Ingredients:
½ cup butter
1/3 cup of Truff Hotter Sauce
2 cups chopped celery
1 ½ cups chopped onion
4 cups ketchup
2 cups water
⅔ cup cider vinegar
½ cup brown sugar
¼ cup Worcestershire sauce
2 tablespoons prepared mustard
1 tablespoon garlic powder
Instructions:
Prepare barbecue sauce while pork is cooking.  Melt butter in a large saucepan or small Dutch oven over medium heat; cook and stir 2 cups celery and 1 1/2 cups onion until onion is translucent, about 5 minutes. Add ketchup, water, vinegar, brown sugar, Worcestershire sauce, mustard, and garlic powder; mix. Reduce heat to low and simmer, stirring occasionally, until sauce is thickened, about 10 minutes.  Pour barbecue sauce over shredded pork to taste.
---
Coleslaw
Ingredients:
2-3 cups of grated or shredded cabbage
1 cup of ripe, diced tomato
3 tablespoons fresh minced cilantro
2 teaspoons lime juice
2 teaspoons olive oil
Salt and pepper to taste
Instructions:
Gently yet thoroughly combine all the ingredients.  Serve immediately.
---
Sweet-Hot Truffalo Sauce
Ingredients:
¼ cup Truff Black Truffle Infused hot sauce
2 tablespoons oil of your choice
3 tablespoons honey
Instructions:
Combine the Truff hot sauce, honey and oil in a bowl and stir until combined.
---
Baked Cauliflower Truffalo Wings
Ingredients:
¾ cup all-purpose flour
1 teaspoon smoked paprika
2 teaspoons garlic salt
½ teaspoon pepper
¾ cup milk or milk alternative
1 head cauliflower
1 batch Sweet-Hot Truffalo Sauce (recipe above)
Instructions:
Preheat the oven to 450˚F (230˚C). Line a baking sheet with parchment paper.
In a large bowl, add the flour, smoked paprika, garlic salt, pepper and milk. Stir until combined.
Break the head of cauliflower into pieces, about 1½-inches wide. Add the florets to the batter, and evenly coat all of the pieces in the batter. Arrange the coated cauliflower on the baking sheet. Bake for 20 minutes, flipping halfway through the cooking time.
Brush the Sweet-Hot Truffalo Sauce on the baking cauliflower and then bake for another 15-20 minutes. Enjoy on top of an arepa or as a tasty snack!