Whole Planet Foundation's Board of Directors has approved a grant to support the growth of an innovative business loan program in Egypt supporting widows and other female heads of households (FHHs) in rural communities of Upper Egypt. The program is designed to economically empower widows and FHHs by increasing their incomes through self-employment and access to work in higher value-added home-based activities such as duck rearing and duck wholesale. WPF will be helping to finance about 500 new women over the next year.
Whole Planet Foundation will be working with the Global Fund for Widows and their local microfinance partner the Future Eve Foundation to help increase access to business capital for female breadwinners facing extreme challenges in providing sufficient income to support their families. The program, which they have named the Amal program (Amal meaning Hope in Arabic), focuses their outreach on women who are widowed, abandoned by a spouse, divorced, or in some cases have found their husband incapacitated and unable to work.
The Global Fund for Widows has developed this focus on economic empowerment for a particularly vulnerable population in Egypt and other countries. Globally, the 'shock' to a household due to the event of widowhood and the subsequent loss of household income, launches a vicious cycle of poverty. This 'Epidemic of Widowhood', results in the loss of access to basic needs, an inability to access shelter and or provide education, disenfranchisement, social exclusion and obstacles to accessing training, employment, or financial resources, ultimately plunging the widow and her children, in a multi-generational poverty trap.
Global Fund for Widows works to bring culturally appropriate economic empowerment solutions to the worlds' most marginalized women – by offering skills-based training, financial inclusion, and employment opportunities – in an effort to provide sustainable solutions and alleviate this root source of poverty.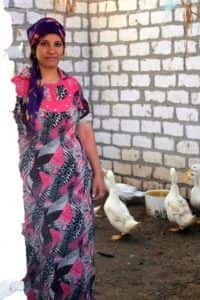 The Global Fund for Widows estimates the percentage of households headed by a widow or single mother in Egypt at 36% and even higher in rural areas.  Their research also indicates that over 50% of widows are under the age of 39, generally meaning that they have young children to care for.
Future Eve Foundation is able to support this particularly vulnerable population by hiring local staff and linking with  local leaders that can help ensure a close relationship between the microfinance institution and the business clients.
Additionally, Future Eve Foundation have been working with Global Fund for Widows to promote and assist their clients in the program to improve income possibilities through participation in higher income yielding value chain activities, which secure stability in income streams and help achieve sustainability. One such value chain, is Amal's Duck Program, in which clients can choose to receive training and assistance in launching duck-related businesses which have the duel benefit of being both highly profitable in Egypt, and can be easily managed from the widow and FHHs' home. These micro-enterprises, when pooled together, create a powerful market mechanism, and ensure the raising or wholesale of ducks is a rewarding enterprise for female breadwinners working to both care for a family and earn a meaningful income.