Partners Commit $1.05 Million for Microcredit
AUSTIN, Texas (February 21, 2019) – On Thursday, March 1, Whole Planet Foundation launches its Annual Prosperity Campaign to alleviate poverty around the globe for the world's poorest people – mostly women – living in communities where Whole Foods Market sources products. This year's campaign goal is to raise $4 million to increase the foundation's current reach of 75 countries and 17 U.S. cities.
"Shoppers rally to support women entrepreneurs each year during the Annual Prosperity Campaign. Whole Foods Market customers have the opportunity to give at the registers each time they shop, funding the future opportunity for a woman who dreams of running her own small business so that she and her family can escape generational poverty," said Joy Stoddard, Whole Planet Foundation development and outreach director.
"A microcredit loan unleashes the capacity of a woman living in poverty to put her smarts and industrious nature to work. She can buy inventory in bulk, purchase a piece of equipment to create efficiencies or add some shelves to her market stall, for the chance to make a profit. This campaign enables us all to contribute where we live and abroad to provide opportunities for entrepreneurs in the United States and 72 other countries around the globe." Because Whole Foods Market covers the foundation's operational costs, 100 percent of every donation benefits microcredit clients.
How Whole Planet Foundation Works
The average first microloan size supported by Whole Planet Foundation is $179 and although the loans do not require a formal contract or collateral, the current average repayment rate across microfinance projects funded by Whole Planet Foundation is 97%. The foundation funds microcredit loans through a network of vetted microfinance partners who create systems that support an entrepreneur to repay the loan and secure subsequent, larger loans, thereby lifting up families and communities over time.
For example, Solange, pictured at the top of this post, is a microcredit client of Whole Planet Foundation's microfinance partner Umutanguha Microfinance in Rwanda. Solange borrows 200,000 Rwandan Francs (about $230) in business capital through her village saving and loan group and serves as the group's president, learning leadership skills to support the 30 members.
In 2015, Solange used her initial loans from Umutanguha Microfinance to construct a physical space for her shop and she has used subsequent loans to increase her inventory and sell more items in her community. She is currently managing her 7th loan and can make $57 in sales on a good day. In the future she hopes to add more food staples in bulk to the shop like beans, sorghum and maize.
This approach is also successful in the United States, where supportive systems are in place for microentrepreneurs who run businesses including prepared foods, flower stands, artisan goods, mobile nail salons, and jewelry, shoes and clothing sales.
"In fifteen years, we have funded 3.1 million microloans providing 17 million opportunities for the world's poorest people to live a better life through entrepreneurship," said Philip Sansone, Whole Planet Foundation president and executive director. "This work is made possible by our generous shoppers and supplier donors."
Amplifying this year's Prosperity Campaign, suppliers to Whole Foods Market are donating $1.05 million to fund 31,550 opportunities for low-income entrepreneurs around the world to change their own lives. Suppliers donating $100,000 each include Allegro Coffee Company, Frontier Co-op, Naked Juice, Papyrus-Recycled Greetings and So Delicious. Suppliers donating $50,000 each include Chobani, Hain Celestial, High Brew Coffee, Hiball Energy, Kevita, Numi Organic Tea, RenewLife, Sambazon, Seventh Generation, Traditional Medicinals and Weleda. Watch this video to hear from suppliers during their field visit to Nepal.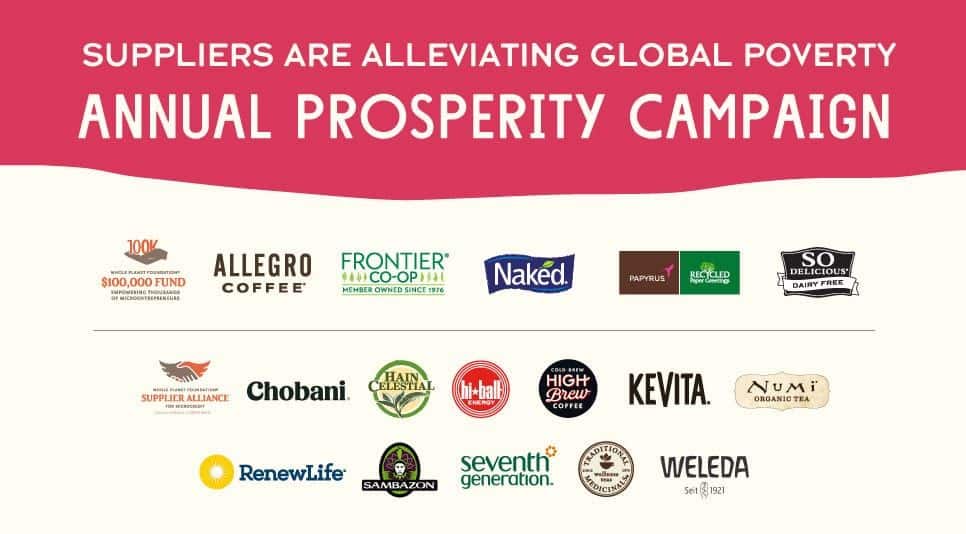 Learn more about the transformative power of microcredit by exploring our site, and join the Prosperity Campaign in Whole Foods Market stores or online to fund the future of women entrepreneurs worldwide.
About Whole Planet Foundation
Founded in 2005, Whole Planet Foundation is a Whole Foods Market foundation that alleviates poverty worldwide where the company sources products. The nonprofit's mission is to empower the world's poorest people with microcredit and the chance to create or expand a home-based business and lift themselves and their families out of poverty. As of September 2019, Whole Planet Foundation is alleviating poverty through microfinance partners in 73 countries throughout Africa, Asia and Latin America, and in the United States in Austin, Boston, Charlotte, Des Moines, Harlem, Houston, Newark, New York, Omaha, Los Angeles, Miami, New Orleans, Oakland, Phoenix, Salt Lake City, San Diego, San Jose and Puerto Rico.