Whole Foods Market Team Member Volunteer Emily Wright shares her experience volunteering and meeting microcredit clients in South Africa.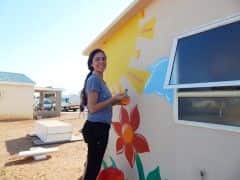 Each year, Whole Foods Market Team Members get the opportunity to volunteer through the Whole Foods Market Team Member Volunteer Program and travel to countries where our company sources products and Whole Planet Foundation funds microlending programs.
Last summer, 11 Team Members traveled from cities across the United States to South Africa for two weeks to perform community service and meet microcredit clients of Small Enterprise Foundation, Whole Planet Foundation's microlending partner. I was lucky to be one of those volunteers!
We were fortunate to work with Stellar Foundation, a foundation started by the South African Winery and supplier to Whole Foods Market, Stellar Organics. With the foundation, we renovated a preschool in the Western Cape where many of their farm workers' children attend school. Early childhood development is crucial for all children, and the rural preschool we worked on was in need of some serious repair.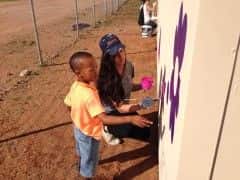 Throughout the week, our team painted, sanded, sewed, reorganized and filled the school with new toothbrushes, washcloths, books, blankets and toys for the children to enjoy. We also got to play games with the kids and dance and laugh! The children's happiness and energy were infectious, and seeing the impact that our project had on the community was humbling.
After our work was done at the preschool, it was time to head northeast to visit the women who are recipients of microcredit loans from Small Enterprise Foundation, Whole Planet Foundation's microlending partner in South Africa. This was definitely one of the most powerful moments of our trip! We heard stories from women who were empowered with microcredit loans to start their own businesses. Many women use profits from these businesses to finish building a home for their family and to send their children to college. These women are living proof of the immense change that a small loan can have for the recipients, their loved ones and the entire community.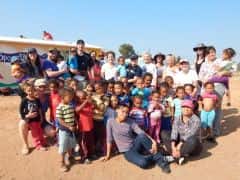 My eyes have been opened by the impact that we can have as shoppers when we choose to purchase products from socially responsibly brands like Stellar Organics, or companies that donate to organizations like Whole Planet Foundation. Suppliers like these make me proud to shop the products we sell in our stores! Whole Foods Market is truly a great place to work (just as FORTUNE has noted for the past 18 years!) for providing opportunities like these for our Team Members.