Whole Planet Foundation has recently signed onto the Key Principles to Protect Microfinance Institutions and their Clients in the COVID-19 Crisis, supporting dialogue and collective action to help microfinance institutions support their clients in this difficult period. Similarly WPF has been following and is supportive of other similar efforts including the MOU on Coordination among MIVs in response to Covid 19 launched in April.
As shown in the photo above, WPF's microfinance partner Sampurna Training and Entrepreneurship Programme (STEP) in India has restarted their activities in June in full force.  STEP has provided health trainings about COVID to almost 10,000 borrowers and distributed 1,000 masks.
As members of Whole Planet Foundation's Programs team, for the last two months we have been focusing on close and careful communication with our microfinance partners as they navigate an unprecedented shutdown of their local markets, due to restrictions intended to combat the spread of COVID-19. This shutdown is preventing their clients from doing business, which means those entrepreneur clients are struggling to make a living and will certainly face difficulties repaying the business loans that are ordinarily used to grow their business activities.
WPF receives its funds as donations which permits us to offer microfinance institutions free capital and a degree of flexibility on repaying capital in situations where clients are unexpectedly unable to run their businesses. However, this isn't the case with most supporters and investors in the microfinance industry. The large majority of capital that enables microfinance comes in the form of external loans that are repaid by microfinance institutions on a regular basis with varying levels of interest.
Over the course of this crisis, WPF has been heartened to see so many different types of investors from the microfinance sector coming together to make commitments to ensure microfinance institutions are able to keep their capital in place until the COVID-19 crisis subsides and local businesses restart, even if that capital was meant to be repaid to investors in 2020. The crisis is also sparking collective conversations between microfinance investors on how they will address a future economic crisis started by COVID-19 which could continue to deteriorate economies in poor communities after lockdowns are lifted.
WPF recently joined the pledge of Key Principles (see more at the bottom of this post) aiming to help build momentum for a toolbox that diverse types of investors can use to collectively help microfinance institutions survive this crisis and be well placed to quickly help client businesses once COVID-19 lockdowns end. WPF was impressed with the social focus of the Pledge and its first objective to create an open dialogue between lenders to collectively work to ensure capital stays with the microfinance institutions that all are seeking to support.
Some of the unique tools that WPF found particularly important in this Pledge among microfinance investors include:
• A clear statement that the objective of collective action is ultimately to help entrepreneurs survive the consequences of COVID-19 and that while investors need to ensure capital stays with microfinance institutions this flexibility should positively impact the entrepreneurs that are suffering by ensuring that these clients are not aggressively pressured to repay loans amidst overwhelmingly difficult economic conditions;
• A united front to minimize requests for information by collectively creating common reporting formats that can be used to facilitate the dialogue between lenders and institutions to ensure microfinance institutions are devoting their time to addressing client needs and not responding to endless lender queries;
• Thinking ahead now on how to limit the impact of future deterioration in the global economy sparked by COVID-19 which can result, for example, from fast deterioration of local currency values that would make investments in U.S. dollars or other currencies extremely difficult to repay. This pledge builds on important lessons learned from the 2008 financial crisis on how to quickly mobilize to collectively restructure overall debt owed by microfinance institutions if COVID-19's impact becomes a long-term crisis for entrepreneur clients.
As a charitable foundation that prioritzes a social return on its investments in microfinance (the alleviation of poverty through access to fair financial services) more than a monetary return, WPF is now asking how the sector that funds microfinance could go further while understanding the constraints faced by other lenders.
We are fortunate that with the support of Whole Foods Market, Whole Planet Foundation's program staff have the opportunity to visit every active partnership annually, which has allowed the Foundation to build a nuanced perspective of how these institutions operate and their unique vulnerabilities. With this in-depth perspective WPF wants to turn to the larger circle of investors and supporters to ask that the following considerations are also brought into collective conversations initiated by this pledge of Key Principles:
• If your institution can delay or forgive interest to a microfinance institution, can that institution be empowered to in turn delay or forgive the interest owed by their clients? Or might it allow the institution to retain staff that can help ensure the viability of that institution?: Every investor in microfinance is bound by the constraints imposed by their sources of capital, but WPF wants to ensure there is also transparency in lenders' ability to delay or forgive the cost of that capital through interest and fees that microfinance institutions often pay but may not be covered by revenues coming in from microlending activities when business activities stop during a crisis.
• During the collective action discussion, WPF hopes lenders will tailor their responses for those institutions that go furthest to serve vulnerable communities in need but may face bigger challenges to survival than more commercially successful microfinance institutions: WPF supports microfinance institutions that bring their clients a wide range of extra services that other financial service providers don't offer. This often comes with the trade-offs of lower cash reserves, thinner operating margins and a more vulnerable clientele. In ordinary times, WPF sees these partners roll out trainings in villages, support health services, work with remote community-based savings groups and offer doorstep delivery of quality agricultural inputs to small-scale farmers.
These same institutions, over the course of the COVID-19 crisis, have translated health information into local languages, delivered sanitation supplies across wide areas, offered crisis grants to clients that have lost their business capital and diverted their institutional equity to cover staff salaries while lending stopped due to COVID-19. These institutions are usually registered as non-profit organizations and may be registered as local cooperatives or credit unions that place maximum resources to create social impact and lower costs to poor clients. These institutions may not have the biggest loan portfolios, but rather the greatest depth in serving poor borrowers in remote or marginalized areas.
• Can this Pledge be the start of a roadmap for increasing capacity and planning before the next crisis hits? And can this pledge be the starting point for on-going collective planning to protect the microfinance sector?:  The pledge on Key Principles calls for increased technical assistance for microfinance institutions struggling to manage a fast-paced crisis, but how many institutions can quickly mobilize technical experts in the midst of a fast-moving crisis while also managing requests for updates from a wide range of lenders? The lender community can help to build a more resilient system by going further than contractual covenants to include crisis management, preparedness training and capacity building with microfinance institutions over the course of an investment.
WPF has been supporting microfinance institutions since 2006 with a mix of grant capital and no-interest loans across 77 countries and is preparing not only for the aftermath of the COVID-19 crisis but also the eventuality of other future long-term external shocks that are sure to bring further challenges to micro, small and medium-sized businesses in poor communities. Whole Planet Foundation looks forward to continuing the conversation with other supporters and investors in the sector to work towards a sustainability plan for ensuring the long-term viability of pro-poor microfinance globally.
---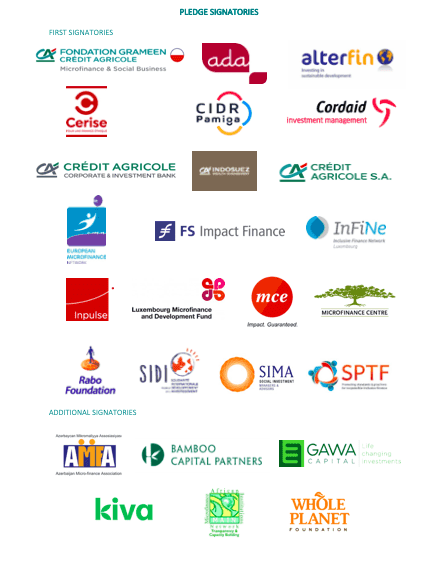 More about the Pledge
In response to the health and economic crisis caused by Covid-19, a group of lenders, platforms and key players of the inclusive financial sector committed to a common pledge:  "Key principles to protect microfinance institutions and their clients in the Covid-19 crisis". Initiated by the Grameen Crédit Agricole Foundation, this pledge was built in consensus between all original signatories. The objective is to protect both the microfinance institutions and their clients to ensure the continued access to funding in the best possible conditions and to look out for clients' and staff well-being.
The pledge aims to guide stakeholders to better support microfinance institutions and vulnerable clients during this crisis. The main principles of the pledge are the pooling of available information, analyses and anticipations, as well as the concerted implementation of shared decisions. The signatories agree to coordinate policies, technical assistance and resources to help microfinance institutions in this unprecedented crisis.
Since its publication in May, five new organizations have signed the pledge. This initiative now counts 26 signatories active in Africa, Asia, Eastern Europe and Latin America: ADA, Alterfin, Azerbaijan Micro-finance Association, Bamboo Capital Partners, Cerise, CIDR Pamiga, Cordaid Investment Management, Crédit Agricole CIB India, CA Indosuez Wealth (Asset Management), Crédit Agricole S.A., European Microfinance Network, FS Impact Finance, GAWA Capital, Grameen Crédit Agricole Foundation, InFiNe.lu, Inpulse, Kiva, Luxembourg Microfinance And Development Fund, MCE Social Capital, Microfinance African Institutions Network, Microfinance Centre, Rabo Foundation, SIDI, SIMA, Social Performance Task Force and Whole Planet Foundation.
The signatories welcome additional stakeholders to join this common initiative. The coordination of efforts to support microfinance institutions' actions is essential to overcome this crisis.