The MFI of the Year for Africa/MENA region was awarded to our partner in Morocco, INMAA, an organization that has demonstrated consistent growth over recent years.
Following a 2009-10 crisis of the once celebrated Moroccan microfinance sector, INMAA had lost half its clients. This crisis was due to unchecked rapid growth, over-indebtedness and default.  These are traps which INMAA did not fall into. They grew slowly through rural areas, knew their clients well and, though not unaffected by the crisis, had a better understanding of credit risk. However, once widespread defaults began, everyone was impacted and investment in the sector became almost non-existent. External investors fled as credit risk rose quickly, and sector was propped up by government investment that focused on the largest MFIs.
In December 2010, Whole Planet Foundation began support of INMAA with a first disbursement of $123,000 based on the MFI's promising rural strategy that differentiated it from other microfinance institutions.
Since our partnership began, INMAA has experienced consistent growth. By 2014, INMAA had taken its active portfolio to 7,700 clients, a 48% increase from the end 2010. Write-offs, which were once at over ten percent, have dropped to less than two percent. Portfolio at Risk is now also less than three percent.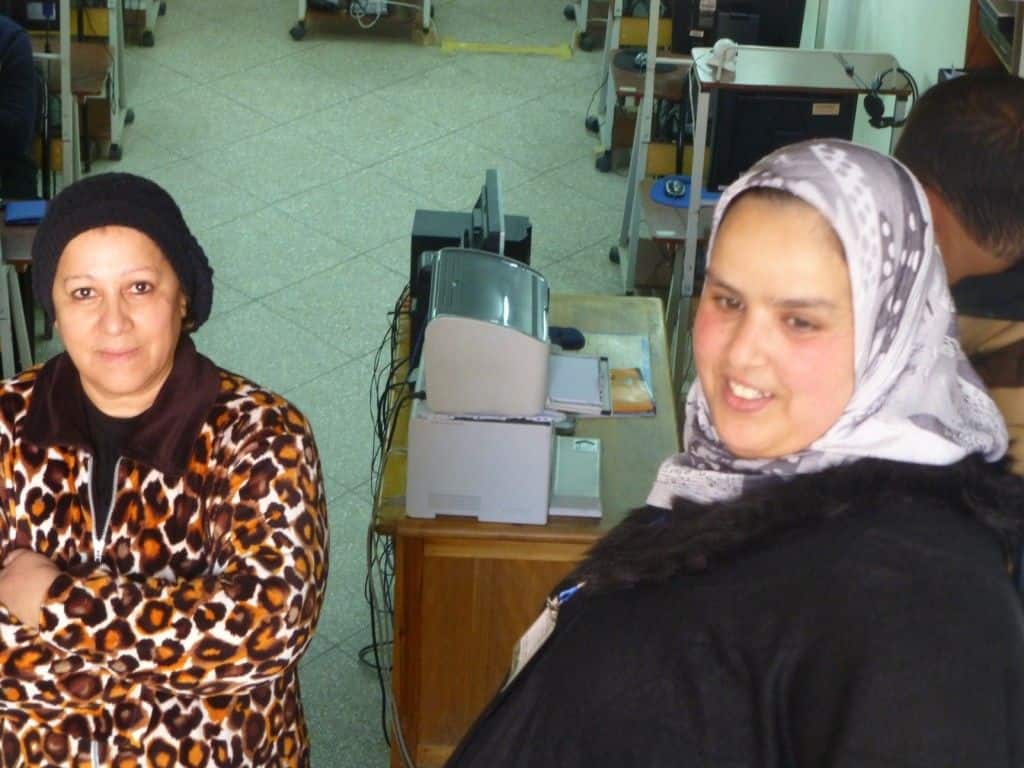 INMAA could not be the successful organization it is today without its driven microcredit clients. Nusah is one client who Brian Doe, Regional Director for Africa and the Middle East, had the opportunity to meet. Her business began a couple years ago when her son obtained a photocopier and wanted to start a business. The photocopier was a significant piece of equipment, and it seemed like it would be easy to use it as a way to launch a business and make a profit. But Nusah's son did not have the money to cover the overhead costs of running the business, and was unable to purchase necessary items like paper and ink. Discouraged, he left their small town to seek out work in Casablanca–an option for men that does not often exist for women living in rural areas.
And Nusah was left with the photocopier. She began to wonder if she should sell it, or try to make something out of it. She found her answer when she met INMAA–two of their staff are embedded in her small town–and learned about the microloans they offer.
Soon, she took out a loan of about $300 to cover the running costs associated with the photocopier. When Brian met her in December she was actually managing a loan of about $1684 and had slowly built up a thriving business, which included a small internet cafe using flashdrive modem keys. She had also bought a printer to print things for people – and there, in the corner, was the photocopier, still bringing in revenue.
Nusah's story highlights the stark difference between trying to start a business with no capital versus having just $300 up-front, and the impact that can have for the poor and their chances for prosperity.
Nusah is one example of someone who has been able to change her own life through a microloan from INMAA and our team is proud to honor them as the MFI of the Year for Africa/MENA region. The future continues to look bright for this MFI. At the end of 2014 INMAA signed new partnerships with more conservative investors who had previously left the sector–Such partnerships will put them on the path to scaling for years to come. And this year, Whole Foods Market Team Members will have the pleasure to meet microcredit clients of INMAA on the Whole Foods Market Team Member Volunteer Program!
We're pleased that through this award, INMAA will be able to buy additional desks and motorcycles for their operations.
P.S. Check out the announcement they've shared on their website!