For the past twelve years, Whole Planet Foundation has received generous support from Whole Foods Market® suppliers who donate funds to help people living in poverty access credit in the form of small loans. Partners who give $25,000 per year are called our "Poverty is Unnecessary Fund" partners, as they are helping us drive closer to the words of Grameen Bank Founder, Muhammad Yunus. 
This year, $25,000 donors include: Cedar's Mediterranean Foods, Greyston Bakery, High Brew Coffee, Natural Vitality, Reserveage Nutrition, Stacy's, Steaz, Surya Brasil, The Republic of Tea, Rishi, VOSS, and WTRMLN WTR.
Surya Brasil Meets Microcredit Clients in Guatemala
This guest content comes from Surya Brasil, a leader in organic, vegan and natural beauty and personal care products. Surya Brasil is a proud sponsor of Whole Planet Foundation at the $25,000 Poverty is Unnecessary Fund level.
This month, Surya Brasil, along with other companies, embarked on a week-long trip to Guatemala with Whole Planet Foundation to witness the impact of their generosity, volunteer with community partner The Phoenix Projects, and visit microcredit clients of their microfinance partner, Friendship Bridge.
"For the past year, we have been thrilled to support this initiative and we were ecstatic to be invited to join them in this mission to witness first-hand the impact that even a small gesture can have over a whole community," says Clelia Angelon, founder and CEO of Surya Brasil, pictured below with Surya Brasil's Sean O'Hara on their recent trip to Guatemala.
"The beauty of this program is that as people repay the microloans, they may also be able to receive many other benefits such as healthcare, education, and training offered by the microfinance institutions. This holistic approach ensures that these women can start or expand their small businesses to find their own sustainable solutions to poverty."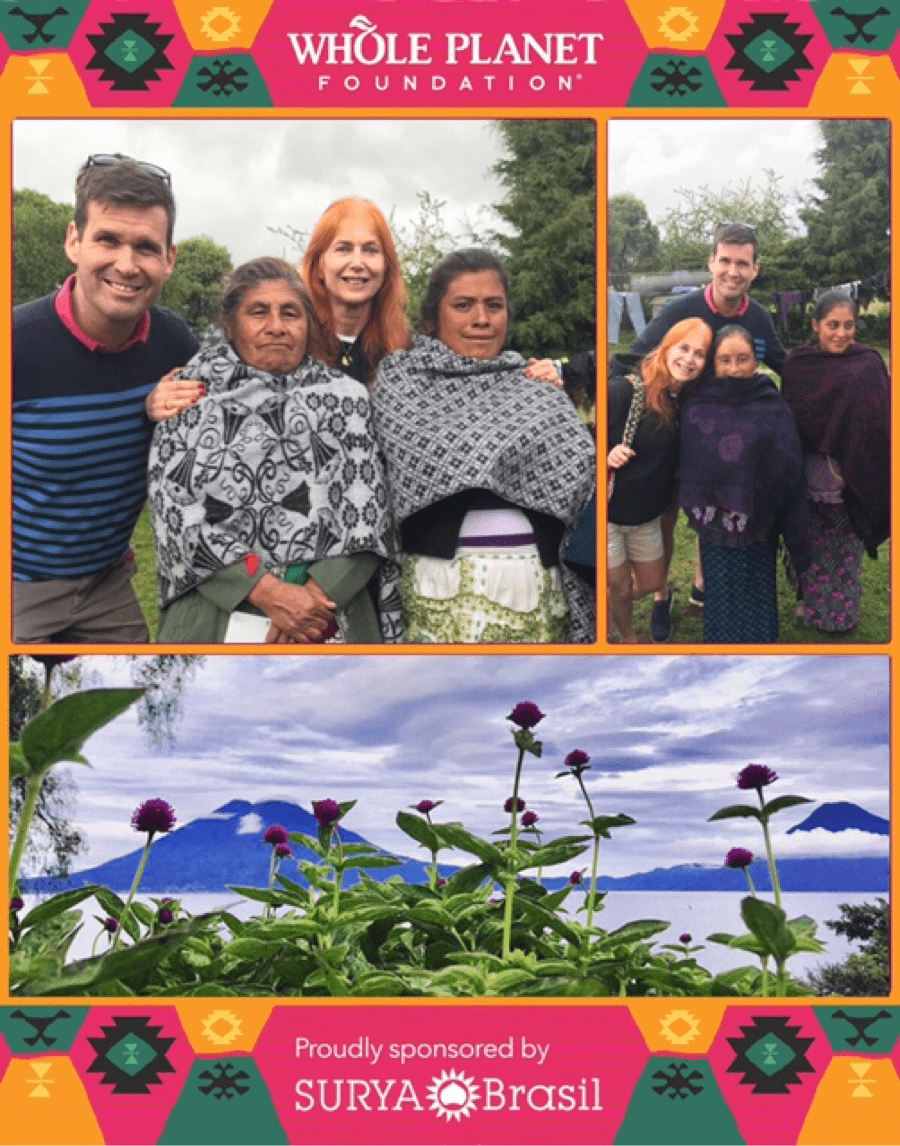 In addition to their philanthropic work with Whole Planet Foundation, Surya Brasil promotes social responsibility through its Surya Solidarity Institute projects. Looking to redefine what it means to be a successful business, the brand's social division zeros in on animal protection, environmental preservation, educational transformation and human rights.
Surya Brasil employees and volunteers pledge to practice the passion, mission and vision of the brand through various charitable actions. Many of the Surya Solidarity initiatives that have proven to be successful in the brand's native Brazil have continued in the U.S., such as growing a seasonal organic vegetable garden at Surya Brasil's New York headquarters, Earth Day events, educational workshops with Girls Inc. of Long Island and more.
Look for Poverty is Unnecessary Fund partner products, including Surya Brasil, in Whole Foods Market® stores from October 11-31 and enter to win prizes during our Poverty is Unnecessary Sweepstakes from October 16-31 on Whole Planet Foundation's Facebook page.