This summer, Planet LA Records and Whole Foods Market stores in Southern California teamed up once again to produce the Summer Nights Concert Series, presented by ALO Drinks, Lifeway, and VitaCoco. Proceeds for the series benefit Whole Planet Foundation. So far, event sponsors and attendees have raised over $1100 for Whole Planet Foundation!
The first concert kicked off on May 21, 2016 with performances by TUFT and Jake Davis at Whole Foods Market Downtown LA. On July 16, Dig The Kid, Our Last Summer, and Livingmore played at Whole Foods Market West Hollywood.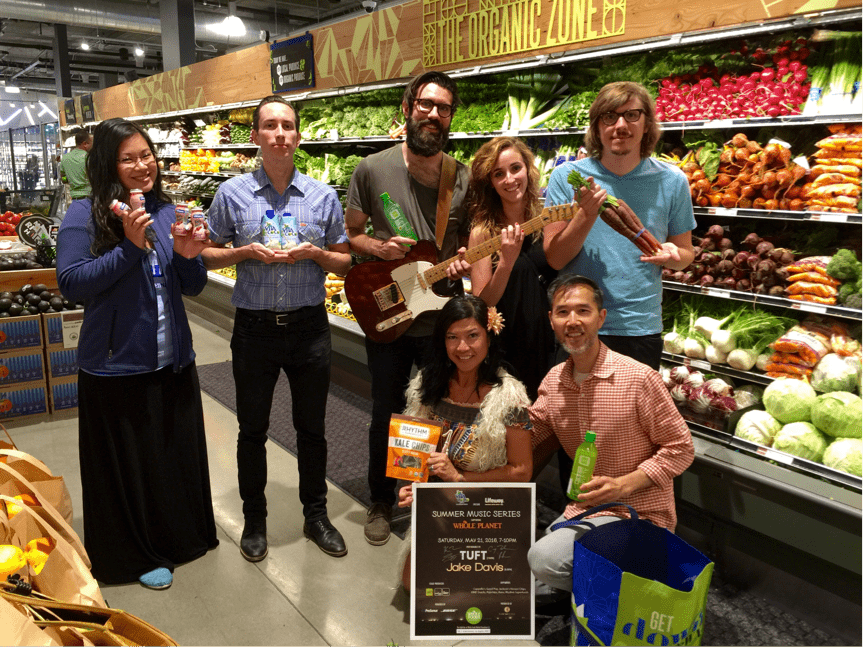 If you're in the Los Angeles area this summer, add the upcoming concerts to your calendar and be part of the fun at Whole Foods Market! All shows are free for all ages.  Brand samples and proceeds benefit Whole Planet Foundation's global microlending programs in 68 countries.
There will also be a special celebration, showcase, and benefit concert on August 20, 2016 for UCLA's Anderson Alumni Network featuring artists and brand supporters of the Summer Music Series. Performers include Andy Allo, Jake Davis, Dig the Kid, Streetlight Cadence, Local Collective, Shalini Barghese, Charles McDonald, and Massi Cims.
Thanks to Summer Music Series Stage Producers Navitas Naturals and Saffron Road, and Supporters Cappello's, Good Pop, Jackson's Honest Chips, KIND Snacks, Popchips, Runa, Rhythm Superfoods, Nadamoo, and Justin's. Sound for the Summer Music Series provided by Bose and PreSonus.
Join the conversation with #WFMSummerMusic and check out @WholePlanet @WFMSoCal and @PlanetLA_Music.
If you can't make the concert series, you can still invest in a future without poverty. A donation as small as $5 can make a difference in more than 2000 lives over 50 years. 100% of your donation to Whole Planet Foundation goes to entrepreneurs in 68 countries, including the United States. Explore our impact calculator and give opportunity today!