Since 2008, Whole Planet Foundation has funded microcredit in Indonesia, partnering with KOMIDA to reach more than 35,837 microcredit clients. The impact will soon grow with help from The Blessing Basket Project, who is working to bring opportunity to communities in Indonesia by sourcing scarves and tote bags from local artisans who will earn Prosperity Wages® for the items they create. When these products are sold in the United States, The Blessing Basket Project will donate a percentage of the profits to support our microfinance partners. That generous donation means the artisans will be utilizing their craft not only to empower themselves, but also to help impoverished entrepreneurs in their country gain access to microcredit so that they, too can use their skillset to create more prosperous lives for their families.
Below, Theresa, Carrington the CEO of The Blessing Basket Project, shares more about the artisan community in Indonesia from which these scarves and tote bags are sourced.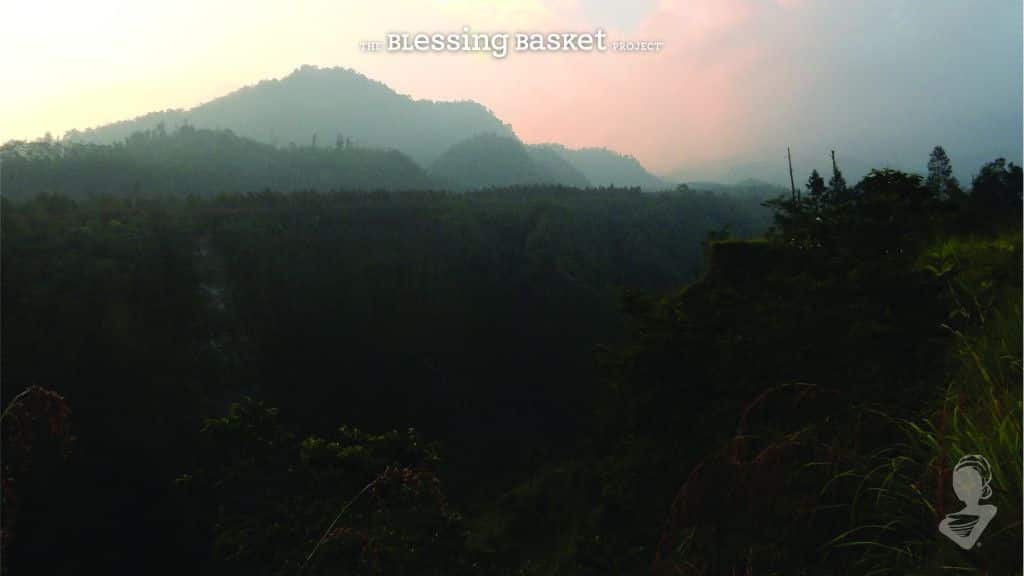 You are looking at the edge of Central Java, Indonesia. Clouds are shrouding the countries most active and feared volcano, Mount Merapi (Mer-op-ee). Literally translated "fire mountain" in Javanese, smoke drifts from Merapi at least 300 days a year, reminding all within view that no day shall be taken for granted.
In Merapi's shadow lies the serene village of Gambiran. Under constant threat of evacuation, hardworking rice farmers and their families struggle here on the edge of poverty.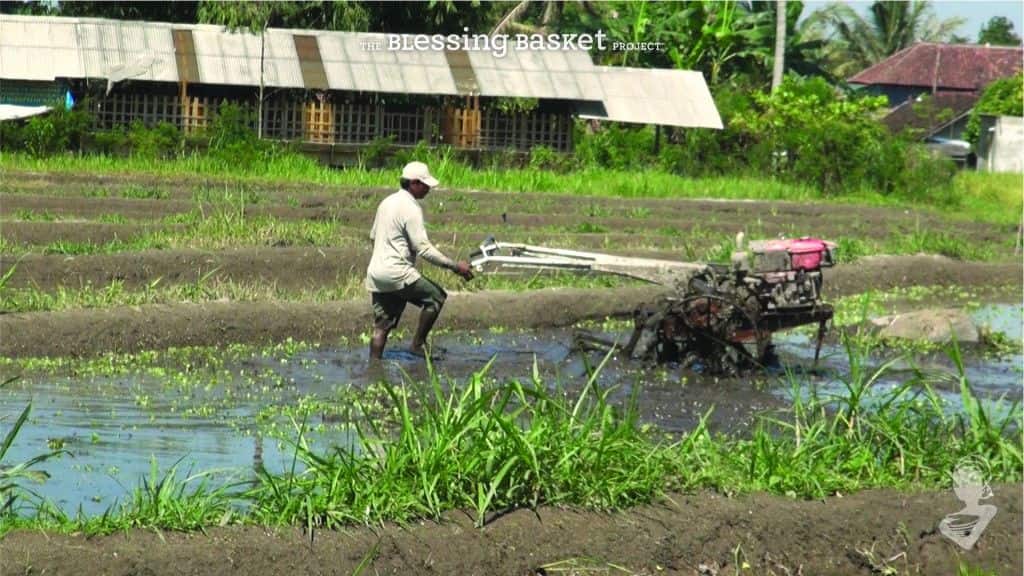 We can't silence Mount Merapi, but we can empower those living in Gambiran.
Like much of Central Java, Gambiran is known for creating exquisite batik fabric.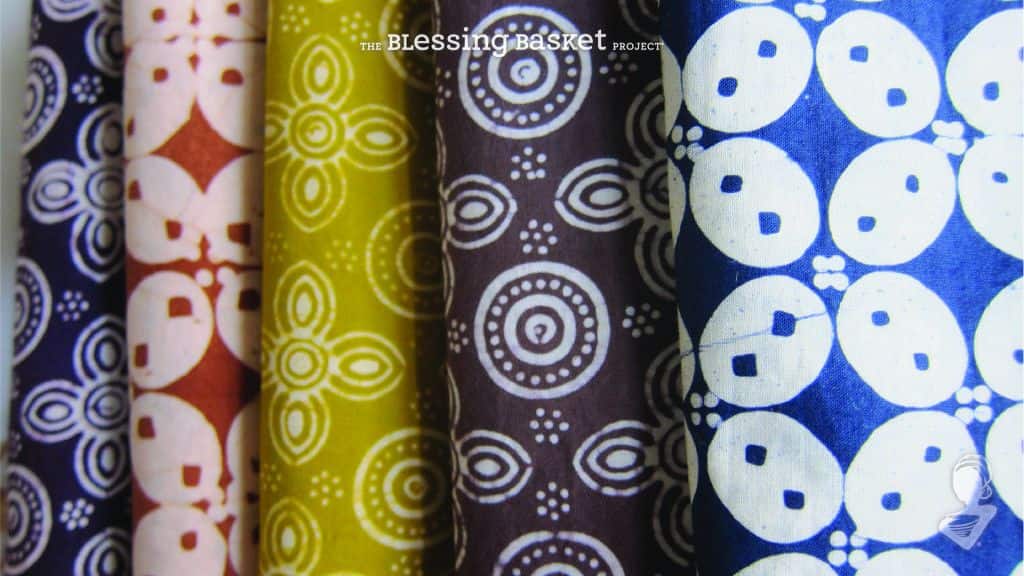 Centuries old copper stamping techniques means each is a unique work of art. The batik patterns are deeply rooted in Indonesian heritage.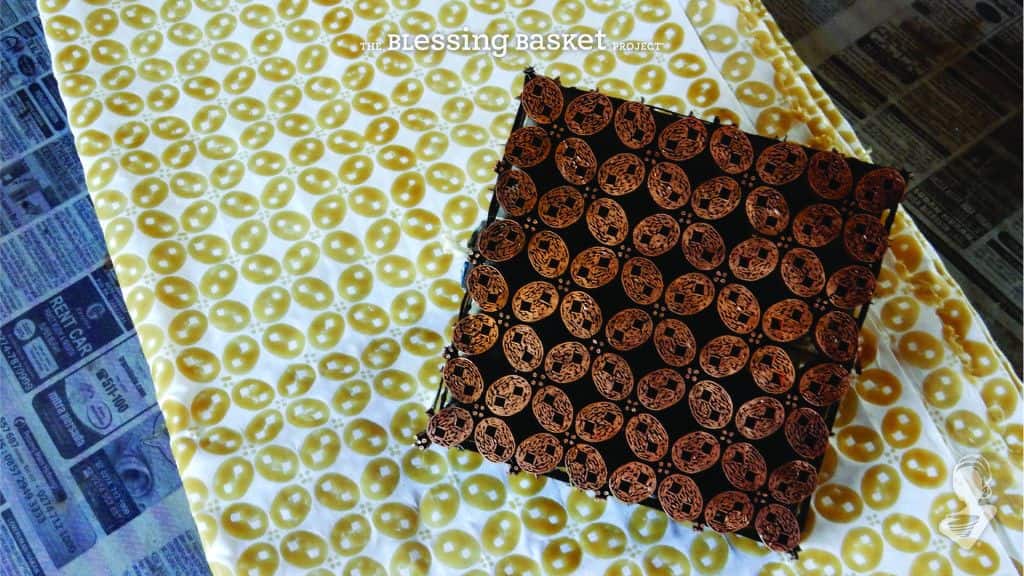 The kawung pattern is one of seven sacred patterns of the Yogyakarta Kingdom. While there are various takes on its meaning, kawung generally symbolizes hope that mankind will always remember their origin and serve as a reminder not to be arrogant. One look and Whole Foods Market knew this amazing art was worthy of its customers. One scarf, one tote bag at a time, this kawong stamp has been dipped in wax and pressed onto the fabric nearly a half million times.
Each scarf and tote bag was skillfully hand dyed by Ms. Ery and Mr. Syifa using colors inspired by nature.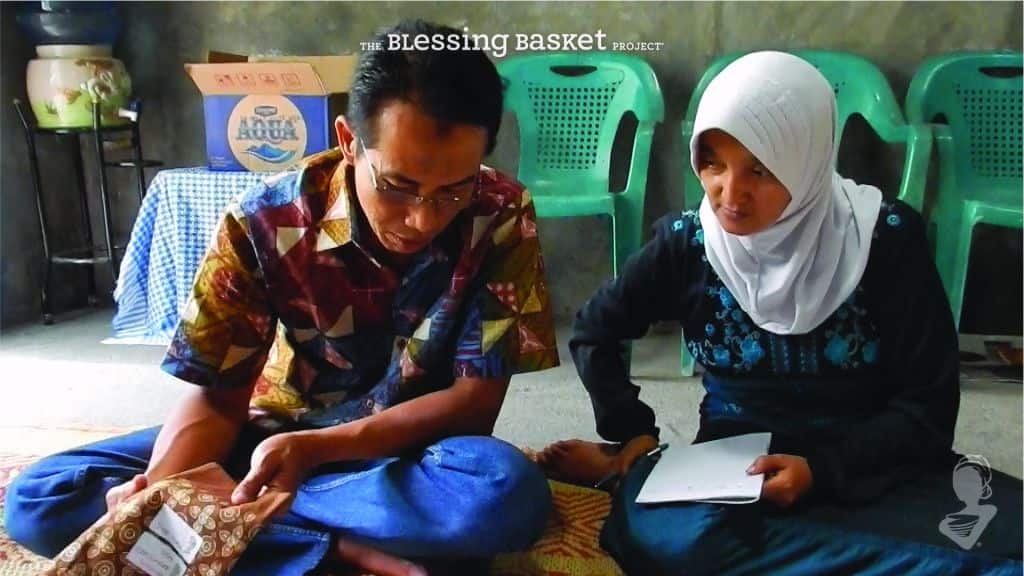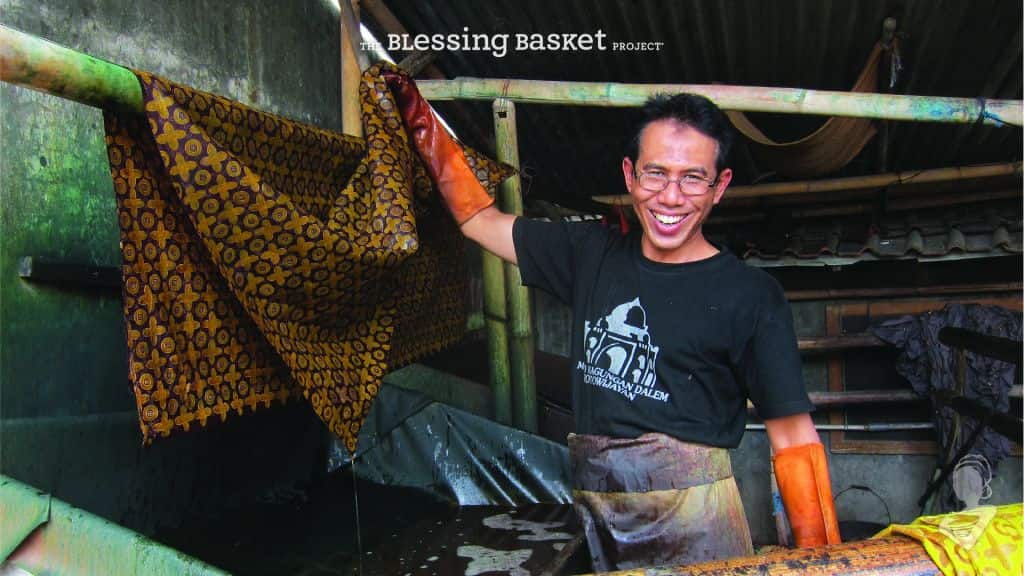 All of the more than half a million tie dye circles are painstakingly tied by hand. The artisans earn Prosperity Wages® for each and every tie.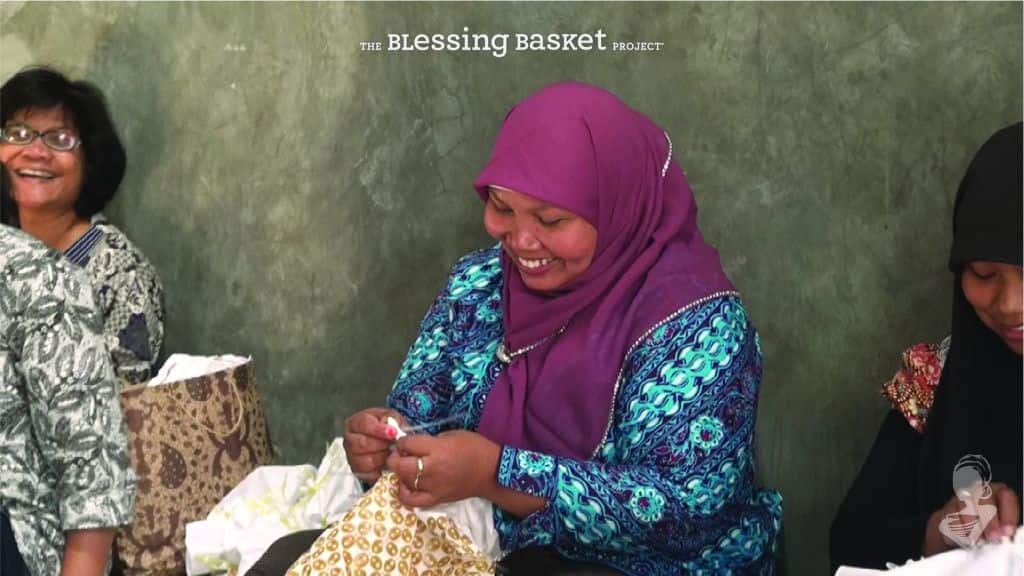 Those funds helped Bariyah buy stock for her roadside store, setting her business up for sustainability.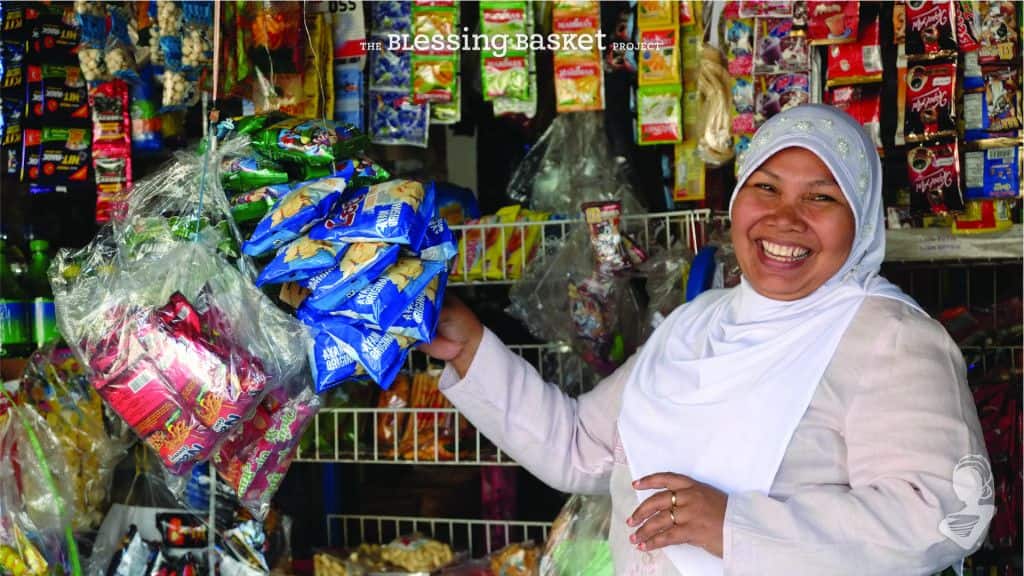 Batik waxing requires exacting skill and patience with a tool called a canting (chun-ting). The artisans will not batik wax if they are stressed due to the intricate nature of the work.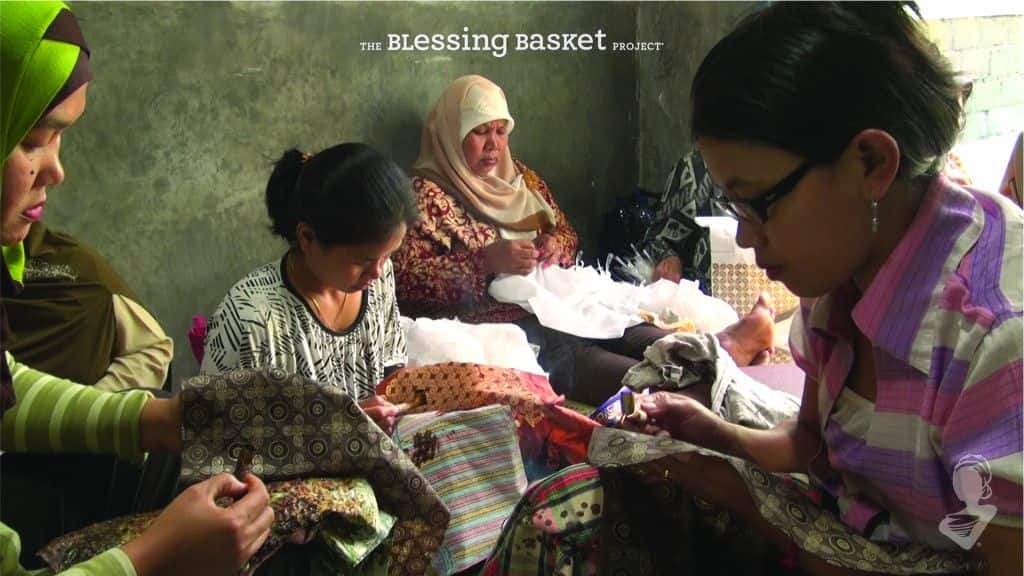 The Blessing Basket Project asked the artisans to sign their work. It was an emotional moment as some learned to write their name for the very first time.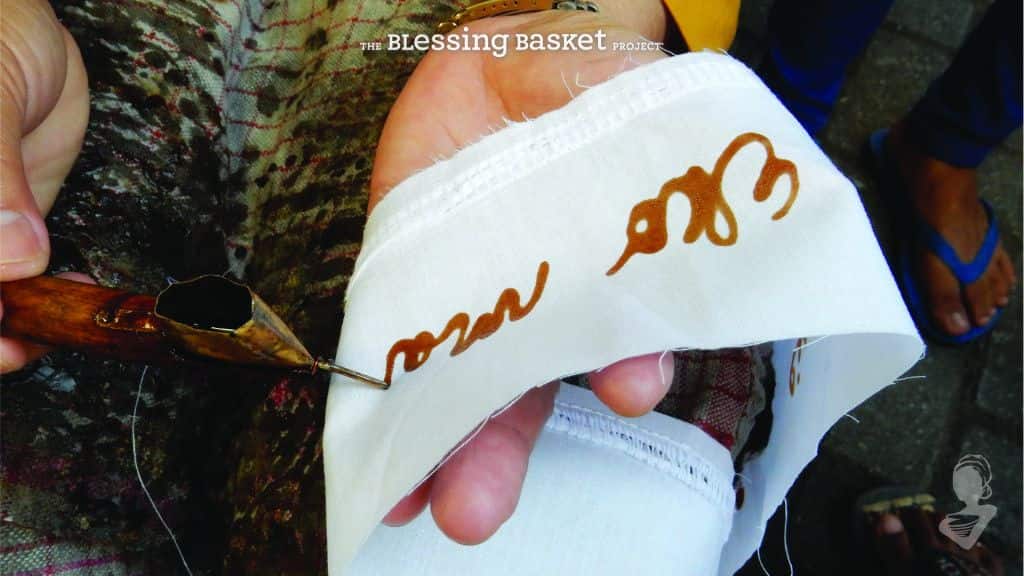 The order for these items was ten times larger than any order these artisans had ever received. The empowerment that follows will help shape a generation's future.
Through The Blessing Basket Project's Prosperity Wages model and her own determination Ekowati is a force for generational change. Her son now has a computer and the 2000 plant expansion of her chili farm secures her daughter's education.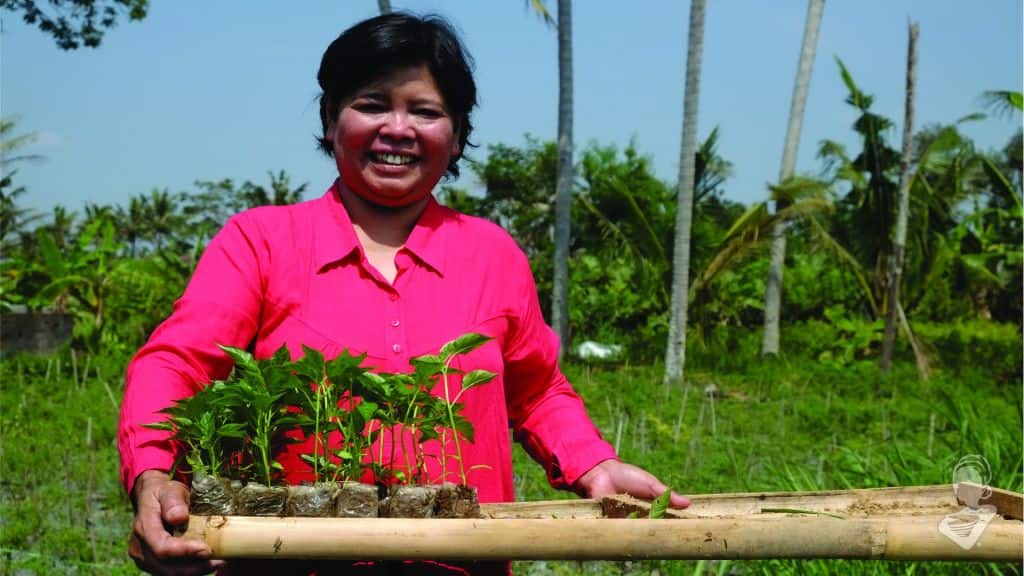 Each artisan who helped create the scarves and tote bags has a story. We give their stories voice through Artisan&You®, powerful technology we developed enabling you to meet and exchange letters with your artisan. On every scarf and tote bag you will find the face and name of the very artisan who made it.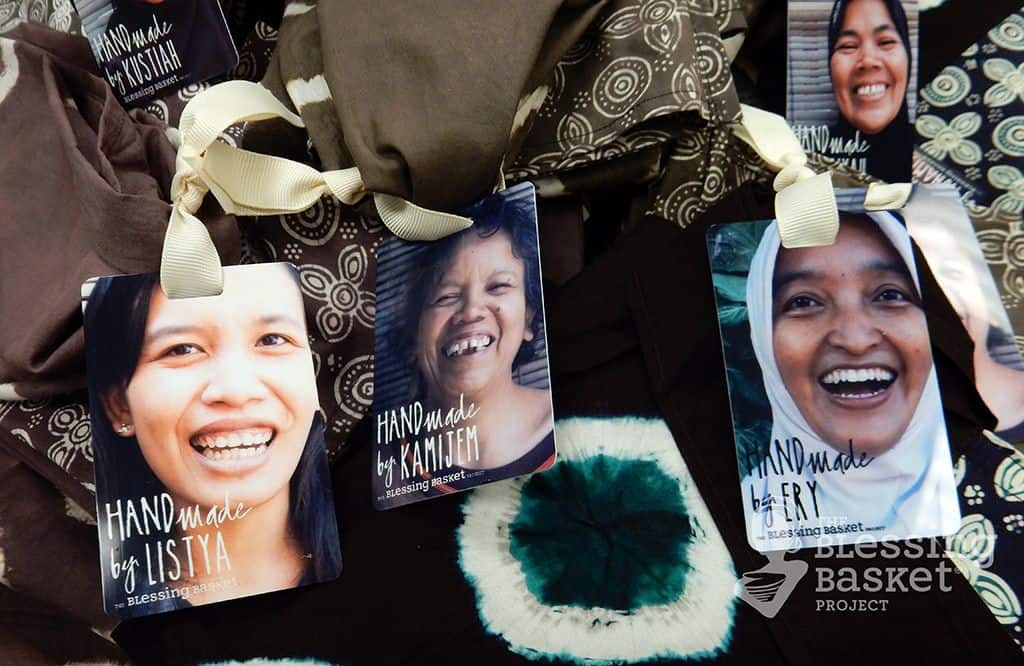 On the back of the artisan card you will find details of the artisan's life along with an identification number. Because we believe human connection creates peace, we invite you to visit our website at blessingbasket.org and use that identification number to start a personal letter exchange with your artisan.
Through your support of this initiative, the villagers of Gambiran can look at the smoke of Mount Merapi and know that while they cannot foresee what the mighty Merapi may have in store, at least for today they are financially empowered. As these scarves and tote bags become available and people start making purchases for prosperity and connecting with their artisans, share how you wear these products with #WherePeaceBegins.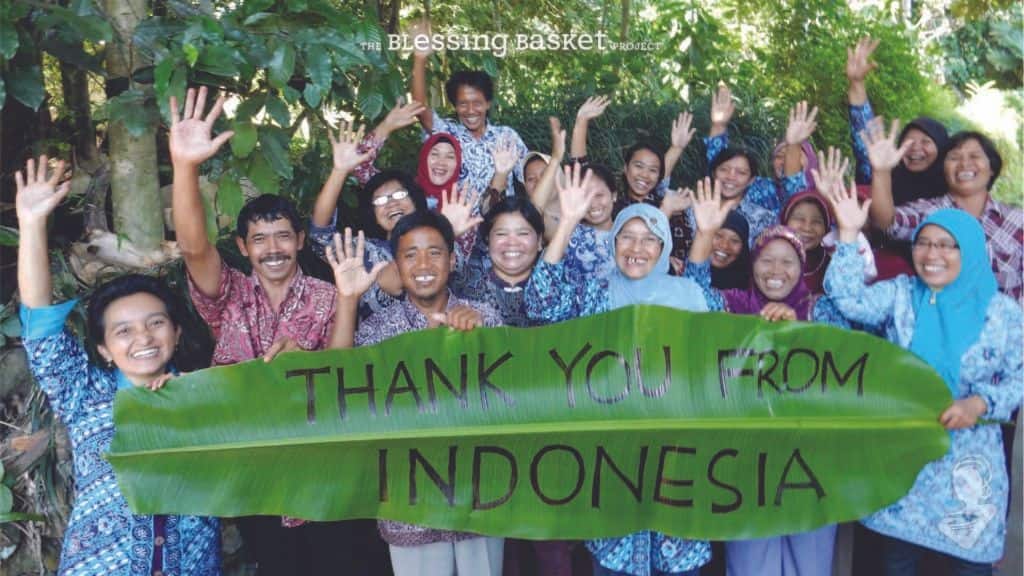 Learn more about how these unique products were sourced in a previous blog contributed by Theresa Carrington.