Whole Planet Foundation's 2016 Virtual 10K Run for the Planet aims to raise $35,000 to lift 1,000 more people out of poverty. We run in 69 countries and have given opportunity to more than 7 million people since we first started in 2005. We can't run without your help!
With your 10K registration, you'll receive 15% off one purchase at www.prAna.com & a chance to win one of four handmade Blessing Baskets stuffed with great prizes from our supplier partners. You'll also receive the knowledge that you helped an entrepreneur like Luisita from Haiti (pictured below) create or improve a home-based business in order to lift herself and her family out of poverty.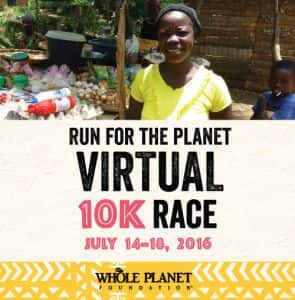 FAQs: 
What's a virtual run? 
A virtual run allows you to walk, run, jump or skip 6.2 miles wherever and whenever you can between July 14-18. No need to prove you ran — we trust you!
How much does it cost? 
Early registration is open until July 2nd and costs $25, the average first microloan to an entrepreneur in Haiti. Regular registration of $35 is the average first microloan in Rwanda. Whole Foods Market Team Members can register for a special discounted price of $20. Registration will remain open until 11:59PM Central Time on July 18th.
How much of my donation goes to the cause?
Minus the Eventbrite fees, 100% of your donation goes to fund microcredit loans in 69 countries around the world, as Whole Foods Market covers all administrative costs for the Foundation.
What do we get for registering? 
All registrants will receive a 15% discount from our friends at www.prAna.com and will have the chance to win one of four handmade Blessing Baskets stuffed with supplier partner goodies! 100% of registration fees, after Eventbrite fees, goes to fund microcredit loans. Register now!