Join us on Saturday, June 27!
Join our Power Your Purpose Virtual 5K by completing a 5K (3.1 miles) on your schedule this Saturday. Share your neighborhood route, time, or a selfie from your favorite activity with #PowerYourPurpose5K. Tune in for our scheduled events on Whole Planet Foundation Facebook and Instagram. Move your body to inspiring world music tunes on our Power Your Purpose 5K Spotify Playlist. More detail about our schedule can be found below the printable race bib on this page. Haven't registered yet? Register through the end of the event on June 27 at 11:30PM Central Standard Time.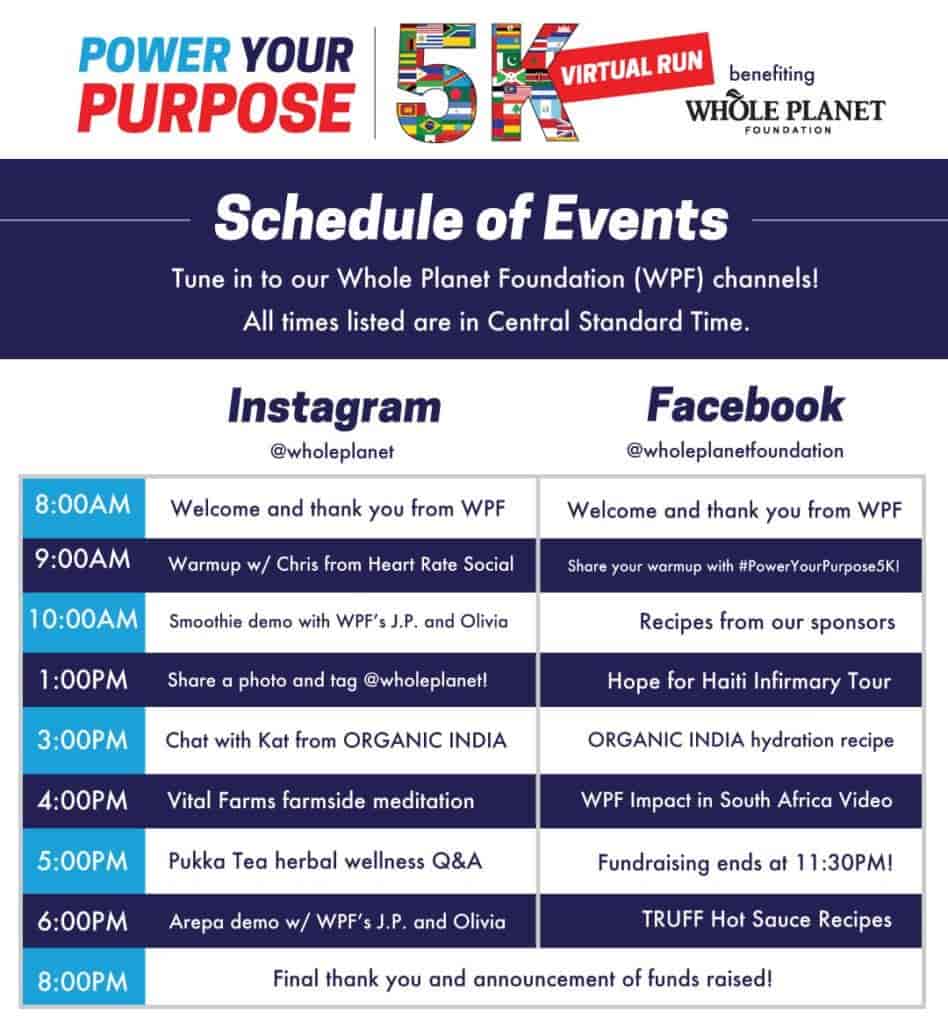 Download and print a Power Your Purpose Virtual 5K race bib!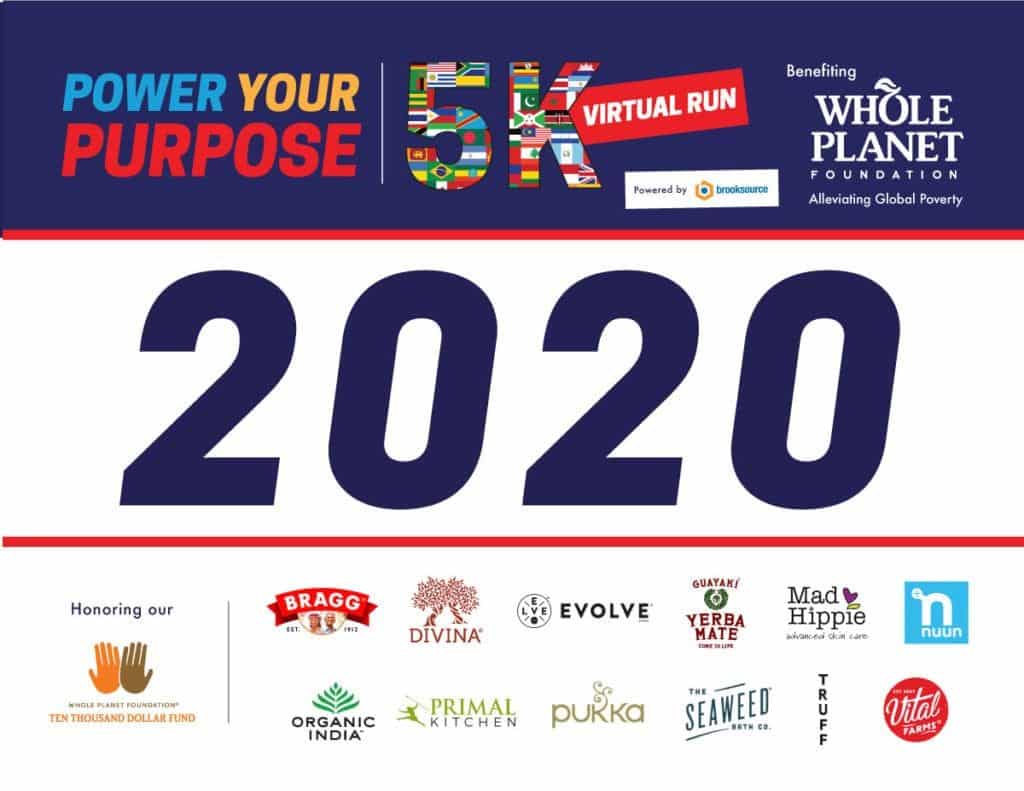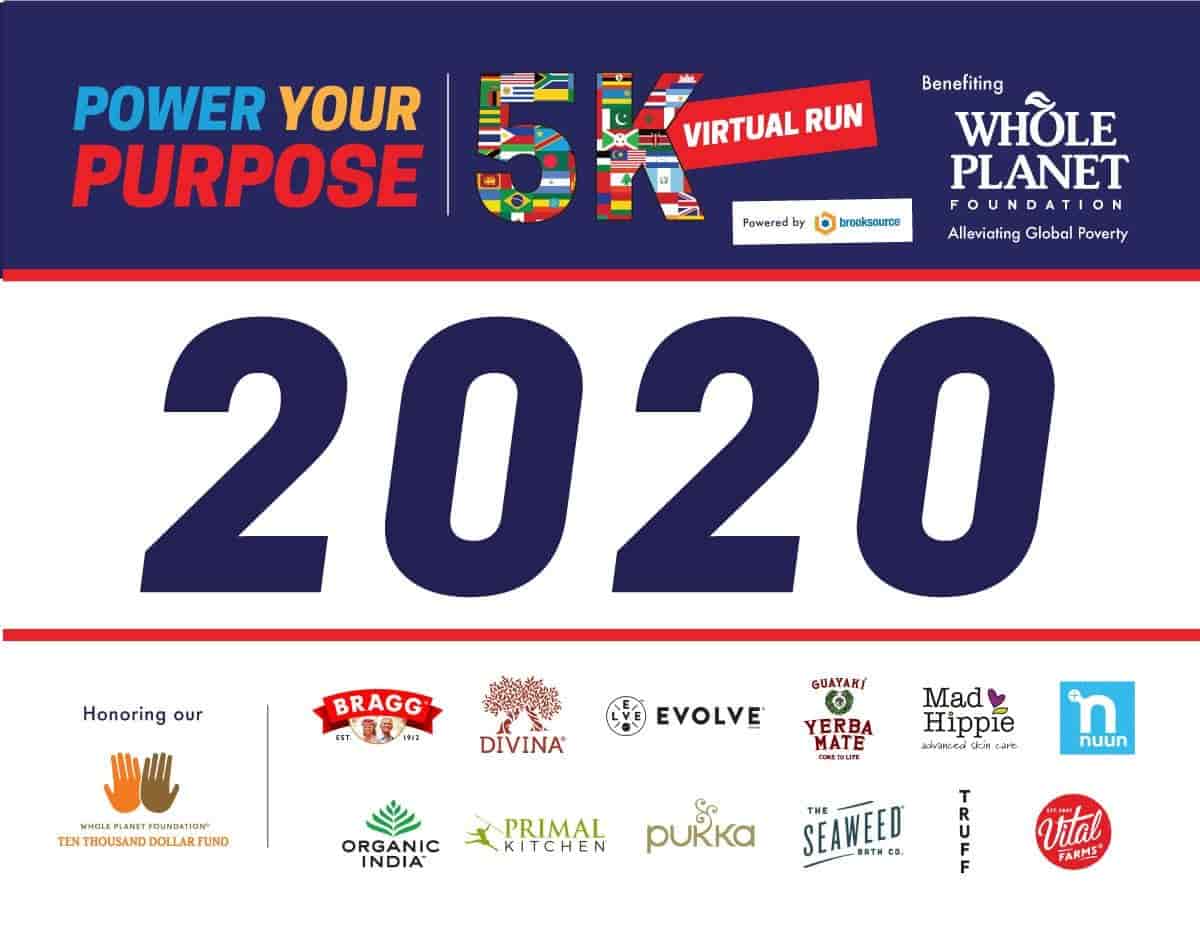 More detail about what's happening on Saturday:
8 am CST Welcome and Thank You from WPF
Join WPF's Olivia on Instagram and WPF's Sandy on Facebook. We'll give a shout out to our top fundraisers and teams, talk about impact, and welcome you to the event! Complete your 5K (3.1 miles) any time during the day, and share your progress with #PowerYourPurpose5K and tag @wholeplanet for a chance to be featured on our channels and get an additional entry into our sweepstakes!
9 am CST Warmup with Chris from Heart Rate Social
Tune in to our Instagram stories as Chris shows us some dynamic stretches and a light warmup to get ready for your 5K, however you choose to move.
10 am CST Smoothie demo with WPF's J.P. and Olivia
Tune in on Instagram stories for a quick and refreshing smoothie demo featuring blueberries and bananas from our friends at Whole Foods Market. We'll post the recipe on Facebook if you can't follow along live.
1 pm CST Hope for Haiti Virtual Experience
Hear from our community partner, Hope for Haiti, as they show us their work on the ground to empower people living in poverty in Haiti. We'll follow along to learn about Hope for Haiti's St. Etienne Infirmary and how it's serving people in Haiti during the COVID-19 crisis.
3 pm CST Interview with Kat from ORGANIC INDIA and active recipes!
Marketing Director for Organic India, Kat Wiranowski chats with WPF's Olivia about fitness, hydration, and tips for a successful run. Check out recipes, including an electrolyte hydration tea from ORGANIC INDIA on our Facebook page.
4 pm CST Vital Farms Pasture Meditation
Join our friends at Vital Farms to cool down to the sights and sounds of the pasture, after the Power Your Purpose 5K.
 
5 pm CST Interview with Lindsay Kluge, Pukka Herbal Educator
 
WPF's Sandy interviews Lindsay live on Instagram about herbs for wellness after your run, walk, or jog.
6 pm Arepa Demo and TRUFF Hot Sauce Recipes
 
Join WPF's J.P. and Olivia on Instagram to learn about arepas and how to incorporate TRUFF Hot Sauce into marinades and sauces. Visit our Facebook page to get the recipes after you tune in.
 
8 pm Final Thank you and Numbers Raised
 
WPF's Sandy and Olivia will provide an update on funds raised and the event's impact and will share who's in the lead for fundraising. The top three individual fundraisers will receive a $25 Amazon gift card and the top team will receive a $125 Amazon gift card, courtesy of our friends at Heart Rate Social.