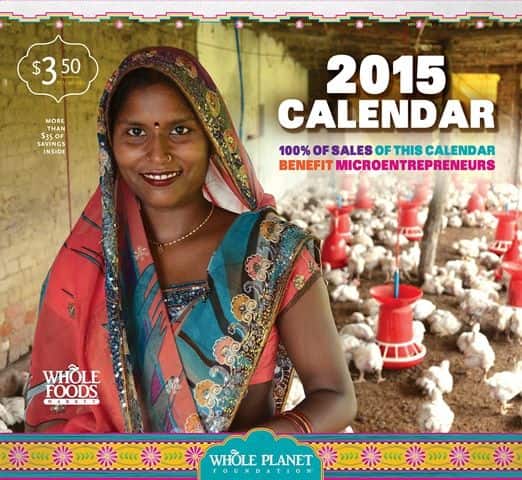 Whole Planet Foundation's 2015 calendars will be available at Whole Foods Market U.S. stores starting October 17! The calendars, which support our microlending programs in 61 countries, cost $3.50 apiece and include $35 worth of coupons for natural and organic products.  The calendar also features photos and stories of microcredit clients from 13 countries where we fund microlending programs, most of them captured by our field team.
Sujata, featured on the cover, is a microcredit client of our partner CASHPOR in Uttar Predesh, India. She has been a recipient of microloans for two consecutive years, using them to maintain her prospering business of raising chickens with her husband, to expand her business onto a larger farm and to purchase more chickens. Sujata plans to ask for another loan for the next cycle to continue developing her business with her husband, and she dreams of building better housing for their family to make their home sturdy against monsoon rains and to protect it from the harsh sun.
Since 2006, Whole Planet Foundation calendar sales have generated more than $800,000 for the foundation, empowering more than 4,300 people with a loan and an opportunity to start or expand their home-based businesses and lift themselves out of poverty. Our goal is to sell 70,000 of the 2015 calendars and raise $245,000 to help empower impoverished women entrepreneurs like Sujata to change their own lives.
Our Sponsors
We would like to thank our supplier sponsors for funding calendar production and for offering these amazing coupons, redeemable at Whole Foods Market U.S. stores:
And, we would also like to give special thanks to our friends at Mambo Sprouts Marketing. Every year, they partner with us to secure supplier sponsorships, design the calendar and ensure all 70,000 arrive to Whole Foods Market stores and facilities. Without them, it would not be possible for us to donate 100% of the funds raised through calendar sales to support microentrepreneurs and their famillies around the globe.