The Whole Planet Foundation Poverty Is Unnecessary Project includes Poverty Is Unnecessary Fund members donating $25,000 each to alleviate global poverty and culminates in the Poverty Is Unnecessary Online Auction & Celebration on October 25th.  This year, the online event marks 15 years of this work by Whole Planet Foundation and its passionate supporters.
Party with a Purpose Raises $44,000 Thanks to our Supporters
The City of Austin, Texas proclaimed October 25th as Poverty is Unnecessary Day! Whole Planet Foundation's Online Auction & Celebration on October 25th was made possible by event support from Gold Sponsors KeVita and Vital Farms, Silver Sponsors Container Solutions and Gallagher Bassett, Bronze Sponsors BioBag, Boulette, Golden & Marin, Computer Presentation Systems, Mad Hippie, Shoes For Crews, and Copper Sponsor Belgian Boys.  The proceeds from this online Party with a Purpose are $44,000, one hundred percent of which will fund microcredit loans for impoverished entrepreneurs around the world.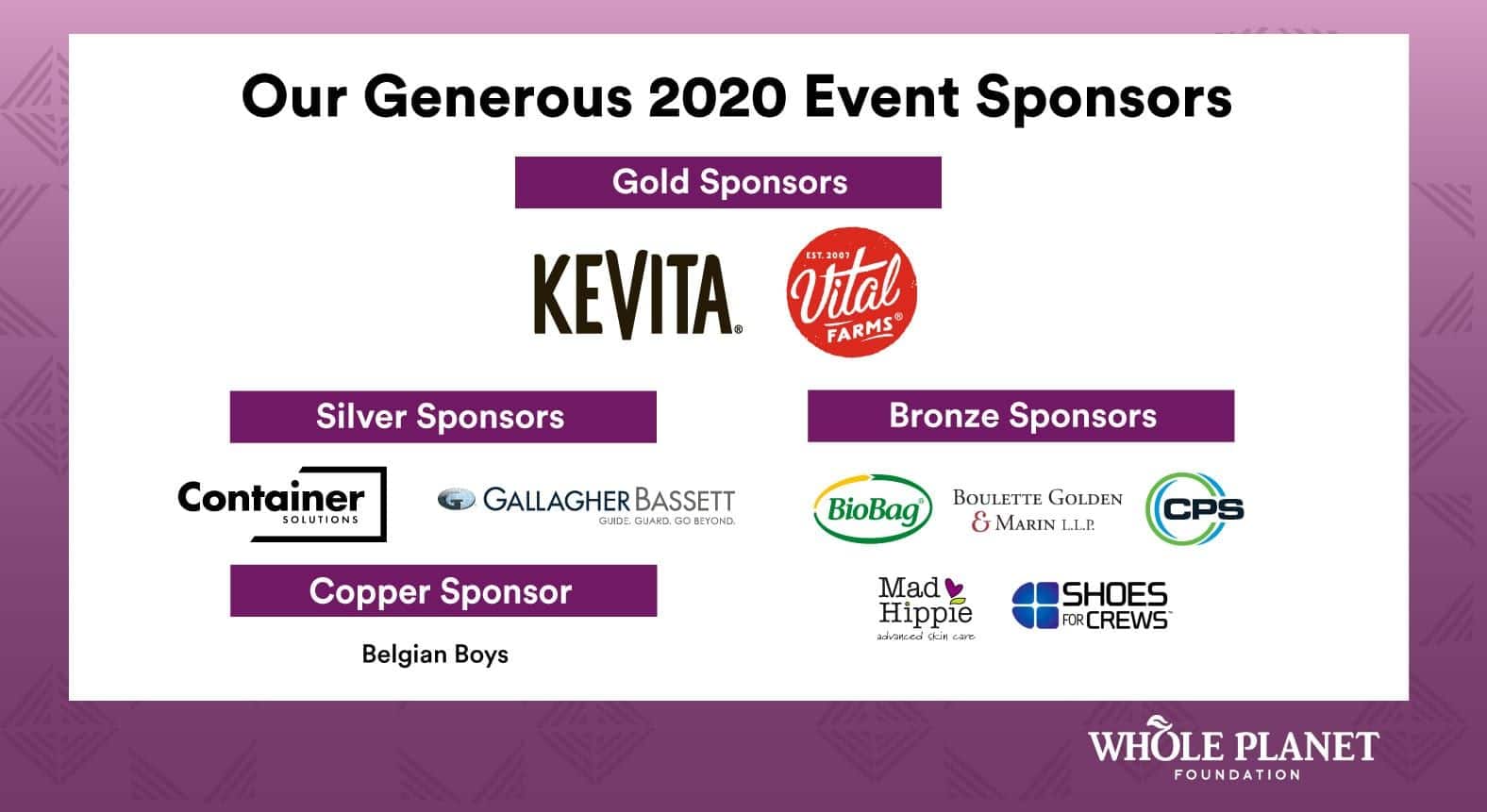 Every year, we celebrate Poverty Is Unnecessary Day to commemorate the Whole Foods Market Global 5% Day on October 25, 2005, when five percent of shopper purchases raised $525,000 for the seed money to launch Whole Planet Foundation.  Since then, Whole Planet Foundation has disbursed $87 million through microfinance partners, funding 4.3 million microcredit loans creating 22.8 million opportunities for low-income entrepreneurs to create or expand a business and lift themselves and their family members out of poverty.
Special thanks to auction contributors: Alaffia, Allegro Coffee, Allison Grossman, Aveda Arts and Sciences Institutes, Belgian Boys, BioBag, Bird's Barbershop, Camp Gladiator, Caraway, Cedar's Foods, Champakam, Chelle Neff, Claire Sommers Buck Jewelry, Country Life Vitamins, Culinary Casanova, Custom Botanical Art, Divine Chocolate, Dos Lunas Cheese, Dr. Althea Eggleston, dragongirl.com, FOODMatch, Inc., Franzetti Jewelers of Austin, Freestyle Language Center, Genie Bolduc, Glenda Flanagan, Go Local, Gogo Squeez, Grameen Costa Rica, Guayaki, Hasmig Annoush Jewelry, Health-Ade Kombucha, HerDad, Holistic Prana, illuminidol llc, Jason Martinez, Jessica's Natural Foods, Kendra Scott, KeVita, Kimberly Scheel, Kimo Sabe Mezcal, La Colombe Coffee, LACQUER, LaRae Infinity, Lauren Reynolds Photography, Lee Ross, Lifeway Foods, Luna Skye Jewelry, Mad Hippie, Mallory Fisher, Naked Brands, Nixta Taqueria, nuun, Only by Nina Fitzgerald, Organized for Good, Pacha Soap Co, Pacific Foods, Pact, Papyrus-Recycled Greetings, Patricia Ramirez Pinckney, Philip Sansone, Prabhu Kannan, Primal Kitchen, Pura Coco, quip, Raven and Lily, Sambazon, Sames Auto, San Antonio Spurs, Scott White, Shoes For Crews, Simply Gum, Solgar, SPI Belt, Stellar Organics, Texas Pecan Company, The Intuitive Interior, The Republic of Tea, The Seaweed Bath Co, Truff, Urban Betty Salon, VERB, Vital Farms, Wanderlust Yoga, Weird Homes Tour, Willow & Rose Wellness, Wink Coffee Roasters, woom, Zoe So and Zona Rosa Coffee.
Big thank you to Franzetti Jewelers of Austin for donating a white gold and diamond bracelet worth $2,100 for our friendship bracelet activation. 175 participants purchased a microcredit-client made friendship bracelet and one lucky winner, Angie from Minnesota, received the diamond bracelet!
More than 900 participants browsed 190 auction items, purchased limited-edition Whole Planet Foundation t-shirts, and helped Whole Planet Foundation reach more people living in poverty with much-needed support during this time.  Watch the virtual event 18-minute program including a video message from Whole Foods Market Chief Executive Officer John Mackey, a Whole Planet Foundation update and team member dance performances celebrating its global impact.