One of my favorite and most impactful parts of my job is working with 600+ Whole Foods Market suppliers who join our mission in a variety of ways, from committing a percentage of their sales during a specific time period up to a $100,000 commitment over the course of a year. Since our inception, these partners have donated more than $6.5 million to Whole Planet Foundation, and because Whole Foods Market covers our operating expenses, 100% of those funds are helping impoverished entrepreneurs to change their own lives.
Today marks the launch our 2015 Prosperity Campaign, where we aim to raise $5 million to support poverty alleviation in 61 countries. During our annual Campaign, we highlight the generosity of our top supplier partners. This year, our top supplier partners are members of Whole Planet Foundation's $100,000 Fund™ and the Supplier Alliance for Microcredit®. Collectively, this special group of 19 partners has committed $1.1 million in support this year!
Given Whole Planet Foundation's current average loan size in the developing world is $186, the generosity of these 19 partners translates to nearly 6,000 new microloans that will help 30,000 people. The best part is, those funds get repaid and re-loaned again and again, creating additional prosperity. (Use the Power of One tool to find out how a donation grows over time.)
Just last year, Papyrus-Recycled Greetings showed up at our global office with a $100,000 check, marking the single largest contribution we have ever received! We were so blown away by their generosity, and it led us to create our $100,000 Fund – a small group of partners who each commit $100,000 to support our mission. Frontier Co-op joined that level for 2015, and Whole Foods Market gets recognized at that level too for funding our operating expenses and through support from the Whole Trade program.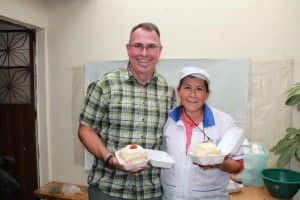 Tony Huston of Papyrus-Recycled Greetings joined us in the field last October, where he got to meet several microcredit clients who are directly benefiting from their support, including Susana who uses her microcredit loans from our Colombia partner Fundación BanIgualdad to support her baking business. She has been empowered to change her own life and lift herself and her family out of poverty.
"Having the opportunity to visit microcredit recipients in Bogota, Columbia last year really brought home the importance of the work being done by the Whole Planet Foundation," Tony said.  "We at Papyrus-Recycled Greetings are proud to support such an important mission of poverty alleviation."
Our $50,000 donors – what we call the Supplier Alliance for Microcredit – is a group of 16 like-minded suppliers who have joined forces to make a big commitment to alleviate poverty. This year, the group includes:
OneSource Distribution LLC (Whole Foods Market's magazine distributor)
Whole Foods Market suppliers are a big driving force in the growth of microlending programs we fund. We hope you will join us in celebrating the huge commitments these partners are making to improve lives of impoverished entrepreneurs and their families in the US and around the globe.