This guest blog post comes to us from Natural Vitality, a new member of Whole Planet Foundation's $25,000 Poverty is Unnecessary Fund.
Natural Vitality supports multiple projects to help provide solutions to the root causes of today's problems.  We believe that with success comes the responsibility of harnessing that success for improved conditions – for all stakeholders.  Natural Vitality's success means we have wherewithal and responsibility to use that success to help eradicate poverty at its root cause.  Many of us at Natural Vitality have read and align to the precepts proposed in "Conscious Capitalism" specifically one of the four key tenets, that of "Higher Purpose." This key idea drives our actions to follow Whole Planet Foundation's incredible lead in poverty alleviation.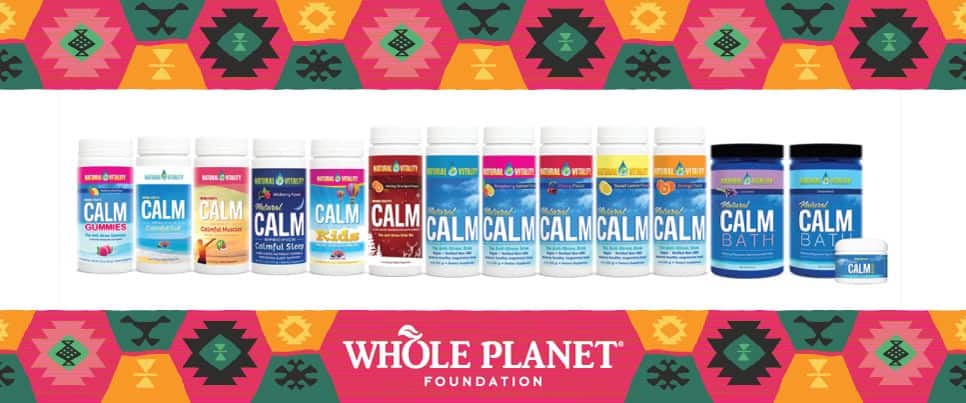 We believe and have seen that given education and resources any group can prosper – hence poverty can be seen as a direct result of not having something that is available to others. It behooves any and all of us that have wealth to help others lift themselves and their families out of poverty.   We all live on the same planet, we are all part of the same human family and following the lead of Whole Planet Foundation to empower entrepreneurs makes sense.
We work to do this in our company community by creating an environment of success and achievement and sharing company successes with our employees. We also believe in giving back in a variety of ways to our local communities and to the environment.
In 2007, Natural Vitality began our Natural Revitalization environmental action initiative, which was renamed the Calm Earth Project in 2014. Funded by a percentage of product sales, this program is an extension of our corporate mission to change conditions on this planet to promote personal, societal and environmental health—which we believe are interrelated.  This support, both in financial and other resources has been directed to multiple organizations. More information about these organizations and Natural Vitality's support can be found at: https://naturalvitality.com/the-calm-earth-project/
Locally, Natural Vitality recently donated products, food, supplies and cash to Hurricane Harvey relief efforts.  Staff participated in the annual CASA Superhero run, the Race for the Cure and the Special Olympics Austin Texas Firetruck pull.  This past July, Natural Vitality worked with Whole Foods Market Orlando to donate proceeds of sales for the Pulse Nightclub Shooting Anniversary while also sending 700 units of our Natural Calm product to the LGBT Center there.
Look for Poverty is Unnecessary partner products like Natural Vitality in-store from Oct. 11-Oct. 31 and enter to win partner gear during our Poverty is Unnecessary Sweepstakes. Enter online on the Whole Planet Foundation Facebook Page from October 16-31.