Kim is a Store Team Leader across the pond in London's Kensington store, and the UK Courage of One Challenge Team Member winner! On November 10, she attended the UK premiere of Mockingjay Part 1 and met our consumer winner, Heather.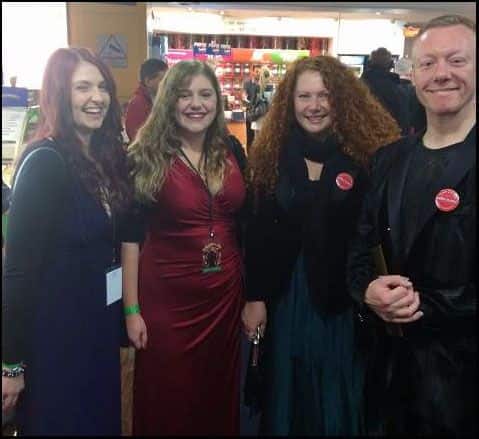 Attending the UK premiere of The Hunger Games Mockingjay – Part 1 was an amazing adventure, starting with the night I found out that I was the Team Member winner.
That evening, I was at a Damien Rice concert after a long day's work. I was lucky to get a seat four rows from the front at the very last minute, and it may have been the best concert of my life! It was in one of those gilded, 3 tier, historical theatres where every great play or music or art has ever occurred.
After the show I stepped out onto Carnaby Street in Central London, watching people, breathing in life, and feeling a very long moment of joy. Then, I picked up my phone, and started to check my email. When I saw the congratulations message from Whole Planet, I had to read it twice before it hit me that it was saying I was the Courage of One winner. I threw my head back in laughter and happy disbelief! The funniest part was that I had only gone onto the Whole Planet website so that I could be familiar with the Mockingjay Courage of One Challenge to teach my store about it and get them excited. I made a donation as I always do, watched some videos, and figured out how the challenge worked- I didn't want to win anything- and had zero expectations!
The night of the premiere, I brought David, a Store Team Leader for the Fulham store. David and I had an absolutely wonderful time, and we were able to find Heather and Leanna (the consumer winner and her guest) amongst a crowd of thousands of people! And I mean THOUSANDS of screaming fans!
Heather, Leanna, David and I hung out together before and after the premiere. The girls were an absolute delight to meet, and were so excited to be a part of the festivities! We met up, talked and laughed quite a bit, and then David and I watched with smiles on our faces as Leanna and Heather were whisked away by the Lionsgate staff to attend a special Meet and Greet with the cast and crew of Hunger Games!
All of us got to walk the red carpet into the show. We were well taken care of by the Lionsgate cre, and the film's A-list cast were all there: Jennifer Lawrence, Josh Hutcherson, Liam Hemsworth, Elizabeth Banks, Donald Sutherland, Julianne Moore, Stanley Tucci, Sam Claflin, Natalie Dormer, Jenna Malone- and they spent hours signing autographs, talking to fans and giving interviews- the atmosphere was electric, the fashion was gorgeous, and the crowds were screaming for hours!
We then all took our seats to watch the movie, surrounded by an auditorium packed with film industry people: producers, casting agents, cinematographers, financiers, marketers, crew, cast, families, friends- it was very interesting to listen to their discussions about the movie before the show started.
Mockingjay Part 1 was entertaining, emotional, and ended on a huge cliffhanger, but I have to add that my absolute favorite part of the night was watching Heather and Leanna enjoy their experience. She and Leanna live far up in North in England and I can tell you that they were absolutely GLOWING! Heather later told us, "I couldn't quite believe it until we got the tickets but we were skipping around Leicester Square with excitement. It was more than I ever dreamt of–getting to see the stars up close and then being one of the first to see such an amazing film. It was perfect."
It's so wonderful that Lionsgate and Whole Planet Foundation provided them with the opportunity to have such a memorable experience, and we've all agreed to meet up next year for the premiere of Mockingjay Part 2. This whole experience has been unforgettable, and I'm incredibly thrilled to have been the winner of Phase 1 of the Courage of One Challenge. I encourage everyone to participate in Phase 2! Learn how you can get involved here.