In January 2015, we launched the Microfinance Institution (MFI) of the Year Award to acknowledge and appreciate our outstanding partners demonstrating leadership in the microfinance industry both regionally and globally.  The award features organizations that continue to responsibly provide sound financial services while incorporating new, more and/or better products and services for the poor and most vulnerable.  Through a voting process that involved the entire Whole Planet Foundation team, one MFI was selected as the first Global MFI of the Year, receiving a $50k prize. Two additional MFI's were chosen as Regional MFI's of the Year, each receiving a $25k prize.  While donor dollars always go only to support microlending, we also receive 1% of profits from Whole Trade Guarantee products sold in Whole Foods Market stores, and are able to use these funds to support our partners in other ways,  like through these awards.
Prize funds were eligible to be used for any initiative of the winners' choice that promoted MFI excellence and staff happiness. This year's inaugural MFI of the Year Award was given to The Fundación Paraguaya in Paraguay (our Global Grand Prize Winner), INMAA–our partner in Morocco and CASHPOR in India. We are excited to have growing partnerships in North America, which is not yet represented in this award category because until 2015, we had just one partner in the region. Grameen American.
The Fundación Paraguaya
 The Global MFI of the Year prize was awarded to Fundación Paraguaya, This partner provides micro-franchise "business in a bag" options for clients who need assistance with starting their own businesses with 16 different options such as pastry making or selling items like cleaning products, jewelry and reading glasses.Training for these businesses can be accomplished in less than a day giving the borrowers the opportunity to immediately begin earning income and grow their entrepreneurial skills. They also developed an electronic assessment tool called the Semaforo (Stoplight) to gauge the poverty levels of their clients and track improvements going forward. Fundación Paraguaya used the prize funds to add a lunchroom, kitchen and computer room to their self-sustaining agricultural school of San Pedro.  The schools provide the children of borrowers and other low-income children access to a quality education that combines a standard classroom-based curriculum with practical work skills such as farming, cheese making and restaurant skills.
INMAA
The Regional Award for Africa/MENA was awarded to INMAA in Morocco whose focus is on rural populations.  Following a 2009-10 meltdown of the once celebrated Moroccan microfinace sector, INMAA had lost half its clients, and investment in the sector were non-existent. Whole Planet Foundation began support in December 2010 with a first disbursement of $123,000, based on their promising rural strategy that differentiated them from other microfinance institutions. By 2014, INMAA had taken active portfolio to 7,700 clients, an impressive 48% increase from the end 2010. INMAA has plans to continue scaling for years to come, and this year, Whole Foods Market Team Member Volunteers got to witness their progress on the program's first trip to Morocco. INMAA used their prize funds to purchase new office equipment such as desks and chairs for their branches and remote service points.
CASHPOR
CASHPOR in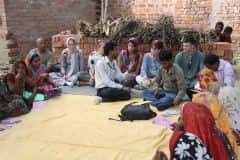 India continues to work on software development to cut costs and improve efficiency, and the benefits of greater efficiencies are passed on to different stakeholders of the MFI, including both clients and employees. They are also expanding their Community Health Facilitator program across all of the more than 350 branches they have in operation. CASHPOR continues to add additional social development loan products to the portfolio. CASHPOR's annual survey data remains in line with our mission, and aims to target the poorest populations in some of the poorest states in India. Whole Foods Market Team Member Volunteers in India have the opportunity to meet CASHPOR clients and see what working with this microfinance institution has helped them achieve. With this award, CASHPOR was able to improve their branches by purchasing water purifiers, solar lights and fire extinguishers.
Congratulations to our 2015 Microfinance Institutons of the Year! Without your efforts, we could not accomplish our mission. Thank you for your work alleviating poverty in your communities.