The Whole Planet Foundation team is excited to introduce our new partnership with GGEM Farming, a young social enterprise operating out of Nkhotakota, on the shores of Lake Malawi. GGEM Farming is the first partner we are engaging under a new initiative to make our funding more accessible to early stage, locally led companies. Such companies often have programs that are informed by deep knowledge of the local context, and the staff are rooted in the communities where they work. Yet locally-led companies often have a harder time than their international and expatriate-led counterparts when it comes to raising much needed working capital to grow, whether from philanthropies or investors.
To learn more about the barriers such companies often face in accessing philanthropic funds, take a look at this video.
In this post, GGEM Farming's co-founder Ko Chijota tells WPF's Zoe So about the company's journey, the challenges they are facing because of COVID-19, and exciting initiatives ahead.
ZOE: Hi Ko, We're excited to be partnering with GGEM. You're the first partner we're working with under a new initiative to engage more early stage companies. Could you please tell us a bit about why you started GGEM Farming?  
KO: We originally started GGEM Farming to successfully implement the last-mile investment that's typically least glamourous. The more remote a farmer is, the less opportunity they have to access any services. We wanted to give all farmers a fairer shot at success. This included everything from teaching illiterate farmers how to budget, to repairing flooded roads or creating altogether new access roads in the most rural parts of our operating areas, where village livelihoods are mainly dependent on eating what you grow and walking long distances to access basic health and education services.
Before they joined us, 80%+ of all current GGEM Farmers did not produce enough food to live on, never mind have excess to sell for additional incomes. This meant that everything initiated in each community was with the buy-in and physical support of the farmers who wanted a different outcome, who wanted their asset agriculture to be beyond sustaining. They wanted profitability to move their own lives forward. We further built local relationships by employing rural youth, training and equipping them to serve their own communities as Field Extension Trackers.
Can you tell us a bit about GGEM Farming's journey? What was it like in the early days?
Great question- funny how you don't think about these things until you're trying to piece the answer together. I'd say GGEM Farming still manages to surprise us every harvest season.
Without a big enough or typical team we had to live our values daily in a completely new environment. Luckily, I had had plenty of experience in outdoor living. In my first year as a very enthusiastic new farmer, I was the "manual field hand" (weeding at my height was not easy!), "the guard"  who protected the crop over night because as the "field manager", I'd misestimated how long it actually took to harvest 20 acres of sugar beans, grown in a rented field- in the middle of essentially nowhere and as the truck driver, I didn't trust the village roads- least of all at night.
When we finally moved to our headquarters in Nkhotakota, I'd failed and learned enough to have confidence in starting something new in a completely wild and empty space. We tend to GGEM Farming with the same focus that I tended to all my crop fields. I knew if we look after GGEM even in the middle of nowhere, it would grow. Establishing GGEM in as remote an area as possible meant we could be where we are really needed. They didn't take much convincing and I'm forever grateful to have a team that's always been as passionate about our potential as I am. We accepted 92 degrees Fahrenheit as our new average daily temperature and got on with the job at hand.  Our first year here showed us how to merge with the community vs. working with them, and that insight- along with unrelenting data tracking – meant we were able to design with the community leading the solution.
How does GGEM's model work?
GGEM Farming builds commodity value chains by investing in both the farmer and ethical market infrastructure. Using a farmer driven design, our model tackles Malawi's nuanced agricultural pain points which have historically restricted farmer productivity and profitability. The lack of road networks, post-harvest infrastructure, fair markets as well as direct investment in farmer input needs, continue to hinder our ability to adequately development Malawi's agricultural value chain. GGEM's cost effective and scalable rural agri-services address all the above improving efficiency in food production, while simultaneously increasing food affordability for low income households. Our tech-solutions, high-touch in-field support, 0% input-credit loans, pre/post-harvest solutions and logistical support, improve quality, quantity and consistency of supply.
What type of credit and financial services do you offer to farmers, and why does GGEM feel it is important to provide these services?
We offer a 0% input credit to GGEM Farmers who have been trained on Village Savings and Loan Association (VSLA) management as well as family budgeting and agri-business management. We are also looking forward to working with MicroLoan Foundation Malawi (note: MLF Malawi is also a Whole Planet Foundation partner) to deepen our financial training offering to GGEM Farmers.
In a VSLA, all members contribute savings into a pool and can borrow funds from the same savings pool. VSLAs are particularly catalytic in low income communities, where they are often used as local banking system, through which farmer families can access small loans to address immediate health and food security needs in between harvest periods. Our farmer training is on-going, allowing us to update and connect farmers to emerging services and products. One exciting outcome of on-going training vs. once off engagements is seeing basic business/ budgeting competency improve over time.
GGEM also facilitates 90%+ of our farmers' first relationship with a financial institution, as all GGEM payments are now digital. With the growing GGEM Farmer numbers we are more equipped to plug in to formal institutions including banks to co-design products for our farmers to get the most out of financial services through their partnership with us.
One such development is the GGEM Farmers Food Bank, which we initiated to help farmers manage high food cost periods without the additional cost of safe food storage. GGEM Farmers who opt into the service are able to access staple food at fair prices using the funds they food bank with GGEM Farming, kept in a GGEM Farmer bank account. COVID-19's effect on increasing food prices means this timely innovation is now more in demand than we had anticipated.
We're also seeing farmers who've been with GGEM for 2 years and more making the sort of self-investment that we are proud to celebrate. These GGEM graduates will continue to access the GGEM Ethical Market, however, they now save directly with GGEM Farming to purchase their own inputs directly with GGEM Farming. We simply deliver their pre-paid inputs at the appropriate planting time, directly to their fields.  The graduates also continue to access our Action Insurance- protecting each farmer against seedling loss at the most critical planting times. Our field team continues to provide each graduate with all their extension service needs. As their confidence grows we anticipate further yield and quality improvements as well as more self-investment via additional farmed crops to supply the GGEM Ethical Market.
Tell us more about the GGEM Ethical Market.
In Malawi, for over 55 years many financial, infrastructural and educational access issues have continued to underpin our failing food and commodity system. Being immersed in each community led us to the emergence of the Ethical Market as the necessary approach to solve both farmer productivity and profitability challenges. We think that if investment is end to end, we can continue to look forward to self-developing GGEM Farmer families.
Our proof so far is in the output. At the beginning of our journey, we were much more focused on developing farmer competency, rather than developing a market platform that matches farmer commitment – a quality that's equally as important. By 2018, one year into our journey, we knew that the low hanging fruit of just 'farmer training' really couldn't possibly feed or uplift Malawi adequately in the near future. We knew we needed an intentional exploration of another type of farmer engagement, one where good business and good data would put farmer profits first.
Note added by Zoe: Through their Ethical Market initiative, GGEM guarantees buying harvest from their farmer members at a fair price and in a timely manner. The price range and volume are agreed upon at the start of the season, before planting starts. During the season, GGEM works with farmers to ensure harvest is of high quality to meet the end-sesaon purchasing requirements. This guarantee means that GGEM farmer members do not feel pressure to sell their produce to middlemen who often give low prices as they take advantage of smallholder farmers' distance from infrastructure, lack of access to real time information, and need for cash coming out of the "hunger season" – the period of low cash flow between the investment made at planting and the revenue made at harvest.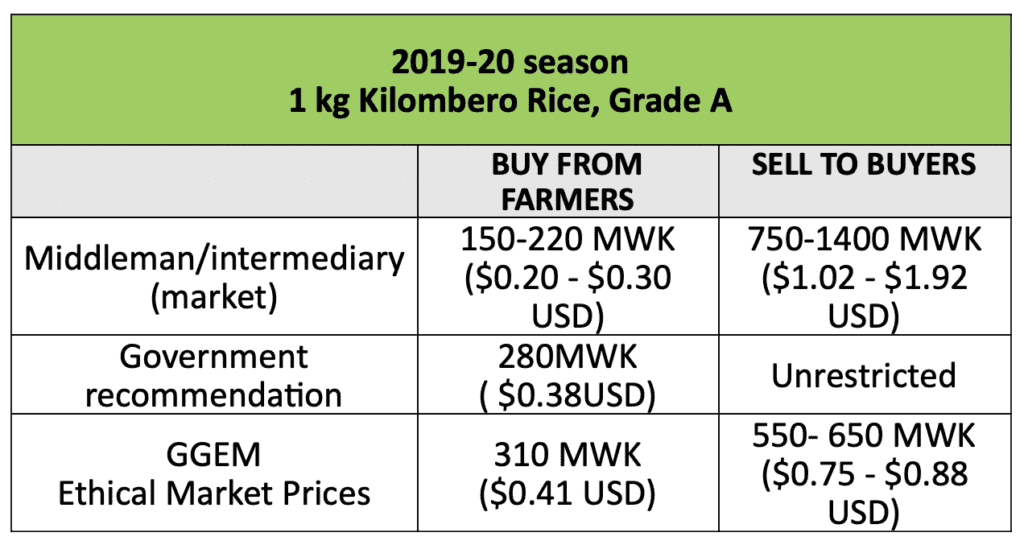 What role does digital technology play in GGEM's field operations?
We developed the GGEMApp to collect farmer data including regular In-Field Reports throughout each farming season. Each farmer's profile, including their field geo-tag, historic performance and crop shock reports, are accessible to the Field Extension Trackers both on- and off-line. The GGEMApp also allows us to aggregate pest, weather, animal conflict and climate data in the exact areas our farmers operate which contributes largely towards crop shock mitigation and yield estimates, allowing us to manage our commodity market expectations in real time.
Which GGEM achievement are you most proud of so far?
1000 funded farmers is a huge milestone for GGEM farming. Our partnership with Whole Planet Foundation will allow us to hit this awesome target for the season ahead, during this critical time where we need to work together to safeguard food production. It means our reach has grown significantly – for each farmer we fund, or provide input credit to, we train and additional five farmers who participate in the ethical market platform.  1000 funded farmers means we will train 5000 other farmers, who form teams to meet the commercial farming labour needs that every acre requires.  1000 funded farmers now also means we have successfully resisted the temptation to scale too quickly, allowing GGEM to focus on building the right infrastructure required to fulfill our mandate as a fair market that puts farmer profitability first.
Our partnership with Whole Planet Foundation will allow us to hit this awesome target for the season ahead, during this critical time where we need to work together to safeguard food production. Lower average yields across Malawi over the last 2 years has meant that with each additional difficult year, Malawi is experiencing lower food availability and higher basic food costs. Farmers simply cannot afford to keep spending on inputs for household subsistence foods, let alone excess for the income generation required to fund their farming activities. This 1000 farmer target means GGEM-Farmers will be able to produce approximately 2 million pounds of staple foods to reach approximately 20,000 food insecure families.
Our supplementary drive is to ensure that we are able to make these staple foods affordable for low income households- vs. a concentration on supplying the regional export market which is the primary supply market for Malawi's core commodities. This market pivot is one of our ways to ensure in-country food security for the most vulnerable households- while continuing to boost GGEM-Farmer incomes sustainably. During high cost periods food can cost as much as 400% above the price used to originally purchase these crops from farmers. As profiteering increases, improving prices for both the farmer and the consumers is possible through our Ethical Market Platform and we intend on scaling this impact by keeping food accessible through facilitated GGEM Farmer productivity and basic rural infrastructural development.
What's the biggest setback GGEM has faced since you started? 
Our biggest setback in hindsight was underestimating how much data GGEM Farming would have to collect, monitor, and learn from.  We have a unique opportunity to build, map and scale a value driven ethical market- that's powered by the trust farmers have in our services, prices, expertise and quality of inputs. The GGEMApp has been instrumental in managing our Monitoring and Learning. Tracking economic resilience, community development and the effects of increased incomes on self-investment in these rural communities is a long term goal. Data is key to our drive and we are grateful for the GGEM Field Extension Tracking Team who are dedicated to maintaining the flow of high quality data.
How has COVID-19 affected your communities, clients, and operations?
For various economic reasons, Malawi has not implemented a full lockdown since the beginning of the COVID-19 pandemic. The government along with the non- profit and business community have drawn up several recommendations that they have tasked all leaders in community to spearhead. We have had to adapt how we work in order to create a safe environment for in field and market day interactions. We were fortunate enough to have begun the COVID-19 prevention narrative in March. This gave our community a long opportunity to adjust- normalizing the use of masks, social distancing and insistence on smaller gatherings- which incidentally have improved the uptake of information during trainings.
A more negative effect of the pandemic on farmer day to day interactions has been panic selling for low prices.  While the government has set some stipulations to safeguard farmers during the harvest season, the unfortunate limitation remains that there are not enough resources to adequately police the activities of unethical intermediaries. As farmers are more desperate than ever, rural incomes continue to decrease. We have seen farmers earning up to 50% less per kg in comparison to 2019 pricing. Basic staple food prices have already started to increase in both supermarkets and within rural communities- where maize and rice will likely see sharper increases during the November 2020- March 2021 period, while farmers await the next harvests.
GGEM Farming is working towards a Food Security Safety Net to support some of the most vulnerable in our rural community through the GGEM Farmer Food Bank- that gives access to stabilized food prices, mitigating hunger in rural farmer households by curbing profiteer markets as the only rural food markets during high food cost periods.  We are ready to think and act together. We invite all experienced in food banking and subsistence distribution to join our fight for fairness for farmer families- especially during these challenging times that continue to expose how our existing systems fail the most in need, and indeed how a change in ethics and action can uplift more of us towards the collective development that all of Malawi needs.
What's the most exciting next new initiative GGEM is working on?
As we look forward to launching our GGEM Fair Food markets across Malawi, giving more low-income households (beyond GGEM farmers via the Food bank) access to price controlled staple foods- we will be working closely with other local non-profits to identify and enroll young entrepreneurs to champion the use of the GGEMApp in district food markets as GGEM Fair Food Trackers. The FFT's will facilitate food access where it's needed most using our app as a wholesale and logistics management platform to enable GGEM Farmer Produce sales.
Thank you, Ko!