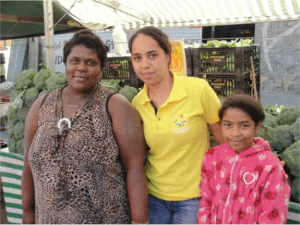 Carla began her career at Banco do Povo Crédito Solidário (BPCS) as a branch administrative assistant, helping with all the back office functions of the branch as well as inputting all the client information into the system. When the current Field Officer quit unexpectedly in December, right before the busiest season of the year, Carla jumped in and assumed control of the portfolio. Along with making sure all the disbursements went out on time, she monitored that all the client payments were up to date. BPCS management was impressed with the way she was able to transition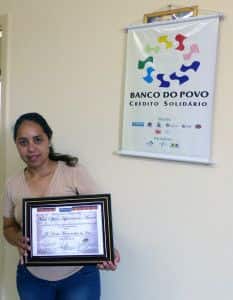 from a quiet office environment to 95% field work in less than a day, and decided to keep her in that position.
She has exceeded all expectations, including identifying a local organization that works with children at risk. Carla set up a partnership with that organization whereby the mothers were given access to BPCS loans as a means of improving the family situation, a partnership that continues five years later. Carla has also, as an employee with over seven years of experience at BPCS, assumed the role of mentor for all the new Field Officers in the Diadema and surrounding branches.
Our team was pleased to honor Carla after her branch nominated her to be one of our Field Officer Appreciation Award recipients!