Summer just got a whole lot sweeter with Greyston Bakery's brand new Cookie Thins that are changing lives! For over 30 years, our motto has been, "We don't hire people to bake brownies, we bake brownies to hire people" and now we're adding cookies to the mix! They are the perfect crispy bite to satisfy your sweet tooth.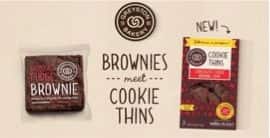 Thank you to Greyston Bakery for contributing this post!
These cookies not only taste out-of-this-world, but they're doing it a whole lot of good too!
As one of the country's leading social enterprises and New York State's first Benefit Corporation, our Cookie Thins are just one more delicious way that we help change lives. Here's how we do it:
Since launching the cookies, we've already added 16 new jobs. Through our revolutionary Open Hiring™ model, we provide anyone with the willingness to work with a job opportunity, no questions asked. The more cookies we bake, the more jobs we create!
Our cookies greatly benefit the Greyston Foundation. From providing low-income housing to childcare to workforce development, all of our initiatives help to better serve our community.
Cookie Thins are exclusively carried by Whole Foods Market. We are thrilled to continue our two year partnership with Whole Planet Foundation, as they have continued to be huge supporters of Greyston's mission, while 1% of our Cookie Thins profits support their effort to alleviate poverty through microcredit loans across 60 countries.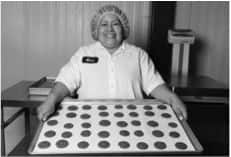 Our president and CEO, Mike Brady, couldn't have said it any better himself: "We are excited to be bringing a new product to market that is not only unique and great tasting, but also provides a new option in the cookie aisle for a consumer interested in supporting conscious capitalism."
We are so proud that our Cookie Thins contribute both to the goals of the Greyston Foundation, and to a charity as important as Whole Planet Foundation as well.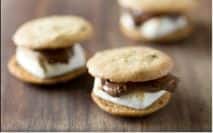 You can grab our Cookie Thins in three brownie-inspired flavors: Chocolate Fudge Brownie Crisp, Brown Sugar Blondie Crisp, and Chocolate Mint Brownie Crisp.
While I'm perfectly happy sticking my hand (or entire face) into a box of these goodies, you can do a lot with Cookie Thins. Break 'em up and sprinkle them onto your ice cream for a crunchy topping. Or gather around a campfire and make some irresistibly gooey Cookie Thins s'mores.
What are your favorite ways to enjoy Cookie Thins? Join the delicious discussion below for your chance to win FREE sweet treats from Greyston Bakery! (This giveaway is now closed).