In rural Guatemala, four friends battle illness, parasites and hunger as they experiment with living on just $1 a day for eight weeks.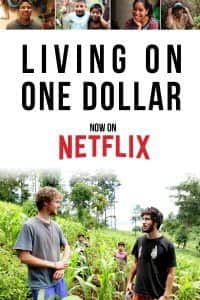 Chris Temple and Zach Ingrasci are friends of Whole Planet Foundation who have raised nearly $50,000 to help alleviate poverty around the world. Their film, Living on One Dollar follows Chris and Zach, and their friends Sean and Ryan as they face the challenges of living for two months in rural Guatemala on only one dollar per day.
The documentary begins with their backstory: middle class upbringings, an academic understanding of poverty alleviation, but no real experience of what daily life is like for people in poverty.
In just two months, they encounter many of the challenges that keep people in poverty: severe illness from contaminated drinking water, steep medical costs, and the impossibility of getting a loan from a traditional bank in order to start a business.
While they face many hardships, they also witness how people in the community work together to make life better for each person, how they pool resources so that one person can afford a necessary hospital visit and medication, or another family can afford a stove that will help improve their children's diet. The resourcefulness shown in this film is incredible and inspiring.
And the stories of the people who Chris, Zach, Sean, and Ryan meet during their eight weeks in Guatemala show why microcredit is such an important lifeline to help people better their lives. Each person in the film is a hard worker, but they simply cannot get the necessary capital to start businesses to generate income through traditional banks. Viewers will see how the microfinance model empowers Rosa to get the capital she needs start a weaving business and go back to school, an opportunity she would have been denied by a traditional lender.
Living On One Dollar is a powerful film that highlights the strength and resilience of people living in poverty, the impact of microcredit, and the how individuals can have an impact in the fight against poverty. Seeing people from different cultures and circumstances learn from one another will resonate with people who watch the film. Chris helps a boy -who only speaks the local dialect- learn English and Spanish and local women teach their new American friends how to add calories to their diet. When people in poverty are so often depicted as needing help, it was refreshing to see the filmmakers take the time to showcase what these people have to give.  Anyone looking to learn more about poverty alleviation and microfinance would benefit from watching this eye-opening film.
Living on One Dollar is available to stream on Netflix or for purchase here.