Whole Planet Foundation wants to acknowledge the achievements of the Field Officers who work for our microfinance partners around the globe. In July 2014, we piloted a new Field Officer Appreciation Award in the Africa/MENA region. In total, this region includes 22 partner institutions that collectively employ more than 6,000 Field Officers! While we already announced the winners, we couldn't pass up the opportunity to tell a deeper story. Learn about one of the first Field Officers we honored with this appreciation below: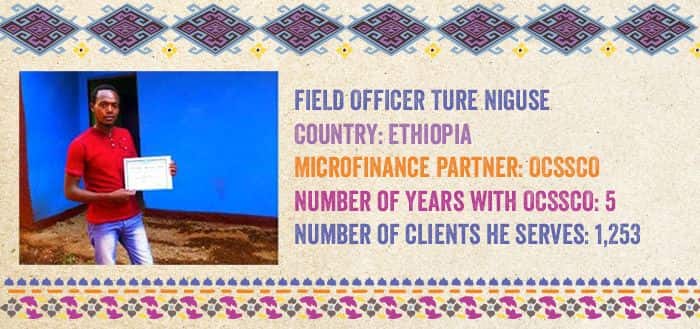 Ture was honored with one of our inaugural Field Officer Appreciation Awards, nominated by our microfinance partner OCSSCO and voted on by the Whole Planet Foundation team. He was part of a group of six Field Officers in Africa to be honored with first place awards.
Ture is originally from Bule Hora, in South Oromia, Ethiopia.  He used to be a farmer which is where he says he learned about hard work.  He got married at the age of 17 and consequently dropped out of school in the 10th grade to provide for his new family.  He started to work at the OCSSCO branch in Bule Hora as a guard.   Eventually he was promoted to a Loan Officer positon in the Galan Abeya branch, about 200 miles away.  While there he worked extensively in three new rural areas to start new centers.  At the same time, he worked to get his high school diploma through distance correspondence. 
Being a field officer comes with many risks and challenges. Ture had to take a leave of absence after a tragic motorcycle accident.  Sadly, motorcycle accidents are only too common on the unpaved roads where OCSSCO field officers travel.  Despite company policies requiring helmets, licenses, no night driving and insurance, six OCSSCO field officers have died in motorcycle accidents since OCSSCO was founded 16 years ago. The rural clients that OCSSCO serves are often located in villages accessible only by dirt roads, which can become especially dangerous during the rainy season. I used to ride on the back of a motorcycle about 40km at a time when I lived in Northern Cameroon and can attest to the danger of this method of transportation.  Flat tires happen easily, children and animals run out into the road unexpectedly and bikes can slip in the water.
Ture eventually rejoined OCSSCO as a loan officer in his native Bule Hora.  Since he is from this area, he says that he is able to understand the challenges that these people face.  He feels very appreciated by the clients that he works with and takes great pride and satisfaction when he sees clients able to improve their standard of living.  While Ethiopia has one of the fastest growing economies in sub-Saharan Africa, almost 30% of its citizens live in poverty.  Rural, smallholder farmers form the largest group of poor in Ethiopia.  To reach these rural clients, OCSSCO's mission takes field officers up to 30km away from branches, and Ture surpasses this by working as far as 54km away from the branch!
Ture places special emphasis on introducing women to OCSSCO which is specifically challenging in Ethiopia.  For example, from 2012-2014, OCSSCO has increased women participation from just 31%-35%.  Ture specifically invites women to participate in the introductory meeting when OCSSCO comes to a new area.  He talks to everybody about how spouses should support each other, paving the way for women's participation in income generating activities in traditional rural communities.  In fact, Ture thinks that women are the ideal clients because they won't misappropriate any of the loan principal towards drinks and they tend to use their profits to improve the family's nutrition and education. 
Ture takes photos of some successful clients which he brings with him to share with new groups of microcredit clients as a source of inspiration. One of the pictures he likes to share is a woman who used her loan to buy one cow.  She worked together with her neighbor who had one horse and together they plowed their fields and repaid the loan with their harvest and even bought a goat with the profits.  Another example he likes to show is of a loan center which started out entirely men and then transformed to even have more women than men.
The other part of Ture's rural outreach is encouraging client saving.  Ture visits clients at the market and reminds them to put aside money for savings.  Currently Ture manages more than 1253 clients (more than twice the amount expected by OCSSCO) and a portfolio of about $340K. In the future, Ture would like to continue his education. 
Ture is one example among many amazing and dedicated field officers who help serve microcredit clients, and it is an honor for Whole Planet Foundation to be able to recognize Ture for his efforts.