This quarter, we celebrate field officers from our microfinance partners in Latin America who go above and beyond to serve the most underserved populations in their areas. The often-unsung heroes of microcredit, these officers work to serve borrowers in the field, sometimes traveling hundreds of miles to reach those who are most in need.
Outstanding field officer Rosa Julisa Alvarez Munoz comes from our partner Pro Mujer Peru and has worked for four years in the rural Arequipa branch.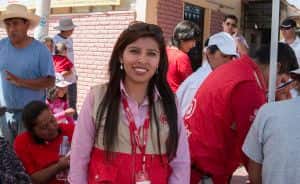 Pro Mujer Peru nominated Rosa because of her entrepreneurial spirit and ability to overcome several obstacles in life while raising her son as a single parent. Rosa joined Pro Mujer as a janitor and worked up to Master Loan Officer for Communal Banks and Center Supervisor.
In her current position as a loan officer, Rosa fights poor roads, aging infrastructure, and the elements to support her 500 microcredit clients. The area she works in is so difficult to access that it is not served by other microfinance institutions.
Rosa is proud of her accomplishments and can personally identify with the obstacles her clients fight on a daily basis. When Rosa first started with Pro Mujer Peru, she described herself as a woman with very little confidence and self-esteem. Today, after four years with the institution, Rosa describes herself as a different woman –strong and perseverant. Her future goals include finishing her degree in business, so she can continue improving the financial situation of her family.
Two weeks ago Rosa received her big check from WPF. She was in the midst of running a mobile health campaign in a rural area called San Camilo. She told the story of how she came to Pro Mujer and received many hugs and well-wishes from staff and clients.
The team at Whole Planet Foundation wishes Rosa success and prosperity in her future endeavors. Felicidades, Rosa!
To learn more about how microfinance works, visit our FAQs page. A gift of $16 per month for one year can help one entrepreneur lift herself and her family out of poverty! 100% of your donation goes to fund loan capital as Whole Foods Market covers the Foundation's operating expenses. Donate today.