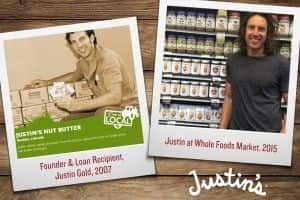 Hello there! Justin here. Yep, the Justin with his name on those organic peanut butter cups you are devouring. What you may not realize is that these peanut butter cups help empower entrepreneurs around the globe through Whole Planet Foundation.
Since its inception, Justin's has donated more than $10,000 to fund forty-seven microloans through the foundation's Microloan a Month Fund. Whole Planet Foundation has been able to help more than 5 million people in communities around the globe change their own lives, and we are honored to be a part of this initiative.
Since each loan supports around 5 family members, I love to think about the 249 people who have a chance to lead a better life for themselves and their families- leading the path towards poverty reduction. It is my hope that they will be an inspiration to others in their community, and the cycle of entrepreneurs empowering entrepreneurs will continue.
The journey of Justin's was not always as smooth as my peanut butter. Here's the back-story…in a nutshell!
It all started out of a little necessity and a lot of passion. When I just could not find the variety in nut butters that I craved, I began grinding up different flavors in my home kitchen with a simple food processor. Fast-forward just over ten years after debuting at the local Boulder, CO Farmers' Market in 2004, Justin's has become a household staple with nationwide distribution. It's amazing and completely humbling to see where we've come, and I cannot express my gratitude for the partners that made everything possible.
Going from the farmers' market to grocery stores all over the U.S. was no easy task, and couldn't have happened without the support of Whole Foods Market. In 2007, we were honored to receive one of the first Whole Foods Market Local Producer Loans in the Rocky Mountain Region. With this capital, we were able to expand production and continue to innovate the first-ever, single-serve nut butter squeeze packs.
As nutty as it seemed, Whole Foods Market saw potential in our little start-up early on. They recognized the challenges we were facing and identified ways to help Justin's grow efficiently. Many are unaware of the extraordinary love and support that Whole Foods Market gives aspiring businesses, both locally through the Local Producer Loan program, and by supporting small, home-based businesses through Whole Planet Foundation's microfinance partners. The impact they create on a daily basis is profound, and we knew we wanted to join forces. So, in the spirit of entrepreneurship and paying it forward, we became the founding member of the Microloan a Month Fund to empower others in the developing world. Today, several other brands have joined us in this movement for good to provide a microloan each month to a passionate entrepreneur who just needs a little support growing a business that will benefit their community, provide an income, alleviate poverty and transform lives.
In addition to helping marginalized microentrepreneurs around the globe, mentoring entrepreneurs right here at home has become my passion. I meet with about three natural products businesses each week and advise them on a wide range of topics, from raising capital and expanding distribution, to staying true to values with ingredient sourcing or the corporate mission. With our company growth, partially made possible by Whole Foods Market, it is important for me to share the lessons I have learned with the next generation of change-making food brands.