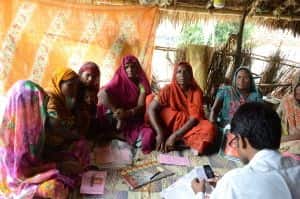 In September 2014, Whole Planet Foundation made its largest funding commitment to date continuing to support the exceptional work of CASHPOR Micro Credit. $3.61MM was authorized as a local currency zero percent interest loan.  The deeper partnership was spurred by CASHPOR's laser focus on serving the poor while incorporating the success of all its stakeholders. Funding will ultimately help CASHPOR reach their target of serving 1 million clients in some of the poorest communities in the world.
As with Whole Planet Foundation's previous $1MM loan to CASHPOR, funding was established as "subordinated debt." Subdebt helps leverage additional capital from local banks that this nonprofit would otherwise struggle to access.  CASHPOR, as a nonprofit that cannot mobilize savings from its clients, finds subordinated debt, and retained earnings as the only way it can access the capital requirements needed from local banks to meet its ambitious outreach projections. With WPF funding covering all of CASHPOR's remaining sub-debt funding requirements for the next three years, CASHPOR is free from prior constraints faced by the organization and can now put all efforts into implementing their Plan.
Truly embodying the characteristics of a pro-poor MFI, CASHPOR continues to provide credit led services at the lowest cost possible. CASHPOR continues to maintain a strong financial position, strong portfolio quality and continued progress in efficiency.  The benefits of achieving these greater efficiencies are then passed on to the different stakeholders of the organization whether it's the continued interest rate reductions or the increase in employee salaries.   Moreover, even during such times of aggressive expansion, CASHPOR continues to add additional, social development loan products to their portfolio.  As part of their water and sanitation initiative for example, CASHPOR offers loans to aid in the construction of new toilets, water filters and hand pumps.
Finally, CASHPOR plans to roll out its Community Health Facilitator (CHF) training program across its entire program. Through this initiative, CASHPOR seeks to create awareness on health issues and promote its new social development loan products though local developed health entrepreneurs. The CHFs are CASHPOR clients and are the medium to pass the knowledge and practices through inter personal communication, counseling and education modules conducted at the center meeting level. Topics include trainings on health and nutrition, lifestyle illness, pregnancy, infant care, and personal and environmental hygiene, and menstrual health and hygiene.
In September, Whole Planet Foundation also approved CASHPORs proposal of USD $200,000 to support the continued expansion of the CHF program. This was made through Whole Planet Foundation's "High Impact Fund" designed to support the development of new, more and better services targeting to increase the incomes of the micro-entrepreneur.
Whole Planet Foundation is extremely pleased to have deepened our partnership to help support the micro-entrepreneurs CASHPOR so diligently continues to serve.