Whole Planet Foundation is celebrating the power of women entrepreneurs during March 7-8 with a virtual event in honor of International Women's Day.
The March 7-8 online event celebrates International Women's Day and is dedicated to expanding women's opportunities through access to business capital.  Thanks to sponsors, proceeds from the event will fund microcredit, to primarily women entrepreneurs, through Whole Planet Foundation. We are grateful to Platinum Sponsors GOJO, Makers of PURELL™ and Ripple Foods, Gold Sponsor Honey Mama's, Silver Sponsors Holle USA and Studio AZUL, and Bronze Sponsors Alo Drink, Bach Rescue, Fancypants Baking Co., Freestyle Languages, Genius Juice & Arte Wellness, Lundberg Family Farms, Shoes For Crews and Urban Betty. Event partners include Planet LA Records, Manic Monkee and URSA Live.
Registration levels start at $10 and include giveaways (including an Eastman acoustic guitar) and more, thanks to the generosity of our partners.  Every ticket gives participants access to event panels, talks, and entertainment:
A $10 donation ticket also includes 1 entry into our daily sweepstakes during March 1-8.
A $25 donation ticket also includes 5 sweepstakes entries and a handmade mask from Alaffia in Togo, West Africa.
A $50 donation ticket includes 5 sweepstakes entries and a special goodie box containing items from Bach Rescue, Burt's Bees, EO Products, evanhealy, Health-Ade Kombucha, Honey Mama's, Mad Hippie, Natural Vitality CALM®, Neo Cell, Pact, Rainbow Light, Renew Life, Ripple Foods, The Seaweed Bath Co., TRUFF and Stasher Bag, over $230 in value, mailed to your home.
The online event launches Sunday, March 7th and participants can join curated panels and talks designed to inspire and educate on topics like entrepreneurship, investing and self-care demonstrations.  On Sunday evening from 6-8pm CST, participants are invited to tune in to a special online concert presented by URSA Live with featured artists 2021 GRAMMY-nominee Debi Nova, GRAMMY-nominated singer/songwriter RuthAnne, and Andy Allo, singer and actor starring in the Amazon Original show Upload.  On Monday, March 8th, start your day with virtual yoga and meditation with instructor Megan Ducate from Health-Ade Kombucha, a video message and upbeat dance video Top Spot from musical artist Whitney McClain, and then a lunchtime Zoom with professional chef and athlete Lentine Alexis.  Each session will offer a special giveaway to honor audience members, too. See the full schedule by clicking here or clicking the graphic below.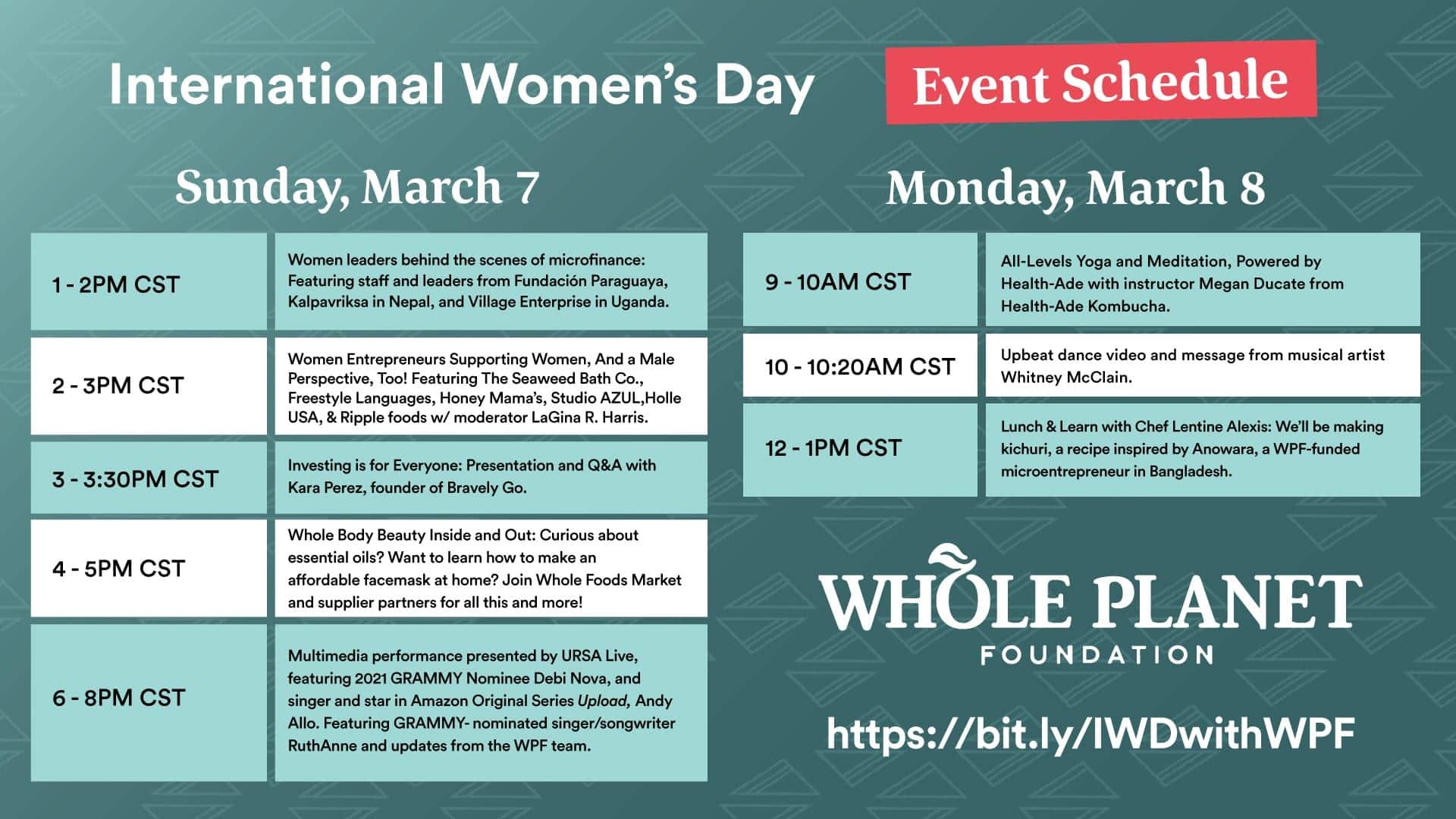 Please join Whole Planet Foundation's virtual event and encourage the next generation of female entrepreneurs working hard to escape poverty.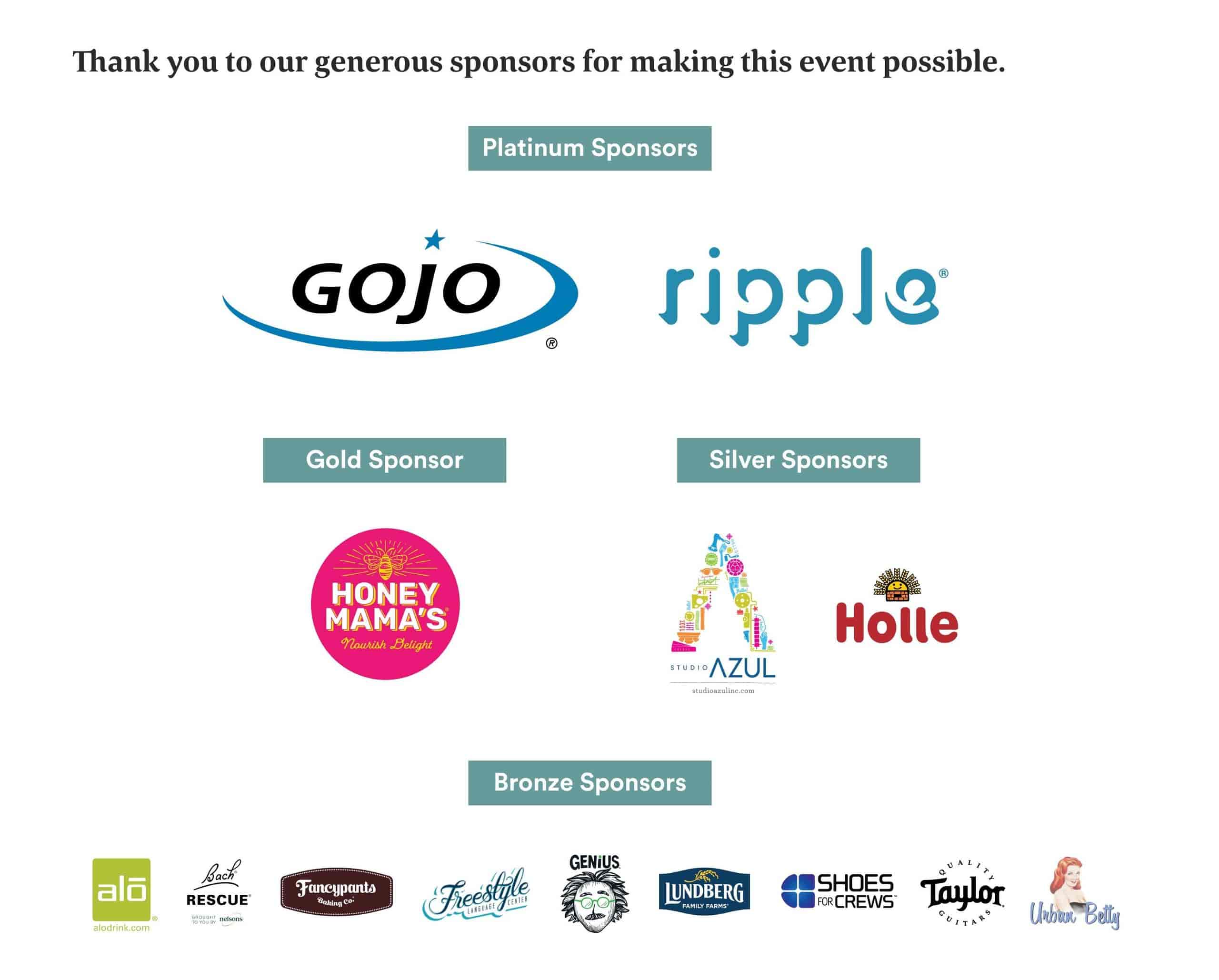 About Whole Planet Foundation: Whole Planet Foundation's mission is to empower the world's poorest people – mostly women – with microcredit.  Microcredit is small loans, requiring no formal contract or collateral, provided to low-income entrepreneurs for the chance to create or expand a business. Whole Planet Foundation has been funding microbusinesses since 2006 and our portfolio currently consists of 89% women entrepreneurs who support families and communities with the profits generated by their own hard work. Thanks to our network of microfinance partners, Whole Planet Foundation is alleviating poverty in the United States and 76 other countries in Africa, Asia and Latin America.