We are thrilled to have Amazing Grass join our Supplier Alliance for Microcredit fund in 2015, committing $50,000 for microcredit, reaching 270 individuals. Thanks to Landon from Amazing Grass for contributing this post!

Amazing Grass is from farms not factories! Our family roots date back over 70 years of perfecting the growing harvesting, dehydrating and storage of organic cereal grasses – ensuring optimal nutrition in the world's most nutrient dense Green SuperFoods. Amazing Grass is dedicated to creating the premium organic, plant-based nutrition products made from the finest ingredients Mother Nature has perfected.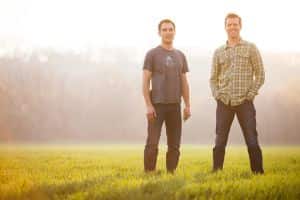 The company started in 2002 in San Francisco, CA. Friends and Co-Founders, Brandon Bert and Todd Habermehl worked at a dot com start up. They shared a long commute, a passion for the outdoors and an active, healthy lifestyle. Brandon had been consuming greens for years, fortunate to have a plentiful supply of wheat grass, barley grass and alfalfa from his family's farm in Kansas. After getting Todd to trade his morning cup of coffee for a green drink, he experienced increased energy, better digestion and became a believer. These green drinks became so popular with the co-workers, friends and families, Todd and Brandon decided to ditch their corporate jobs and start Amazing Grass. Their mission was, and continues to be, to help people lead healthier more active lives through better organic, plant-based nutrition.
Amazing Grass products help support healthy energy levels, immune function, body alkalinity, and a healthy digestive system while helping you achieve the recommended daily servings of fruits and vegetables. Products include organic Wheat Grass powder, a complete line of alkalizing Green Superfoods available in ten functions and flavors, an ultra- premium Raw Reserve Greens and protein line, Amazing Meal plant based protein line, the revolutionary Kidz Superfood drink powder, and Green SuperFood nutrition bars. Amazing Grass offers a variety of flavors and functions to meet your lifestyle and nutritional needs.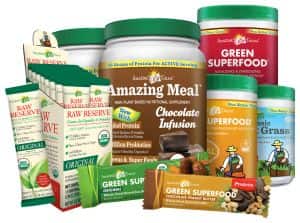 Amazing Grass is pleased to partner with Whole Planet Foundation as a Supplier Alliance for Microcredit in 2015. Amazing Grass has pledged to donate $50,000 in 2015 to entrepreneurs around the world through Whole Planet Foundation. Our goal is to help alleviate poverty through microcredit loans and encourage people everywhere to better their surroundings and improve their lives through commerce.
Our first program with Whole Planet Foundation takes place in October, 2014. Amazing Grass will donate $2 from each sale of Amazing Grass Holiday Flavors sold in Whole Foods Markets nationwide. This includes our delicious Chocolate Peppermint and Pumpkin Spice Green SuperFood as well as our Amazing Meal Chocolate Peppermint and Pumpkin Spice flavors.
Please join Amazing Grass as we fight to alleviate poverty around the world by supporting Whole Planet Foundation, and give yourself or someone you love the gift of health with our Holiday Green SuperFoods and Amazing Meals. Healthy Regards,–The Amazing Grass Team