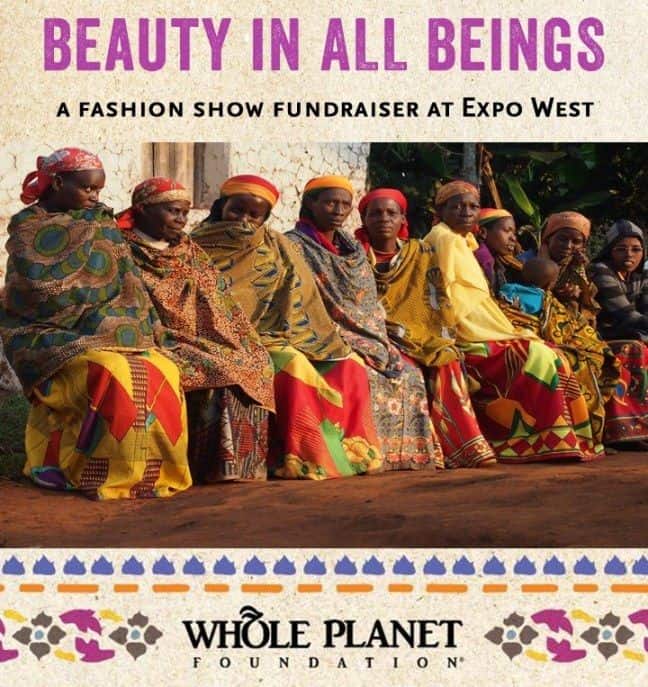 Natural Products Expo West is the world's largest expo of its kind, with more than 3,000 vendors and 70,000+ attendees, and being that we are a Whole Foods Market foundation, we attend every year. I have always wanted to find a way to connect in a meaningful and impactful way at this event with Whole Foods Market, our supplier partners and prospective future supporters. This year, we are so excited to unveil what we hope will be an annual event in support of our microlending programs around the globe, where we aim to gather our stakeholders and raise $100,000!
thinkThin and the Whole Foods Market Global Whole Body team are working with us to produce Beauty in All Beings –  a fashion show benefit that will take place on Friday, March 6 in Anaheim, California as part Expo West. Whole Foods Market's Co-CEO Walter Robb will open the event, followed by Whole Planet Foundation Advisory Board Member Magatte Wade and our very own Executive Director Philip Sansone. The show will feature several brands including: The Blessing Basket Project, Gaiam, Maggie's Organics, PACT Apparel, prAna, Satva, Synergy Organic Clothing and Threads for Thought. Featured beauty brands include: ACURE, Mineral Fusion, Pacifica and Trilogy Certified Natural Skincare.
Several months ago, we were brainstorming ways to connect this event on a much deeper level with our work and the women we support through our microfinance partners in 62 countries. We connected with our Field Team that lives and works in Costa Rica, Senegal, Thailand and the UK, and we asked them to help us identify projects where we could source textiles that could be used to create clothing. From there, we were able to identify some microcredit client groups in four countries that have used their loans to start or expand their weaving businesses with the capacity to provide enough fabric for product development for Whole Foods Market – Ghana, Guatemala, Thailand and Uganda. A few of the items featured at the show are made with these textiles, and I can't wait to see them on the runway.
Purchase your ticket to join us for this inaugural event
If we hit our fundraising goal, we'll be able to fund 523 new microloans that will help 2,615 people on their path to prosperity! Thanks to the generous support from our sponsors, 100% of proceeds from the event will support our mission.
Gold sponsors
Silver Sponsors
Bronze Sponsors
Special thanks to: Better World Goods, Chavez for Charity, DJ Big D, Finchform Media (program design), Green Tree Jewelry, Kim Creighton (Producer), Kim Tonge ($2,000 donation), ONEHOPE wine, Rising Tide, Whole Foods Market Global Produce, Whole Trade®, WILL Leather Goods and Yellow 108.