Mayor of the City of Austin Steve Adler proclaims October 25th as Poverty Is Unnecessary Day
The Poverty Is Unnecessary Project includes Poverty Is Unnecessary Fund members donating $325,000 to alleviate global poverty and the Poverty Is Unnecessary Benefit & Live Auction to celebrate the impact of this work by Whole Planet Foundation and its supporters.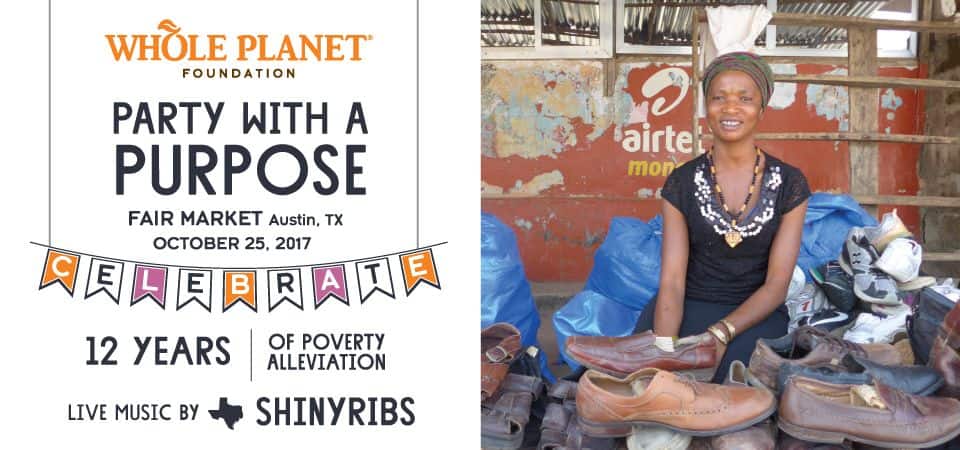 Poverty is Unnecessary Fund
The Poverty Is Unnecessary Fund is being joined by new member Shoes for Crews, a long-term donor to Whole Planet Foundation, a Whole Foods Market non-profit. Fund members are contributing $25,000 each in on-lending capital for microentrepreneurs to have the chance to lift themselves and their families out of poverty through microcredit. Shoes for Crews CEO Stuart Jenkins shares: Whole Planet Foundation changes lives through its microcredit loans, and we protect lives through our footwear. At the center of our shared missions are human beings and their welfare, and we are privileged to partner with and support Whole Foods Market in alleviating poverty by donating a dollar each time an employee buys a pair of our shoes to stay safe at work.
Thank You to our Sponsors and Partners
Mayor of the City of Austin Steve Adler has proclaimed October 25th as Poverty Is Unnecessary Day! Whole Planet Foundation's Poverty Is Unnecessary Benefit & Live Auction in Austin on October 25 is made possible by event support from Gold Sponsor Chobani, Silver Sponsor If You Care and Bronze Sponsors Brazi Bites, OCHO, Sambazon, Seventh Generation, the Law Office of David Goodman and Traditional Medicinals.
Event partners include Astounding Auctions, Capital Printing, Crave Catering, El Sabor de Rita, Fair Market, FILO Productions, Goodworks Public Relations, Grameen America, Jetter Photography, Kimo Sabe Mezcal, Los Arcos Taqueria, Magatte Wade, Manic Monkee, Moontower Rentals, Papyrus-Recycled Greetings, Parkside Executive Pastry Chef Juliann Stoddart and The Blessing Basket Project.
Live and Silent Auction Partners
Live Auction and Big Board partners and their donations include Austin Wine & Swine event tickets, Master of Oenology Bonnie Villacampa private wine tasting and dinner for six by 4 Floors, LLC and Austin Roofing and Construction, Cedar's Mediterranean Foods VIP product package including a copper KitchenAid mixer, Chris Cuffaro Photography and his signed Nirvana photograph, Franzetti Jeweler's diamond necklace, Health-Ade Kombucha product for a year, High Brew Coffee bicycle and coffee for a year, Chef Juliann Stoddart and Sommelier Krista Church's private wine and sweets tasting, Kimo Sabe Mezcal private tasting and Huichol mask from Mexico, Lee Ross and his Thai Buddha painting on glass, Microkickboard Scooters with a pair of scooters for adults and kids, Teysha custom boots from Guatemala, VOSS Water and a signed 1962 Fender Guitar, GetAway2Give vacation property stays in Costa Rica and New York, Indie Solar Vanopy solar canopy, Seventh Generation laundry detergent for a year and brand-new washer and dryer, Texas International Wine Competition VIP tickets to the Texas Food & Wine Roundup, The San Antonio Spurs memorabilia and signed Patty Mills photograph, game tickets from Scott White and a stay at La Cantera Resort and Spa in San Antonio thanks to Departure Lounge in Austin.
Silent auction partners include Acure Organics, Alamo Drafthouse Cinema, Alaffia, Anderson's Coffee, Bellisima European Skin & Nails, Café Spice, Cover 3, Devon Broglie, Divine Chocolate, DRY Sparkling, Heath-Ade Kombucha, Genie Bolduc, Glenda Flanagan, Greyston Bakery, John Mackey, Joy Stoddard, JP Kloninger, Kendra Scott, Leighelena, Magnolia Café, Mark Maryanovich Photography, Modesty Hair Studio, Olive & June, PACT Apparel, Philip Sansone, Red Stella Salon, Reserveage Nutrition, Rick's Picks, Roberta Lang, Santa Rita Restaurant, SeaSnax, Snooze Eatery, South Congress Café, South Congress Massage, Surya Brasil, Tesoros Trading Company, The Gypsy Wagon, The Republic of Tea, Rishi Tea, Sambazon, Shawn Bradley, Steven Benoit, Traditional Medicinals, Uchiko, VOSS Water, Wedderspoon, Weleda and W.S. Badger Balm. Special thanks to Whole Planet Foundation field team members Brian Doe, Claire Kelly, Roxana Newton, Victor Quiroz, Zoe So and Daniel Zoltani for collecting special artisan items from around the globe.
Menu Partners
The Party with a Purpose menu is created with product generously donated by 88 Acres, Ben & Jerry's, Brazi Bites, Blue Circle Foods, Café Spice, Canyon Bakehouse, Chobani, Divine Chocolate, GoodPop, High Brew Coffee, Horizon Organic, Justin's, Late July Snacks, Maine Root Handcrafted Beverages, Natural Vitality, Navitas Naturals, ONEHOPE Wine, Organicville Foods, Rick's Picks, Rishi Tea, Sambazon, SeaSnax, Siete Family Foods, SmashMallow, Steaz, Tanka Bar, The Republic of Tea, Tito's Vodka, Vital Farms, VOSS Water, Wellshire Farms, WhiteWave Foods, Whole Foods Market, WTRMLN WTR and Zilker Brewing Company.
Gift Bag Goodies
Gift bag contributors include Bhakti, Brazi Bites, Cedar's Mediterranean Foods, Chobani, Divine Chocolate, Greyston Bakery, Health-Ade Kombucha, High Brew Coffee, Natural Vitality, OCHO, Reserveage Nutrition, Rishi Tea, Seventh Generation, Simple Mills, Siete Family Foods, Skin Is Skin, Steaz, Surya Brasil, The Republic of Tea, Traditional Medicinals and VOSS Water.
Join us for the Fun!
Live performances by Shinyribs, Mariachi Amor and Agni Dance Company are sure to delight attendees. Can't make it to the party? Make your donation to Whole Planet Foundation because poverty is unnecessary.