Sponsorships are open for our 2021 event!
If you are interested in sponsorship as a Whole Foods Market Supplier, please contact Sandy.Mariscal@wholefoods.com For all others, please contact Joy.Stoddard@wholefoods.com.
Sponsorships help us reach our programmatic goals to reach entrepreneurs living in poverty around the globe.
---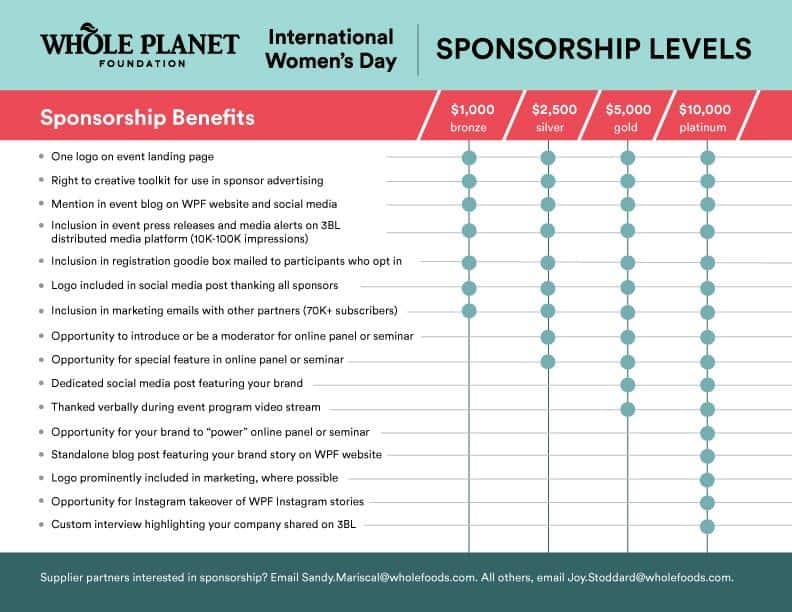 ---
Celebrate International Women's Day with us
Join us on Sunday, March 7 and Monday, March 8 for an online event celebrating our local & global impact and the impact of women entrepreneurs here in the United States and abroad. Whole Planet Foundation has been supporting women entrepreneurs for more than 15 years, and we'd love for you to join us!
---

Entrepreneurs, from left to right: Yareli used microloans from WPF's microfinance partner Grameen America to grow her business selling bread and pastries in Miami, Florida. Issifou started her business selling salted fish, then used microloans from WPF's microfinance partner in Togo, Assilassime, to grow her kitchenware business. Sarita used microloans from NULBSL in Nepal to make improvements to her cheerful store. Interested in learning more about the entrepreneurs we serve? Read more stories here.
A Deeper Look: Our work in Florida with Grameen America
---