Moving with us for microcredit on June 27? We're happy to share a few recipes from our supporters to inspire you to stay hydrated and powered up for your 3.1 mile walk, hike, jog, or paddle. Don't forget to share your Virtual 5K online with #PowerYourPurpose5K for a chance to be featured on Whole Planet Foundation's Instagram and Facebook.
Register for the Virtual 5K through June 27: https://bit.ly/pyp5k2020.
BLUEBERRY BANANA SMOOTHIE
This smoothie recipe is courtesy of our friends at Whole Foods Market.
INGREDIENTS:
1 fresh or frozen banana, peeled and cut into 2-inch chunks
1 cup frozen or fresh blueberries
6 ounces nonfat plain yogurt
3/4 cup skim milk or unsweetened soymilk, ricemilk or almondmilk
1 tablespoon flaxseed meal
1 teaspoon agave nectar, or to taste
1/2 cup ice cubes, (optional)
DIRECTIONS:
Combine banana, blueberries, milk, flaxseed, agave and ice in a blender, and purée until smooth. Pour into glasses and serve.
Serves 2. Per serving: 200 calories (40 from fat), 4.5g total fat, 0g saturated fat, 0mg cholesterol, 55mg sodium, 36g total carbohydrate (6g dietary fiber, 23g sugar), 10g protein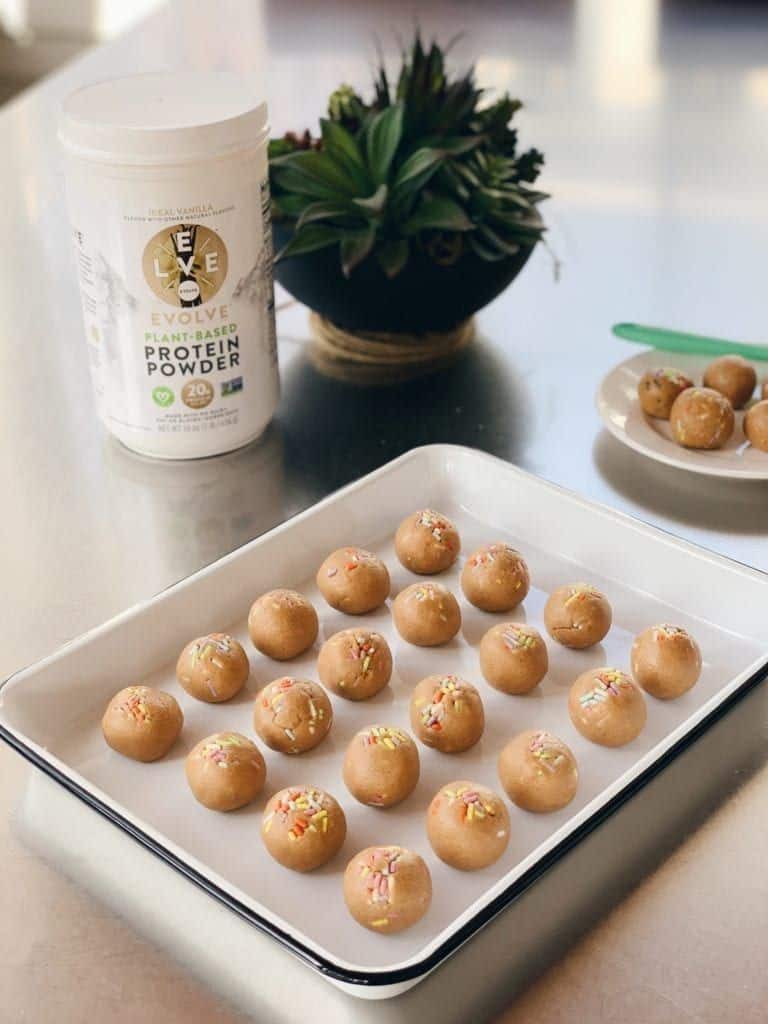 EVOLVE CASHEW COOKIE DOUGH PROTEIN BALLS
Evolve is a member of Whole Planet Foundation's $10,000 Fund.
INGREDIENTS:
3/4 cup Whole Foods 365 cashew butter
1/2 cup Evolve Vanilla plant-based protein powder
1 TBSP coconut flour
1 TBSP almond milk or non-dairy milk
1 tsp vanilla
1/4 tsp pink salt or sea salt
Sprinkles (sub mini chocolate chips, cacao nibs, etc)
DIRECTIONS:
Combine all ingredients (excluding sprinkles) in a medium sized bowl and mix together with a large spoon
Mix until the dough is a consistent texture. If it's too dry add more cashew butter or a splash more of almond milk. If it's too wet add more protein powder.
Add sprinkles to the "dough" and mix to combine
Roll into 1 TBSP size balls
Refrigerate 20 min and enjoy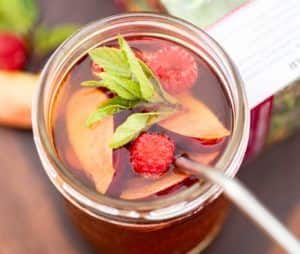 RASPBERRY PEACH HOMEMADE ELECTROLYTE DRINK
ORGANIC INDIA is a member of Whole Planet Foundation's $10,000 Fund.
Get the most out of summer–and yourself–with good hydration. With this refreshing cooler, replenishment is as delicious as it is re-energizing. Known in India as "The Queen of Herbs", Tulsi (Holy Basil) has been a staple for thousands of years, helping to alleviate stress, lift mood, bolster immunity, and detoxify the body. 
INGREDIENTS:
  1 ORGANIC INDIA Tulsi Raspberry Peach Tea Infusion bag 
1 cup boiled water 
1/8 teaspoon fine sea salt 
¼ cup coconut water 
½ teaspoon granulated stevia sweetener, or equivalent  
1 teaspoon fresh lemon juice 
2-3 fresh mint leaves  
DIRECTIONS:
Steep tea infusion bag in boiled water for 10 minutes. 
Remove the tea infusion bag and stir in salt, coconut water, stevia, and lemon juice. Add mint leaves and chill. Remove mint before serving. Enjoy!