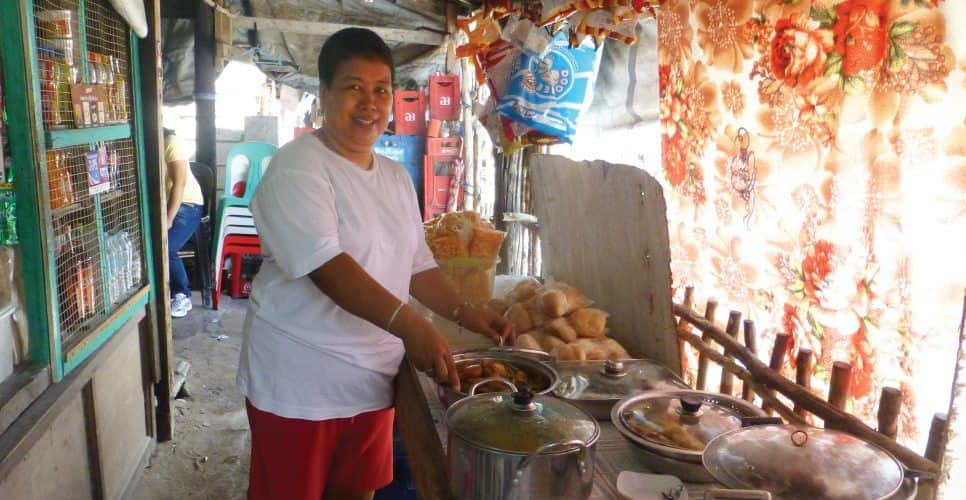 Gertrudes runs a small restaurant and catering business in Guiun, on East Samar Island in the Philippines. The town receives an influx of pilgrims visiting the Church of St. Anthony and is especially busy around the feast of St. Anthony of Padua (June 13) and St. Anthony of Abbot (January 17th). Gertrudes herself actually lived in the church for about 1 month after Typhoon Haiyan/Yolanda destroyed her home in November 2013.
Gertrudes prepares traditional summer desserts like halo halo, which is made with milk, fruit and ice during the summer months. She also makes kabak – fried bread with mango inside -and savory dishes like fish with vinegar, ginger and garlic. Next to her restaurant is a sari sari store, which is a small convenience store that she also runs. And when she's not cooking, she makes craft items and jewelry out of small sea shells.
Gertrudes' first loan cycle with WPF's microfinance partner Negros Women for Tomorrow Foundation (NWTF) was for 5000 PHP ($100 USD) which she used to add bread to her sari sari store. She has used each of her separate loans differently depending on the season. She is now on her 6th loan cycle with NWTF. The last time our field team visited her, she was borrowing 29,000 PHP ($580 USD) from NWTF to invest in additional stock for her sari sari store (like chicken, soft drinks and snacks).
Gertrudes is pictured with her two sisters who help her with the catering business and store, depending on how busy she is.