Living on One Raises Funds to Help 6,400 People
Whole Planet Foundation is proud to announce that our partners at Living on One have helped us raise almost a quarter of a million dollars to alleviate poverty worldwide since the release of their film in 2013.
With the help of the team at Living on One and viewers of Living on One Dollar who donated to Whole Planet Foundation, we have been able to help 6,400 people living in poverty around the world with microcredit.
The average first microloan outside of the United States is $185 and has a 97% repayment rate. These loans, made mostly to women, are repaid and cycle back through the community again and again, helping more people every year to have the chance to live a better life.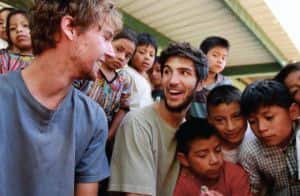 Living on One Dollar is a documentary film that follows filmmakers Chris and Zach living on $1 a day for two months in rural Guatemala. They battle intense hunger, parasites and the realization that there are no easy answers, but find hope in the inspiring lives
of their neighbors Rosa, a 20-year-old woman, and Chino, a 12-year-old boy.
Since its release, the film was the #1 documentary on iTunes and received endorsements from Nobel Laureae Muhammad Yunus and USAID Administrator Rajiv Shah.
The Whole Planet Foundation team also congratulates the Living on One team on their latest award-winning film, Salam Neighbor, a film to connect the world to refugees. You can watch it on Netflix starting June 20th, World Refugee Day.
Here's how you can help. Watch Living on One Dollar today, host a presentation in your school or community, and please consider donating to support poverty alleviation through microlending. Together, we can reach the Living on One campaign goal of $300,000!
You can also start your own fundraising page to encourage your networks to give opportunity to entrepreneurs and their families. 100% of your donation funds microloans in 69 countries.