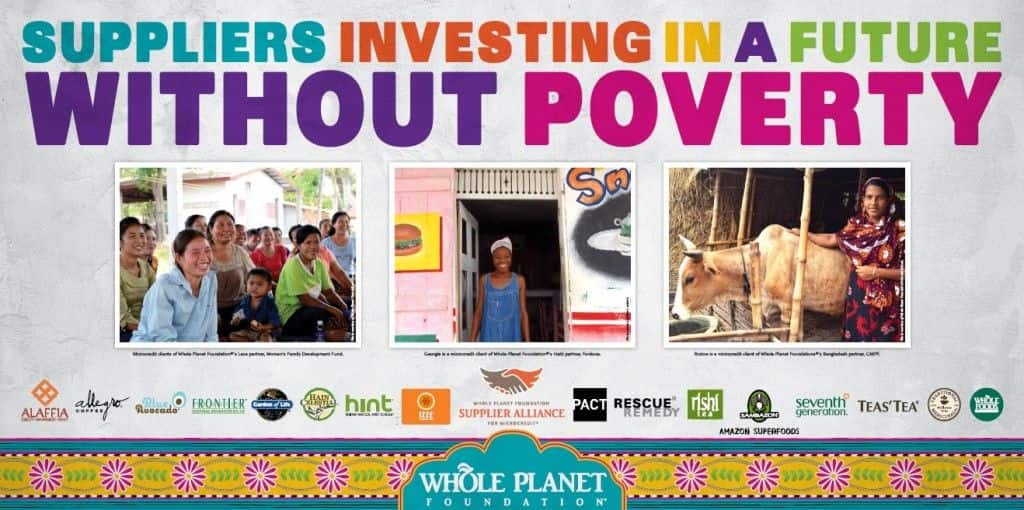 More than 4,570 people around the world will have a chance to lift themselves out of poverty and change their own lives through microcredit – thanks to Whole Planet Foundation's Supplier Alliance for Microcredit partners.  These 16 like-minded companies have each committed $50,000 this year to support the foundation's poverty alleviation programs in Africa, Asia, Latin America and in the U.S.
"For a woman living in extreme poverty, a $200 loan is enough to help her get ahead by  launching or expanding her home-based business so that she can gain financial independence and provide basic needs for her children," said Philip Sansone, president and executive director for Whole Planet Foundation. "Thanks to the generous support of our Supplier Alliance for Microcredit partners, we will be able to empower thousands of women around the world with a chance to shape a brighter future for their entire families."
To date, Whole Planet Foundation has authorized $48 million and funded more than $32 million in microfinance programs in 59 countries, positively impacting more than 2.4 million people worldwide.
Whole Planet Foundation's 2014 Supplier Alliance for Microcredit partners include:
"Though our partnership with Whole Planet Foundation we're helping empower those living in developing-world communities and are able to extend Sambazon's mission to create positive change in the Brazilian Amazon and beyond," said Ryan Black, CEO and co-founder of Sambazon. "We're honored to help uplift and better the lives of those in need by joining Whole Planet Foundation's 2014 Supplier Alliance for Microcredit."
We hope you will join us in thanking these suppliers for their generosity and support!