As we search for perfect gifts for our loved ones, we often look for those with special meaning. Each year, with this spirit in mind, Whole Planet Foundation curates a list of gift ideas from brands helping us further our mission to fund microcredit around the world. Here are some of our favorites for the 2016 holiday season!
Deck the Tree with Handcrafted Ornaments:
Crafted Peru empowers artisans and sources gourds from impoverished areas in Peru. They believe the best way to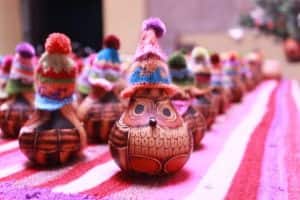 learn about Peruvian culture is through the workmanship of their artisans. Each artisan transmits their life's experiences and personality into each piece, which makes each one unique.
Before Crafted Peru, many Peruvian gourd farmers had a difficult time finding work since the demand for this art was decreasing year by year.  Crafted Peru first helped two families to start growing gourds, and now they work directly with artisans, providing them with the raw materials to create the holiday ornaments.
To learn more, read Crafted Peru's recent guest blog on our site. From October 1st-December 15th, $0.10 from the sale of all Crafted Peru handmade ornaments will be donated to support microlending programs through Whole Planet Foundation® to alleviate poverty around the globe.
Greetings Create Prosperity:
As the founding member of our $100,000 Fund, Papyrus-Recycled Greetings, Inc. is passionate about human connections and poverty alleviation around the world.
Whether through a little piece of art from Papyrus, an offbeat sentiment from Recycled Paper Greetings or a microloan through Whole Planet Foundation, this social expressions company knows that sometimes a seemingly small gesture can have a major impact on someone's life. "People are at the heart of what we do," shares Tony Huston, Senior Vice President of Sales. "Our partnership with Whole Planet Foundation helps empower the entrepreneurial spirit all over the world through microlending, allowing us another opportunity to make the world a more thoughtful and caring place."
The example set by this company has paved the way for other supplier partners to deepen their involvement with Whole Planet Foundation. Tony and colleagues from Papyrus-Recycled Greetings have now visited Togo, Colombia, and Paraguay to witness the impact of their generosity.
Combat Cold Weather with a Cup of Chai:
The Republic of Tea's Biodynamic Holiday Chai supports Whole Planet Foundation through the month of December.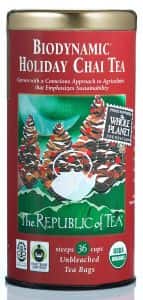 As part of the Poverty is Unnecessary Fund, the brand makes a generous $25,000 commitment each year.
The Republic of Tea's partnership also extends to the Whole Foods Market Team Member Volunteer Program, where they've hosted Whole Foods Market Team Members to experience rooibos sourcing in South Africa. The Republic of Tea shares their prosperity by donating to organizations like ours.
Members of The Republic of Tea team have also visited microcredit clients here in the United States to witness the impact of their generosity.
"At The Republic of Tea we value the ancient Chinese philosophy of Tashun — the Great Harmony — when people naturally care about the world and depend on each other for the well-being of the whole.  Supporting Whole Planet Foundation uplifts and enriches all of us and exemplifies Tashun," says Kristina Richens, Minister of Commerce for The Republic of Tea.
Pampering Products with a Purpose:
Surya Brasil and Seaweed Bath Co. are two bodycare brands who serve global communities through their generous donations to Whole Planet Foundation.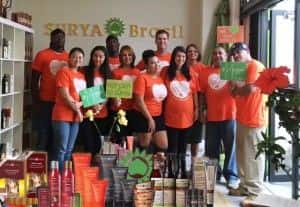 For the remainder of 2016 and beyond, Surya Brasil pledges to donate 5% of their sales from all Whole Foods Market locations to support Whole Planet Foundation. The Surya Brasil team is excited to be a part of poverty alleviation with Whole Planet Foundation, and had this to say about their passion for our mission:
"For over 20 years, Surya Brasil has been working to make the world a better place ad help those in need through our company's social responsibility division: Surya Solidarity. It has been exciting for us to branch out to a new arena with microcredit and we are thrilled to be able to do so by teaming up with Whole Planet Foundation. By doing so, it is our hope that we can continue the work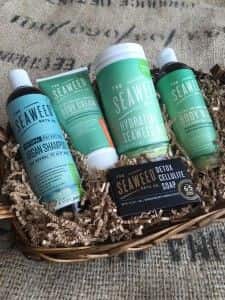 of Nobel Laureate Professor Muhammad Yunus, who has fought to put an end to global poverty. It makes us so happy to know that a portion of our sales goes directly to aid in such a noble cause. We hope that by working together, we can help show the world that every little bit can help make a change!"
Seaweed Bath Co.'s mission is to harness the power of nature and enhance lives by creating gentle, effective products, based on their expertise in seaweed and deep passion for skin and hair health. They strive to inspire and better the lives of their customers with unique products that help detoxify and hydrate skin and hair, while protecting the environment and supporting communities around us.
Seaweed Bath Co. participates in our Microloan-a-Month giving level, supporting global communities with each sale.
Wear Your Support with Green Bracelets: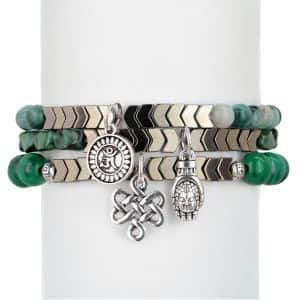 Chavez for Charity's Whole Planet Foundation collection includes a selection of green bracelets that represent growth and harmony. The collection's jade green beads that represent good health and good fortune have been crafted from magnesite and wood to imbue the wearer with an aura of balance and placidity.
25% of gross sales of each green bracelet sold funds microcredit through Whole Planet Foundation's programs. 
Divine Advent Calendar Counts Down the Days
Divine Chocolate is the newest member of the Microloan-a-Month partnership level with Whole Planet Foundation, giving the first average loan of $184 each month.
Divine Chocolate sources all of its cocoa from 85,000 cocoa farmers of the Kuapa Kokoo cooperative in Ghana.  Not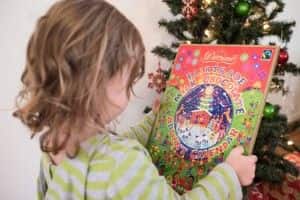 only does Kuapa Kokoo supply this cocoa, but the cocoa farmers also co-own the company, giving them a share in the profits and a say in the global marketplace.
On the back of each Advent Calendar, you can learn about Divine's own annual "give back" program. This year, Dvine is working with Kaupa Kokoo and the Ghana Bamboo Bike initiative to improve access to education through sustainable transportation. For each Advent Calendar purchased, 5% of the sale will go towards purchasing bamboo bikes for children in cocoa farming communities, giving them the opportunity to attend school and get the most out their education.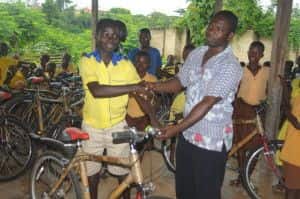 Kuapa Kokoo farmers want their children to have a good education.  The co-operative has invested in schools, scholarships, and housing support for teachers in rural communities, yet rural schools can be far from home for some students. Bicycles can make a huge difference, allowing children to get to school faster and spend more time learning.  The Kuapa Sakrele project (sakrele means 'bike' in Twi) supplies bikes, maintenance training, and support that help kids stay in school while supporting local business and renewable resources.
"At Divine Chocolate, we value our partnership with Whole Planet Foundation because we support poverty alleviation through microcredit in communities. This holiday season, we are proud to be supporting the Foundation's microcredit programs by making a $0.05 donation for each Divine Chocolate Advent Calendar sold in Whole Foods Market locations nationwide."
Give the Gift of Global Cooking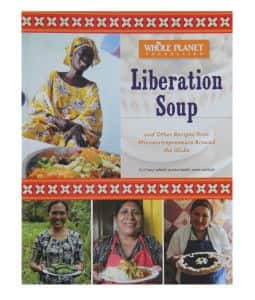 Searching for a perfect gift for the global foodie in your life? Look no further. Liberation Soup, the Whole Planet Foundation Cookbook, is now available on Amazon Prime!
Our Whole Planet Foundation Field Team spent more than four years collecting recipes and stories from microcredit
clients around the world, which were lovingly compiled into this 144-page volume. Recipes include Peruvian Beef Soup, Kenyan style Kale and Potatoes, and Honduran Coconut Bread. $5 from every full-priced cookbook sold goes to microlending projects in 68 countries. Sales of Liberation Soup have raised more than $20,000 for the Foundation. Check out bonus recipes online for a taste of what's inside!
Set your Table with West Elm x WFM Recycled Denim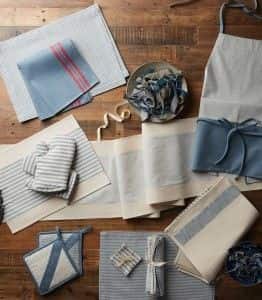 Whole Foods Market has teamed up with west elm and Guatemalan textile group, The New Denim Project on a collection of cotton table linens and accessories made with upcycled denim.
$1 of each item purchased benefits Whole Planet Foundation, helping alleviate poverty in Guatemala and around the world.
Products are available in Whole Foods Market stores and online at westelm.com.)
Delicious Dessert Spreads Opportunity
Perfect on top of ice cream, fruit, or even your holiday panettone, Crofter's generously supports Whole Planet  Foundation with a $10,000 annual donation. Crofter's also passionately supports fair trade and sustainable farming with their Green Cane Project in Brazil, where Whole Planet Foundation also works with microfinance partner Banco do Povo.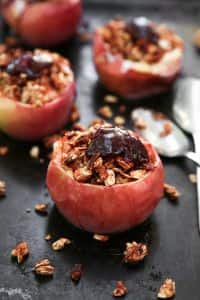 "Crofter's Organic has exclusively been using fair-trade, sustainably grown cane sugar from the Green Cane Project in Brazil for over a decade. Through this, we have been able to positively impact quality of life for farm workers and their families. The Green Cane Project provides fair wages, safe dwellings, and even schooling for children of employees. It was a natural decision to help Whole
Planet Foundation achieve our mutual goal: a healthier, happier world," says the team from Crofter's.
If you're feeling creative, check out this recipe from Crofters for apple crumble stuffed baked apples – great for a crisp winter day!